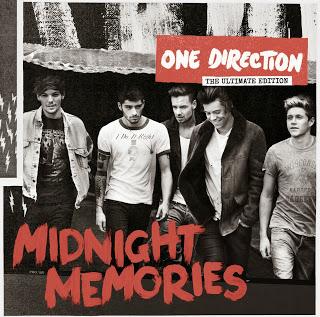 Cast your mind back to December 2010, the X Factor Final where Matt Cardle was crowned as the series winner (but, ultimately, in the end, the loser) and runners up One Direction watched on as Cardle celebrated, five young heart throbs only had a slight tear in their eyes as they knew there was something special hidden up their sleeves as Harry Styles mouthed "think of all the pussy you're gonna get" to Cardle, the first sign that this teen wasn't as innocent as he looked! 

That moment changed popular culture.
A few years on and One Direction have become a phenomena. They haven't just 'broke American' successfully (many fail!) they've taken over the world with their good looks, catchy pop songs and everyday lad mentality. They are now set to release their third record and the growth in sound, delivery and ambition is highly commendable, even more so if you consider the pressure they are under, scrutinised with every move. It was just twelve months since the hugely successful second LP, Take Me Home was released which saw the band tour country-by-country and release a film which also included globe trotting promotional campaign. The band have barely touched the ground since they were put together on the ITV show.

Midnight Memories is a well calculated pop album as covers all the popular trends in mainstream music, there's Kings Of Leon (Don't Forget Where You Belong, co-written by McFly) in there, Coldplay (Strong), Mumford and Sons (Happily), McFly (Diana, not the most obvious name to sing) too, there's even some attempts at indie on Little Black Dress, it's all covered like a NOW That's What I Call compilation. Best Song Ever ticks the boxes that made it an instant hit whilst the title track has eighties pop rock written all over it with dirty riffs and party themed lyrics, no doubt coming from story time with Styles. This time around the boys have had a hand in the writing, giving it a more personal touch, and it works, the lyrics come across more realist, albeit coated in sexual innuendos and cheeky world play but underneath it lays a glimpse into the life of twenty-somethings superstars. If it hadn't worked it wouldn't have made it on the album, when you are dealing with the biggest band in the world you've got to delay the inevitable break down/bust up as long as possible.
There's still a slightly cheesy tone and cringe-worthy lyrics going on but they are the coolest boyband in years and 

Midnight Memories

 oozes with fun. Guilty pleasure? There's nothing guilty about listening to songs that won't live your head for days.