It started with a tweet...
It's the MTV VMAs tonight but this years awards will be remembered for the events that happened around the time that the nominations were announced. It was what I called #AnacondaGate which the media created a story that wasn't a story, a tweet became front page news. This was sad as the media made Taylor Swift look like a racist because they chose to.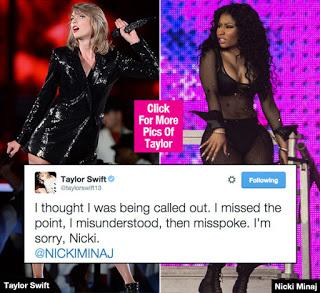 In 2014 Taylor won at life, she released a fine pop album, broke records, stuck up for the musicians and gave so much to her fans it was hard not too fall for her but nobody likes a winner and this year the media have turned against her for no particular reason. They made her stance on Apple Music, what should have been a progressive statement into her coming across a money grabber, c'mon guys, do you really think she needs the dosh? And then #AnacondaGate happened, the coverage was horrendous, this was the first time I thought about returning to blogging as many people were throwing their opinions about but not the one I had, it was so frustrating.
The press BULLIED A TWENTY FIVE YEAR WOMAN because she defended herself in a tweet. You are probably aware of what happened, it made the front page for the Metro for two days, it was over NOTHING.
Basically, the VMA nominations were announced, obviously Taylor featured heavily, what with the year she's had and the Bad Blood video is quite the masterpiece. Other nominees included Beyonce, Ed Sheeran, Kendrick Lamar and Nicki Minaj, quite diverse.
For some bizarre reason Nicki Minaj wasn't happy, she had been nominated but Anaconda didn't reach the Album of the Year shortlist, I imagine that was due to it not being very good. It is pretty gross and degrading, it also features Drake, eww. If it had won, there would have been a backlash, if you haven't seen it, here you go.

And here is the crazy good video from Taylor, Kendrick and her famous gal pals.

They aren't even in the same league. Nicki took offense and tweeted this, clearly aimed at Taylor, who responded.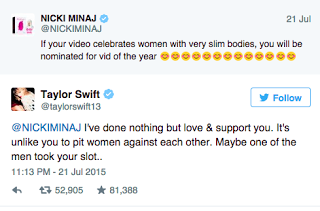 See, nothing malicious here then Nicki turns it in to a deal, sometimes the message can easily get lost in a 140 character tweet. Don't people use phones to talk these days?



Why should Taylor speak on this? It was MTV who did the nominating. Nicki continued to guilt trip Taylor.



If you had read these without them being sensationalised it would have been easy to dismiss, then Katy Perry who is pals with Nicki and Bad Blood documents the fall out between her and Taylor needlessly stepped in. Bruno Mars, Ed Sheeran and Aaron Paul saw the ridiculousness of the situation with some LOL tweets, which caused offense...
Piers Morgan, usually a dick actually got this one right.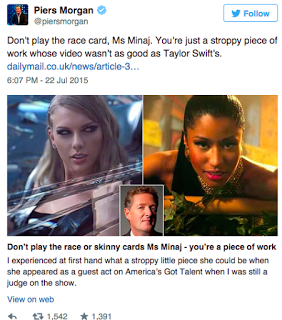 Less than 48 hours after the first tweet Taylor apologised, she had nothing to be sorry for but she had no other option.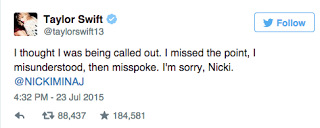 Nicki was cool with it. Apparently they had a lengthy chat on the phone. Did this really need to be played out on Twitter? The media created a story from nothing and with racial tension high in America this could have ruined Taylor's career.
The reason Anaconda wasn't shortlisted for video of the year was because it wasn't a very good video. It leaves MTV in an awkward position. Bad Blood is video of the year but for PR sake just give it to Kendrick's other nominated video for Alright which is also very good.