London's music scene is vibrant. The record shops, the venues, the concerts, the artists – London has everything that any dedicated music fan could possibly want. Of course, to complement all of that, London has an incredible amount of music journalism. From major publications like New Music Express to growing blogs like Line of Best Fit, London's music scene is covered very well in print and online.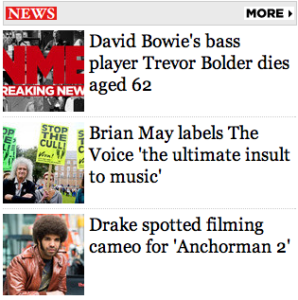 May 22 headlines from NME.com, the online home of New Music Express.
All of this coverage brings me back to the questions I was asking in the United States. Are the publications in London biased toward certain artists, labels, or genres? How do the relationships between publicists and writers manifest? Are readers in the United Kingdom getting fair coverage of the music scene?
To prepare for my first interview this weekend with Paul Bridgewater of Line of Best Fit, I've been consuming as much of the music journalism here as possible. With each article I read, I keep looking for signs that a publicist was at work – and so far, it's been much more difficult finding examples.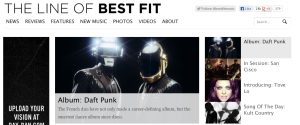 Daft Punk as the headline on Line of Best Fit, May 22.
In the United States, it was easy to see how Pitchfork.com caters to their audience constantly. This trend has only continued, as they recently named a slew of new albums "Best New Music" following constant coverage of those bands. In the United Kingdom, the hype is not so obvious. While Line of Best Fit covered American indie band the National, even giving them a front page story, they still reviewed the album in a much more toned-down manner. Pitchfork.com had featured electronic artist Daft Punk on its front page, and then named their album one of the "Best New Albums," almost overdoing the praise. Line of Best Fit, meanwhile, was much more balanced in its coverage, still giving it praise but balancing the praise with a healthy dose of real criticism.
I'm excited to talk to Paul about these potential biases, and I'm looking forward to talking with him about how he makes sure his publication remains honest and transparent while catering to a ravenous group of fans.