From big, bold horns to heavy metal, the world of music is great place to reside during festival season. Proving that song is truly a universal language, there are musical attractions in every corner of the globe. Start logging extra hours now, or selling your old music on musicMagpie.com, so that you have enough cash to snag a ticket before they're all sold out, because these are the festivals that you don't want to miss.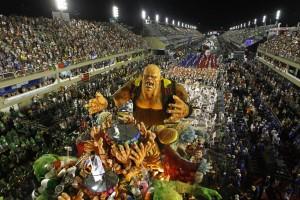 Brazil carnival
Carnival in Rio de Janeiro, Brazil. As far as outdoor events with live music, food and culture, Carnival in Rio is as big as it gets — literally. The annual festival held before Lent in Brazil is the largest carnival ever held, regularly attracting two million people each day. Highlighted by street parades of a production level that rivals any high-end stage show you've ever seen, Brazilian carnival is the perfect place to learn the samba, experience the artful work of carnival street bands (known as bandas) and frolic on the beach.
Glastonbury Festival in Glastonbury, UK. This musical event seems to have been ordained by the entertainment gods on several occasions. The very first installment of this annual performing arts event took place the day after Jimi Hendrix died in 1970. And in 2009, the passing of another musical legend, Michael Jackson, seemed to coincide with the festival, prompting tributes from a wide ranges of performers. The first Glastonbury festival was attended by 1,500 people, a number that has since ballooned to more than 135,000. Today, you're likely to see acts from all genres of music, from U2 to Beyonce.
Lollapalooza. If you're searching for a truly international musical festival, Lollapalooza fits the bill. The multi-genre festival is a traveling show that was initiated as a United States and Canadian tour of rock, rap and punk musicians in 1991. The show also incorporated other forms of art such as a modern circus sideshow and contemporary art. The tour took a hiatus from 1997 to 2003 but was then revived to be bigger and better. Now, instead of festival-goers traveling to North America from all over the world, Lollapalooza comes to them. It expanded to Santiago, Chile in 2010 and Sao Paulo, Brazil in 2011. And in 2013, Lollapalooza will play its first shows in Tel Aviv, Israel.
Mardi Gras in New Orleans. Closely tied to the Brazilian tradition of raucous merriment of carnival is Fat Tuesday in New Orleans. Though Mardi Gras is celebrated the world over, in places like Italy, the Netherlands and Sweden, the modern version of this pre-Lent celebration on the Gulf Coast of the United States is unique because it is tinged by the cultural fusion of jazz, big band, Afro-caribbean and R&B music, making it a real treat for a music enthusiast.
Fuji Rock Festival at Naeba Ski Resort, Japan. You may not automatically associate rock music with Japanese culture, but this festival has pulled in more than 100,000 attendees at a time. Despite getting off to a rainy start during its first year, which was held at the base of Mount Fuji, the festival set the stage for a dramatic performance by the headlining group. The Red Hot Chilli Peppers put on a show in which frontman Anthony Kiedis played with a broken arm. The story became the stuff of rock legend, and the Fuji Rock Festival, though since moved to Niigata Prefecture, has soldiered on for 15 years.
image: http://www.cmj.com:8080/wp-content/uploads/2012/07/Lollapalooza-660x440.jpg