12 March, 2015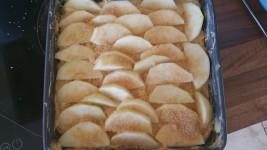 So it's been a little while since I've posted, in fact it's been a little while since I've had time to cook! So on Sunday I had some bramley apples lurking in my fruit bowl and decided to make a Dutch Apple Cake. I always make an apple pie with cooking apples and fancied something a little different. Something specifically that would go with custard, in fact such was my mood! I've been working lots lately and was time and energy poor but still wanted to bake. What's more, I knew my son would want to join me in the kitchen to help so I didn't want anything overly complicated or time consuming.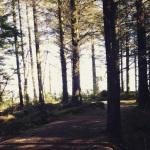 He and I made this, well he stirred the bowl and licked the spoon, before we all went out for a walk in the forest to build up an appetite. It really is a great cake to make with kids, or if you just want something easy and comforting to throw in the oven. Whilst I was making it, I thought it would be lovely in the summer with raspberries and white chocolate chips too! It a basic sponge traybake, so use whatever you have in abundance and don't want to go to waste - pears, peaches, plums. If you even wanted you could use a jam or preserve in the depths of winter when some fresh fruits are less plentiful. I, of course, would recommend Follian, who do a lovely No Peel Orange Marmalade. You could place drops of marmalade in instead of fruit, and the orange would be especially lovely with the golden syrup.
You'll need: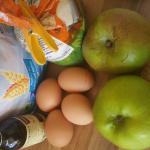 Approx 2 large Bramley Apples, peeled, cored and finely sliced
Juice of 1 Lemon
350g self raising flour
225g butter, softened
280g golden caster sugar
4 eggs
2tsp vanilla extract
2tsp baking powder
5 tbsp golden syrup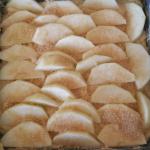 1. Finely slice the apples and toss in the lemon juice to prevent them from going brown. Set aside.
2. Preheat your oven to 180 (fan oven) and grease and line a square traybake tin.
3. Add the flour, butter, sugar, eggs, vanilla and baking powder to a bowl and mix until you have a thick batter. Spread half the cake batter into the tin and spread out evenly.
4. Arrange half the slices of apple (you can be as neat as you like) over the top. Spread the remainder of the mixture over the apples and again arrange the rest of the apple slices on top. You could sprinkle with demerera sugar if you like and pop into the oven for approx 50 minutes until a skewer comes out clean.
5. Once your cake is out of the oven, allow to cool for 5 minutes. Using a skewer, pierce the cake and drizzle over the golden syrup. The cake will still need to be relatively warm when you do this. Allow to cool for another 10 minutes or so and remove from the tin.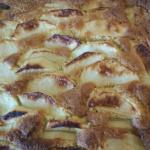 6. Enjoy with cream, ice cream or custard as often as you like.
Next up, I'll be preserving some lemons and limes. I'll also give you some recipe suggestions for how to use them. Until then, Au Revoir!