Inspired by some twine ornaments that I made up last week. 6 of these in 3 differant sizes for under $3 Gotta love that :)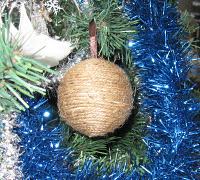 So I thought I would carry that rustic whimsy tree theme we have going this year and make up some wee-folk inspired mushroom ornaments. These are so very simple to make.
What you need: styrofoam balls
twigs or dowels cut to 1.5 inch long
twine
beads - any color
small scrap of ribbon
glue gun
Step 1: Cut aprox 1/3 off the bottom of the ball
Step 2: Fold ribbon in 1/2 and insert into a small hole in the top for hanging, glue the twig into the bottom.
Step 3: Starting at the top, glue a starting point with your twine. and start wrapping glueing as you go. Keep wrapping all the way under the cap. Once you get to the bottom just cut, tuck and glue.
Step 4: Add your embellishments. I simply glued some med sized beads for a little color, But you could go in with some acrylic paint and also add color that way.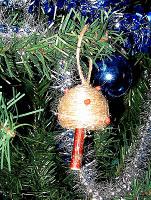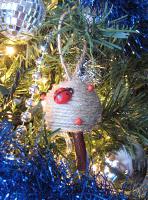 I found these cute ladybug thumbtacks and thought they just added that extra special touch. Hope you enjoy this little tutorial.