I'm very fond of eggs , and I have it 3-4 times a week usually for breakfast. Today when I was thinking as to what I must have for breakfast  my eyes fell on the green fresh broccoli and cut mushrooms which I had bought on Sunday , So I thought of making  Mushroom & Broccoli Omelet.
I had seen the recipe for this on  TV Show , I tweaked it a bit by skipping the cheese and adding little Ginger.It turned out good and its so filling as well.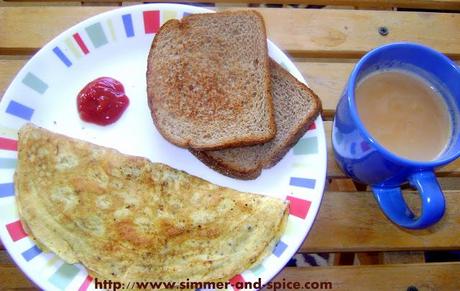 Ingredients needed, 1 tbsp of Ginger, 3 tbsp of finely chopped Onions, 2 tbsp of chopped Broccoli  and 2 tbsp of chopped Mushrooms.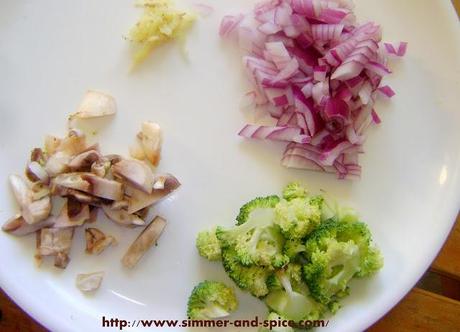 Take a non stick cooking pan , spray oil and the veggies and  little salt , cook it for about 7-8 minutes by constant stirring.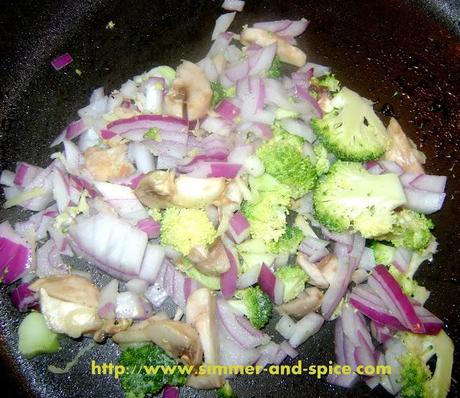 Once done , set it aside.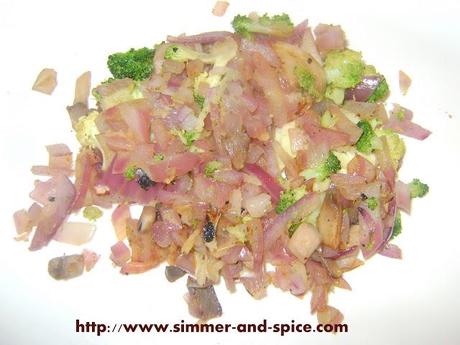 Take 2 eggs and whisk it a bowl add, salt , black pepper and 1/4th tsp of chili powder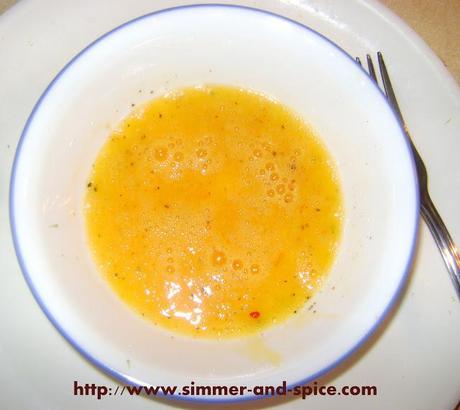 In the same pan spray little oil and spread the egg , once cooked turn it upside down so that both sides are cooked evenly.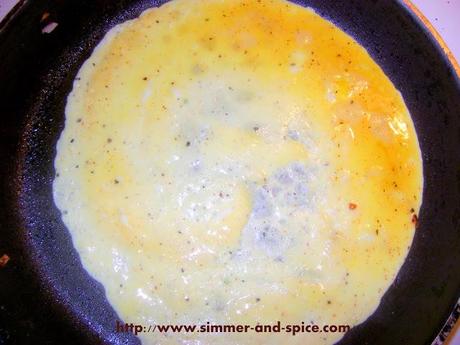 Take it in a plate and in one half of the Omelet , add the veggies , fold it and relish it with brown bread, and hot morning tea :)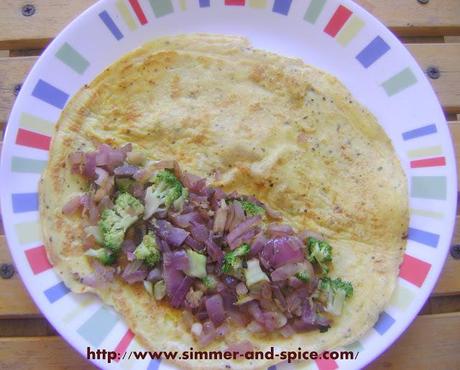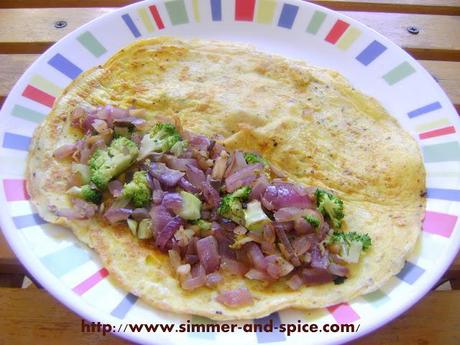 Details of the Recipe
Ingredients :-
3 tbsp of chopped Onion
2 tbsp of chopped mushrooms
2 tbsp of chopped broccoli
2 large Organic Eggs
1 tbsp of chopped ginger
Salt as per taste
1/4 teaspoon black pepper
1/4 tsp of red chili powder
2 tablespoon of oil / Oil spray ( I have used an Olive oil Spray)
Method :-
Heat a non-stick pan on medium flame.spray it with an oil spray / or use oil ,add onions , ginger ,saute for a minute,then add the mushrooms and broccoli.Season with salt.Once cooked set it aside.
Meanwhile whisk eggs with salt, little pepper and red chili powder for few seconds until you see tiny bubbles.Season with salt and pepper.Drizzle little oil or use an oil spray , Pour in the egg mixture. Let the eggs set before flipping that takes about 2 minutes. Flip and let cook for another minute..
Set on the serving plate,arrange the cooked veggies on one half and fold.Serve with brown bread, ketchup and a hot morning tea.