Please share if you love it!
Twitter
0
Google+
0
Facebook
0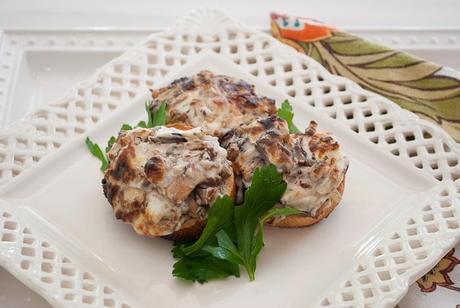 This mushroom appetizer recipe isn't one of my skinnier appetizer creations, but my guests demolished the plate, so I'm betting you wouldn't have one toast left your plate either.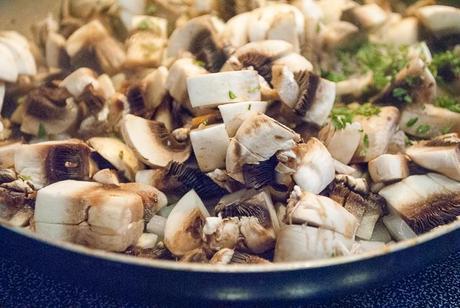 Like most everyone I know, I pack a ton of chores into my weekends. This particular Saturday we had company coming for dinner. I had my dinner menu ready, but forgot an appetizer.
I had little time to spare, so as I was envisioning ingredients to come up with a quick appetizer (yes, I see food in my mind), I knew I had whipped cream cheese, fresh rosemary, and bacon bits waiting in the frig.
Sounds like the start of an appetizer to me, but I needed something with substance, a vegetable to tie my refrigerator ingredients together.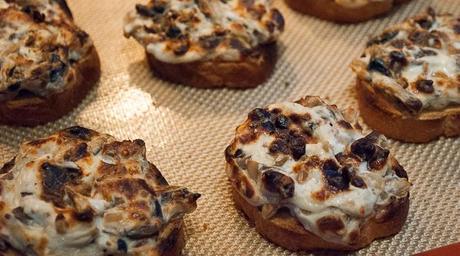 A package of mushrooms came to the rescue, but what to spread my creamy mushroom mixture on?
It was time to send Mr. Mike on a shopping run for sour dough bread – the perfect vehicle with which to toast my mushrooms and cheese to a bubbly, golden brown.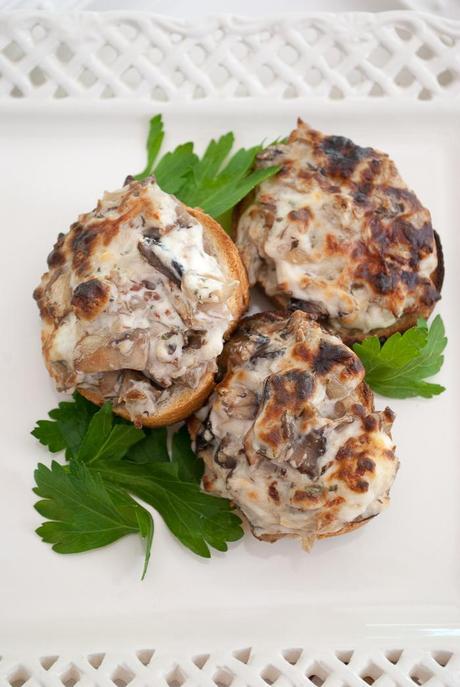 It's amazing what you can find in your frig and pantry to pull together a come-back-for-more appetizer. All I needed was a package of mushrooms, half used carton of cream cheese, and crumbles of bacon. You can't beat that!
Shake It Up!
Mushrooms not your thing? You could swap them out for shredded chicken, or even cooked salad shrimp. How about chopped Roma tomatoes, and chopped basil instead of rosemary? I can picture a variety of irresistible combinations, can't you?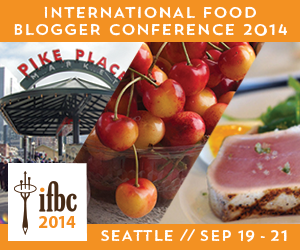 Have a terrific weekend everyone! I'm heading to Seattle's Weston Hotel to attend my first
Foodista's Food Bloggers Conference
.
I start at Sur La Table for cooking demonstrations, then off I go to the Weston for two days of food and fun. You can bet I'll come back with inspiration galore to share!
~Kristi
Print

Cheesy Mushrooms and Bacon on Toasts
15 toasts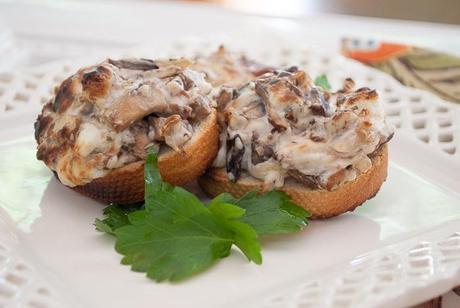 Ingredients
1 tablespoon olive oil
½ cup white onion, diced
10 large mushrooms, chopped into large pieces
1 teaspoon garlic, minced
½ tablespoon rosemary, minced
6 ounces whipped cream cheese
½ cup Parmesan cheese, shredded
2 tablespoons cooked bacon, crumbled (I used store purchased cooked bacon.)
15 slices sour dough bread, bruschetta size loaf
10 leaves parsley
Instructions
Heat a small non-stick skillet over medium heat and add olive oil.
Add onions, mushrooms, garlic and rosemary. Cook for 5 - 6 minutes until very soft.
Remove from heat and allow to cool.
Add cream cheese, parmesan cheese and bacon.
Preheat broiler and lightly brown one side of sour dough bread.
Flip bread and top the soft side of each piece of bread with mushroom mixture.
Return to the broiler and lightly brown.
Serve with parsley leaves.
Notes
Food energy: 110kcal Saturated fatty acids: 2.35g Monounsaturated fatty acids: 2.28g Polyunsaturated fatty acids: 0.58g Total fat: 5.22g Calories from fat: 46 Cholesterol: 9mg Carbohydrate, by difference: 10.36g Total dietary fiber: 2.10g Protein: 5.59g Total lipid (fat): 5.90g Water: 92.22g Ash: 1.89g Total sugars: 2.32g Calcium: 113mg Iron: 3.12mg Magnesium: 29mg Phosphorus: 111mg Potassium: 418mg Sodium: 167mg
2.6http://motherrimmy.com/mushroom-appetizers-mushroom-bacon-toast/Mother Rimmy�s Cooking Light Done Right by Kristin A. Rimkus is licensed under a Creative Commons Attribution-Noncommercial-No Derivative Works 3.0 United States License.
Sign up for my weekly newsletter and get Ten Tips to Skinny Up Your Meals ebook free!

Create your free online surveys with SurveyMonkey , the world's leading questionnaire tool.
"If you decide to make a purchase through my link, Amazon will pay me a commission for it. This doesn't cost you anything additional. These commissions help to keep the rest of my content free, so thank you!"