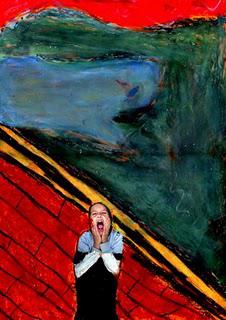 There's no denying the popularity of Edvard Munch's "The Scream". It's one of the most famous
paintings from the
Expressionist movement, and is fun for students to imitate.
1. A discussion of the painting is a good place to start, followed with digital photos of each student making their own "scream" face. Make color prints of each photo.
2. I gave the students some colored art paper, had them cut out their colored head and arms, and glue down to the bottom right corner.
3. The original painting has lots and lots of different colors, but there are some basic shapes that I indicated to the students. The sky is made of mostly warm colors, the water dark blues, and the ship lots of browns. I asked the students to outline these shapes on their paper, and then go to town filling them up with layers of colors indicated. This was a very popular project as both the students and homeroom teacher loved the results.