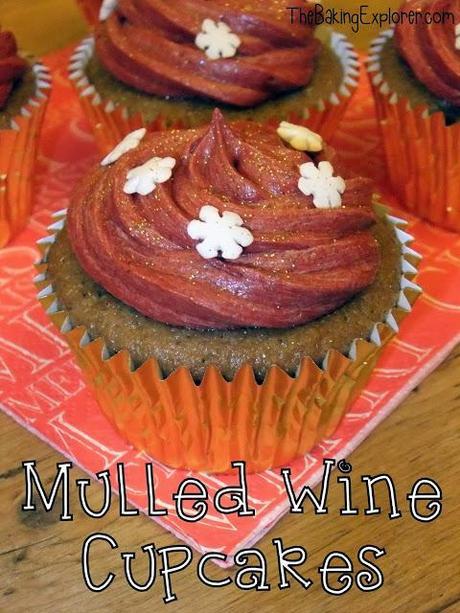 If there's one drink that really says Christmas, it's got to be mulled wine. I'm pretty sure it's only drank around Christmas time, and I know a lot of people who consider that after they've had their first mulled wine, Christmas is officially here! Also know as 'gluhwein' and 'glogg', mulled wine is warmed red wine, with sugar and spiced with orange, cinnamon, cloves, nutmeg, star anise, and/or cardamom. The spices used are a cultural, or personal, preference. I love making my favorite drinks into cupcakes! Here's how I did it...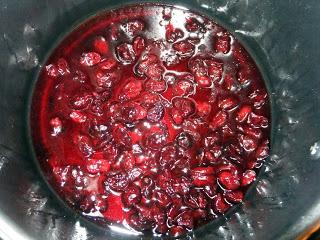 I started by warming up 100ml mulled wine. I used a bottle of ready spiced mulled wine, but you can spice your own if you wish. Once it was warm I added some dried cranberries and left them to soak for about an hour.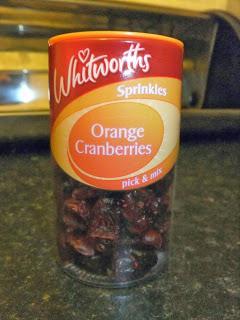 I used these dried cranberries which are flavoured with orange for that extra orange zing in the cupcakes. You can also use 100g plain dried cranberries.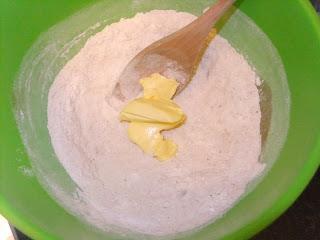 In a bowl I measured out 200g self raising flour, 140g caster sugar, 1 tsp baking powder, 1 tsp mixed spice, 1/2 tsp cinnamon, 1/4 tsp nutmeg and 40g butter. Feel free to add your favorite spices in whichever quantity you wish!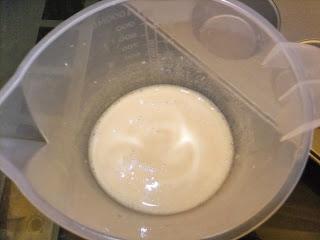 In a jug I whisked together 120ml Blue Diamond Almond Breeze, 1 egg and 1 tsp vanilla extract.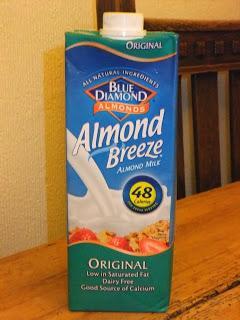 I was recently sent some Blue Diamond Almond Breeze to try out in my baking. I have recently been having trouble with cow's milk so I was really interested to try out almond milk. It comes in three varieties; original, unsweetened, and chocolate. I've only tried the original variety so far, but it tastes really nice. It's also very low in calories and perfect for anyone on a diary free or vegan diet. You can use it just like regular milk in baking, or when making soups, sauces and hot drinks.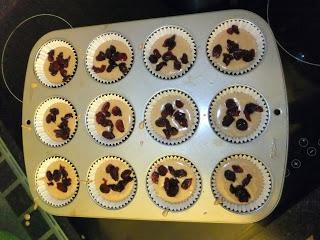 I mixed the almond milk mixture into the flour mixture bit by bit, and then added the 100ml mulled wine strained from the cranberries. I poured the mixture into a lined cupcake tin and put a few cranberries into each one until they were all used.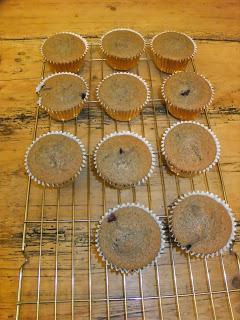 I baked on 180C/350F/Gas Mark 4 for about 20-25 minutes until golden.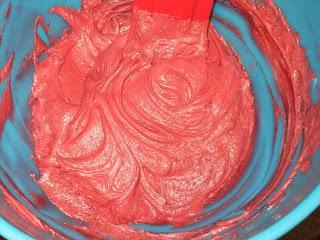 Whilst they were cooling I made a buttercream out of 400g icing sugar, 150g butter and 3 tbsp mulled wine. I also added some Christmas Red and Grape Violet Sugarflair food colouring till I got a rich burgundy color. I put some cinnamon and mixed spice into my icing, for extra warmth. I just added a couple of pinches of each until I was happy with the taste.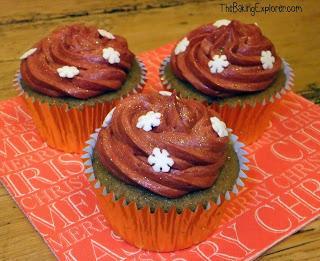 I used a star nozzle to pipe the buttercream onto the cupcakes, then I added some sugar snowflake decorations.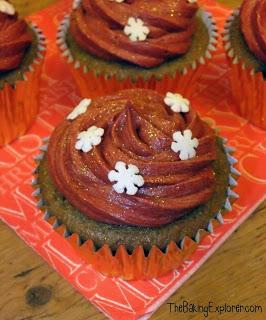 Finally, for that Christmas sparkle, I sprinkled some gold edible glitter onto the cupcakes!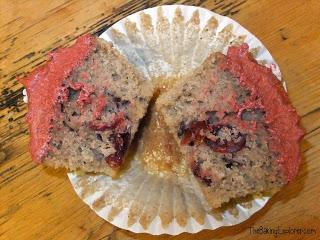 When cut open, the cupcakes were lovely and moist and filled with juicy cranberries.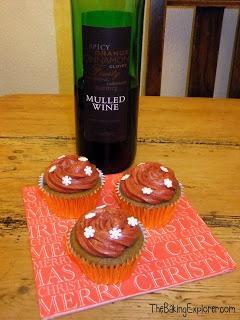 Serve with mulled wine, of course!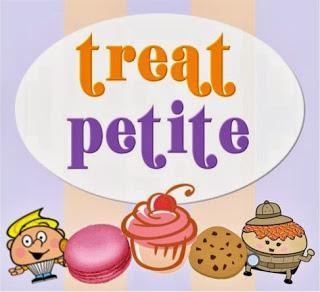 I am entering these into myself and Cakeyboi's monthly challenge Treat Petite. This month's theme is Happy Holidays!