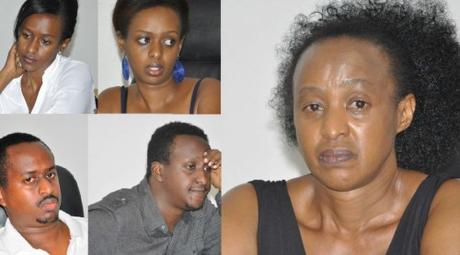 Assinapol Rwigara family. The almost incontestable assassination of businessman Rwigara is the latest high profile extrajudiciary execution by president Kagame regime among the Rwandan Tutsi elite. The murder of the personality was simulated into a road accident on February 4th, 2015.
In Rwanda, disappearance of citizens through the practices of the regime led by president Kagame is a constant occurrence.
In 2014, the bodies seen floating in Lake Rweru, for which Kigali refused any international investigation, revealed a tip of the iceberg.
At the time, the discovery followed a government announcement saying that authorities had noticed the disappearance of 16,000 citizens in the area of Ngororero, but couldn't tell where they had gone. Prior to that, another 30,000 prisoners doing their community service had equally disappeared from the regime's books.
Such disappearances are operated with the involvement of military and local government officials. "Several witnesses told Human Rights Watch that they saw a local government official and RDF soldiers detaining some of those who have disappeared," reported the human rights organisation.
That a government acknowledges publicly the disappearance of its citizens, and the next days one finds bodies floating in rivers and lakes, this indicates some directions to search for what happened to those missing.
The case of disappearance this note refers to relates to Rwandan citizens from the region of Mugera. And the story was sent out close to Christmas from Rwanda as an S.O.S. to the international community to plead for help.
"In Rwanda it is well known that there is no space for expression, but what is happening during these last days of the year (2015) is quite extraordinary.
In the past, much has been talked about with regard to some special unofficial prisons for their sinister character. Such prisons are those commonly known as: Kwa Kabuga, Gikondo, but they are not the only ones, because many similar exist across the whole country, be it in small towns, villages or very remote rural places.
The case I would like to presently highlight is the prison situated in the Eastern Province, Gatsibo district, Gitoki sector, in the locality called Mugera. This prison is renowned for its practices of extreme torture and shelter citizens who have been imprisoned for unclear motives, those usually called homeless in Rwanda, but are actually young people and men that security forces take from their homes, and put them with anyone they don't have much to accuse of but want to get rid of and fear that if they took them to court it could be difficult to prove their guilt; that explains the reason these people are transported to Mugera prison.
The prison can hold up to 200 people. They are harshly beaten morning, mid-day and evenings. The daily average of beatings is 50 blows of sticks. After the beating, prisoners are sent to work in state farms nearby. They do while unpaid all the farming tasks needed in the area belonging to the regime. Prisoners can spend up to 6 months in Mugera and some die further to the conditions of their incarceration. The prison is overcrowded. Those who manage to be released get out disabled and with life threatening diseases that don't let them be useful to themselves or anybody else.
Therefore one understands that living such experience, being beaten, pushed into forced labour, this is no different from what Rwandans experienced under the reigns of Tutsi monarchs from the feudal period before independence in the 1960s. Please note that the ration of the day is only a cup of cooked dried maize.
This time round, particularly during the festive season ending the year, since 1994 when RPF took power in Rwanda, citizens are kidnapped by security forces at a high rate. People are loaded into trucks under the pretext that they are homeless, or guests without known address of residence. Then one wonders where these homeless people come from in a country claimed by Rwandan authorities to be an economic success story. Once on those trucks, they are sent to the mentioned prisons for the so called homeless. When they are lucky and released, they explain that everyone imprisoned there is from the hutu community since they are the only ones who in Rwanda are categorized as homeless or guests without address of residence. From 1994 to 2007, when such people were taken from their homes, nobody could trace their whereabouts (since no visits from families are allowed, not much seems to have changed; they can disappear and they do through the system – my emphasis). Nowadays the only difference is that they are sent in those prisons where they are tortured and killed softly in a process that takes more time than in the previous period of RPF rule.
During these days, it is reported from people living in Kabarore, Rwimbogo and other sectors part of Gatsibo district that tens of young men and adults have been taken to the Mugera prison."
The person who sent this information from Rwanda (translated from Kinyarwanda) is appealing to the Rwandan government to stop its practices of such injustices against its own citizens. He is seeking from the international community to help Rwandans live peacefully in their country while enjoying their fundamental rights of human beings. It is highly shameful on the part of the Rwandan president to appreciate these living conditions of a significant number of Rwandans while he is doing everything to stay in office forever, even against the natural laws embodied in the concept of change.  
It is said that being emotionally detached from situations one has experienced or is coonected to is quite impossible. Writing this note should be understood under such perspective. The majority of Rwandans if not all have lost relatives or friends under and because of the rule of president Kagame. Some chose to hide their heads in the sand and do as if nothing has happened to them or is happening while they blindfold themselves, while their country's leader is gradually emptying the nation of its citizens. For others, continuing raising awareness about these ongoing cases of ethnic cleansing, disappearances and overall oppression of mainly one particular national community, is part of the struggle of dealing mentally with their personal losses.