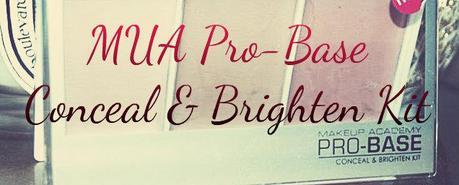 Hello dears! Today I'm blogging about the MUA Conceal & Brighten pallet.. Yippie!   Well, whilst I was on a mission around Leeds on Wednesday, I decided to pick up a few bits with a little Superdrug voucher I had, & as usual, MUA were top of my list. Its mainly because I'm brassic and I've not really had many quarrels with MUA products as of yet, & c'mon its so cheap!   I picked up their water proof liquid eyeliner (review coming soon) Their Pro-Brows kit (review also coming soon) and their Pro-Base conceal kit. Usually for concealers I go with the pens. I'm actually using the MUA concealer pen on a daily bases in their lightest shade & its pretty darn good! I've never really used concealer pallets before, its not something I've experimented with. I was pretty much the girl who tried a few concealer pens (out of sheer convenience) & never really branched out.   But I'm a beauty blogger.. Its high time I stepped out of the comfort zone!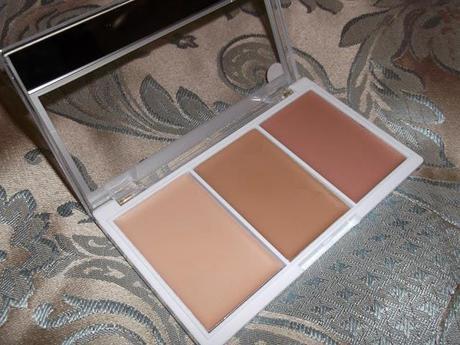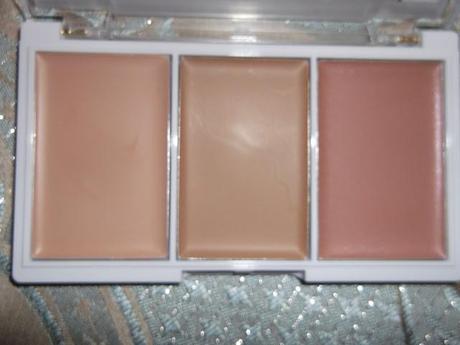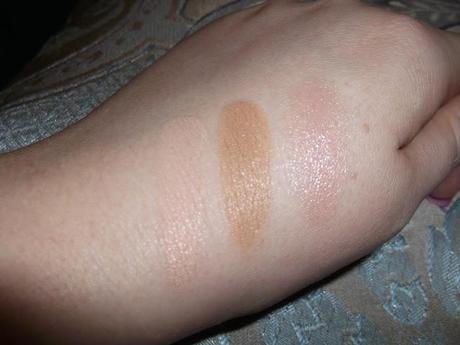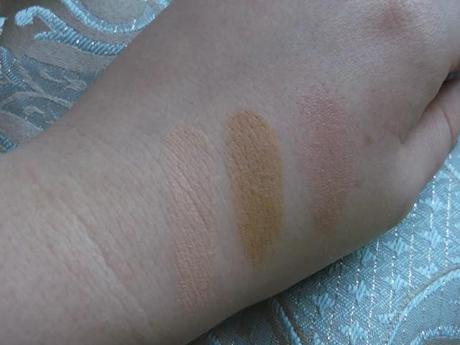 What MUA say? "Perfectly blendable camouflage for almost any skin imperfection including blemishes, scars, birthmarks and under eye circles. Also contains highlighting cream to transform your complexion with luminescent shimmer. "   The MUA Pro Base Conceal & Brighten Kits come in three different shade pallets, & having seen them in store I have to be honest, the shades do not vary all that much & it looks as if there is not a palette for those with deep skin tones as of yet.
Each palette contains three large pans of product, two concealers and one highlighting cream. I picked up the MUA Pro Base Conceal & Brighten Kit in the shade Beige-Golden which looked like my ideal match, but honestly I couldn't be sure as they hadn't set a tester up for me to do any swatches at the time.
   The first thing I like about this pallet is the creaminess of the concealers and highlighter. They give moderate coverage but are slightly more slippery and wetter than I am used to so I do recommend using a powder to set and prevent slip throughout the day.   The first two swatches are the concealers & the last the highlighter. All three feel lovely on your skin, although you can see the second concealer is a considerable amount darker on my skin & would be best suited to someone with slightly darker skin tones (I am extraordinarily white though) But to be honest, after experimenting and blending the two concealers I have found a happy medium that works with my skin too. So happy days for the pale kids!   The highlighter works fantastic on your cheekbones. I have very prominent cheeks and its a feature I quite like, so the small amount of highlighter really helps the contours. Its not at all shimmer based but one that you would use to add light to the face when contouring and highlighting, & in fact I think this product is perfect for pale girls (like me) to use as a pallet to sculpt and define contour areas instead of having to splash a tonne of wonga on pricey sculpting products.   Pros: + Blends well + works well as a contour cream for pale skin + lovely cream texture   Cons - Not suitable for tanned skin - Slightly wetter than some other concealers (powder needed)   Overall I was really happy with this product, although I am aware a few bloggers who have darker skin tones have had a few problems with the pallets being either too light or containing too many pink tones. - If you are interested in trying this product I strongly advise taking swatches from the test pallets first. I was lucky enough to have a compatible skin tone after all even though I didn't swatch in store.. But for you beautiful tanned ladies out there, you may find this pallet a little hit & miss.     MUA Pro-Base conceal and Brighten kit is £2.50 and available at most Superdrug stores Or to buy online click here   Have you tried the Pro-Base conceal & brighten kit? What do you think of MUA products in general?