I got a bit sidetracked with university work and forgot that I still had items from my MUA haul to review, so today I have the two lipsticks that I recently purchased from their website. I had been after these two shades for quite a while but could never find them in any of my local Superdrug stores, so when MUA were offering free delivery I had to snap them up at long last. Amazingly these lipsticks are included in the more basic range offered by MUA and cost just £1 a pop so you really can't go wrong!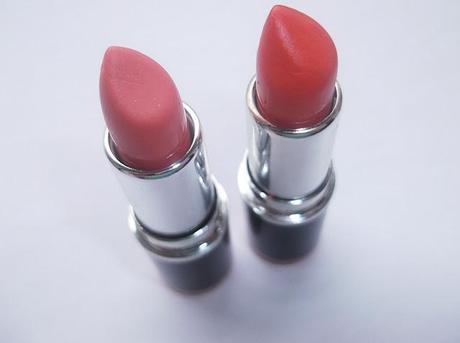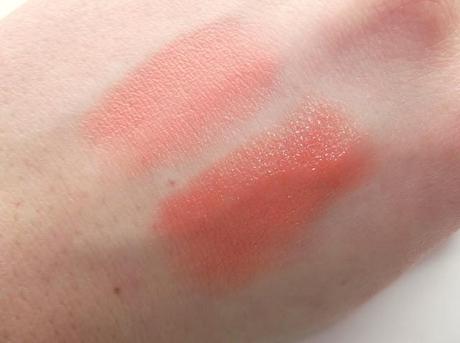 L-R: Juicy (shade 15) and Nectar (shade 16)
As you can see from the swatches, Juicy is a lovely pinky peach color which I think is absolutely perfect for everyday wear in spring as it is just bright enough without being too in your face, and Nectar is an orange shade which may scare some people but in all honesty I think it is a very wearable shade for this season and has seen a lot of wear from me in the past few weeks. Bearing in mind I have swatched these lipsticks a little heavier than I would wear them myself in order to give a better idea of the shades and finishes, and apologies for not including photos of each on my lips as they are honestly in such a dry state right now (definitely not a pretty sight!). I find both lipsticks to be very moisturising for the lips with Nectar giving a slightly smoother finish, and what's even better is that they both smell and taste pleasant with a hint of vanilla. All in all I think the lipstick range from MUA is wonderful in terms of quality and shade range, and at just £1 they are fabulous value for money. The MUA lipstick range can be found in selected Superdrug stores and online from both the Superdrug website and the MUA online store.