On Thursday I recieved my package from Make Up Academy and got a little bit excited when I saw my depo card in the hallway. It arrived early which was a suprise.


First I will be talking about the concealer I was excited about. Unfortunately they sent the wrong packaged one. I wanted the NEW one but I recieved the old one. However I don't see a huge problem. It would have been better with the sleeker packaging but I forgive them as it is nearly Christmas and their stock is low.
The concealer is in light as I always stress that I am super pale. But it is a gift or a curse. Whatever floats your boat. The texture is thick and creamy which is always a good sign in a concealer as then you know that I will cover those wicked spots on my forehead.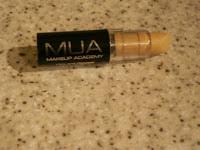 I am a huge fan of this although I have only had one use out of it considering I got it yesterday. However, I wouldn't say it is the most fantastic concealer I have ever used as there is very little product.