Next up from my recent-ish MUA haul is the new lip balms from the Love Hearts collaboration. There are five shades of balm to choose from but after a bit of online hunting for swatches I finally decided on Sweet Kiss and Kiss Me. Firstly I just want to say how much I adore the packaging as it is just so adorable and fitting for the Love Hearts collection. The tubs come in a fairly substantial size with 10g of product and you do appear to get a lot of product for the price (only £2!).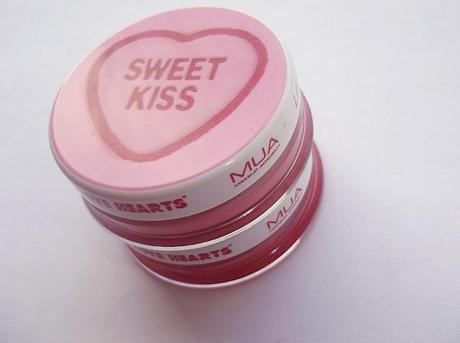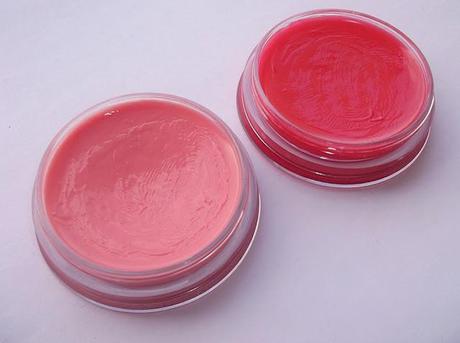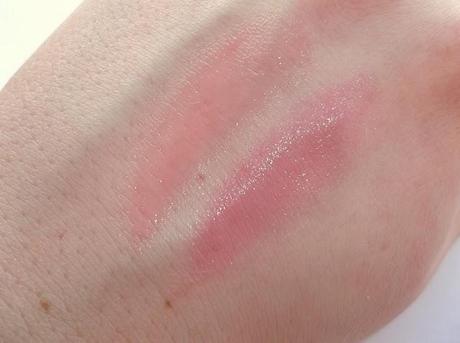 L-R: Sweet Kiss and Kiss Me
From the swatches you can see that Sweet Kiss is a peachy toned pink balm and Kiss Me is a red balm with the slightest hint of orange and I think that both shades are perfect for the coming summer season. Both lip balms also smelled and tasted surprisingly nice with a hint of vanilla but nothing too overpowering. I say this is surprising as I usually hate the taste of lip balms, and sometimes so much so that I feel like I need to remove it again right away. I think that the consistency of these balms is great as they aren't too hair-caught-in-your-mouth sticky while still leaving a glossy finish to the lips and while the color doesn't last for any great deal of time I find them both to leave a nice 'your lips but nicer' finish throughout the day. I have been pairing both of these lip balms with some of my MUA lipsticks and have found the lipstick shades Nectar and Juicy to be perfect as a base for the Sweet Kiss balm. 
The MUA and Love Hearts lip balm collection is available on the MUA website and also in selected Superdrug stores for the great price of £2 a pot. Have you tried any of the MUA lip balms?