This week's #MTOS will be hosted by @Dale_SaxonIII aka Dude In a Panda Suit :-) Please follow him on twitter for the event. Below is his post that I am hosting on my blog.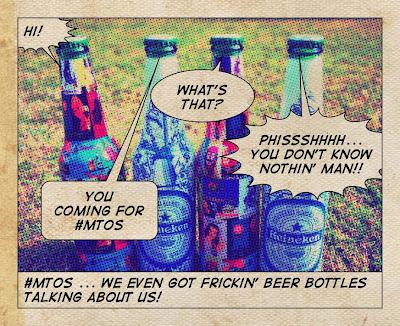 *RIIIIINNNNG* and there's the bell. Don't worry you're not late, but just in time for class. Welcome back to your awkward adolescent years. Whether you were running with the popular kids, scoring the winning touchdown, or serving time after school for the great prank you almost pulled off, you hated it. Thank god who knew how to survive thanks to films that showed you how to party, how to defeat the bully, how to be cool, and how to land your crush. Teen movies ranging all the way from the 50's up until present day. From Beach parties to full community chaotic block parties…Teens movies have been a staple in film. So let's get this going….
*Teen Movies for the sake of this week's MTOS, will be limited to the following restriction; If any of the characters adventures or setting takes place after college, it's not a TEEN Movie*
Growing up sucks! You're older now, you have bills and responsibility. Oh how you long for the golden days of good times and good friends…
1.
What is the ultimate feel good Teen movie for you?
There's a real cool spot at the other side of town, where the cool kids go to hang out and you're not invited. CRASH IT!! Want to be part of the cool crowd? Infiltrate! * This question allows usage of cross dressing, creating new personas, and blackface*
2.
Which Teen movie hangout spots and/or cool cliques did you want to get into?
"You need to fit in dude! Your Cali hair and surfing skills don't work here in football country" Athletics. Sometimes you need to score a goal or cross that finish line for the team to save face and make your name amongst your class mates
3.
What Teen movie sports activity would you have participated in?
TEENAGERS ARE ALL ASSHOLES. No matter what you say, at one point you were a jerk to authority, and obnoxious to elders. Worst of all they manage to turn high school into survival of the fittest. From social life ruining gossip to plots of committing murder, teens were ruthless *Note: Any plans involving a dean or principal are void*
4.
Which teen movie had the cruelest plans of evil and why?
3 more minutes until summer vacation…Summer jobs, flings, parties, the beach, or worse…being sent away to another town and have to make new friend! No matter what it needed to be awesome so when the time came to answer "How did you spend your summer vacation?" you had the perfect response. The summer is the major setting of a lot of teen movies.
5.

  
 Which movie had the better summer vacation and which had the worst?
Don't touch the car! No parties! Listen to your brother! No using Magic! Double Secret Academic Probation!! Restrictions are the worst thing you can give a teenager. Rules? Ha! They'll break them in style.
6.

  
Which teen movie best displayed the mistake of trusting teens to follow the rules?
All Teenagers must Die. Jumping off the previous question, they don't listen and this usually lands them in some non-comedic situations with horrific consequences. Drug usage, premarital sex, drinking, parties, walking off alone, watching rated R movies late at night where teenagers die…you know the rules!
7.
Which teen horror movie did you feel punished stupid teenagers the best?
Who knows teens better than teens themselves? The adults writing the script and calling the shots on set, that's who. Sometimes it takes a grown child to express the penned up emotions from those years of sitting in the back of the classroom. These events usually give us a great film in total outside of the actors and actresses.
8.
Which directors and/or writers do you feel gave us some great teen movies?
PARTY!! PARTY!! There's Party after graduation/prom/the big game or just a huge damn party. When it's wrong, it feels so right. Who's driving?
9.
Which Teen Movie Bash would you have attended?
And lastly…
10. 
Create your perfect Teen Movie: Title, plot, and cast. ( I know what you're thinking "Really, with 140 characters?" Ha Ha Ha)
Bonus questions:
11.

  
Which Teen movie was a better adaption of a Shakespeare story?
12.

  
Name your Teen Movie Crush.
13.

  
What Teen Musical would've driven you crazy to attend every school day?