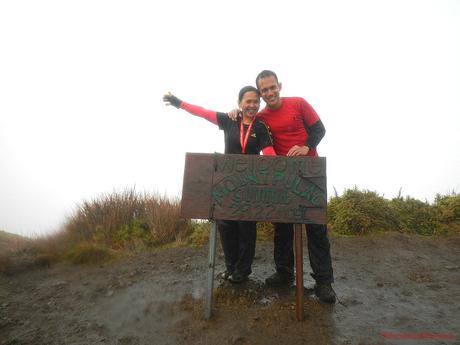 Just like any other woman, Mother Nature is extremely moody. At one moment, she is calm, happy and proud to show you her best. Then without any hint of warning, she can turn sour and deny you of her beauty. And if she's furious, she will not hesitate to put your life in the jeopardy without remorse or mercy.
As adventurers, we have come to realize that in order to understand and be with Mother Nature, we have to appreciate her vagaries and respect all aspects of her temper. That is true, even if sometimes, we have to face disappointment.
Howling winds carrying rainwater pelted the campsite during the evening of our second day in the mountain. We were hoping against hope that the following morning, which is Valentines Day, will be clear so that we can witness the magical sea of clouds that Mt. Pulag is well known for. But rain kept pouring when we woke up at 4 AM. The temperature has dropped to -1 degree Celsius, and frost would have formed if it was not raining. We decided to wait it out until 5 AM to see if the rain would stop. No such luck.
A little bit dejected having missed out the sea of clouds, Sweetie and I just prepared an early breakfast so we can pack up early. We were wearing cold weather gear even inside the tent because the ambient temperature was at 1 degree Celsius. That's really cold.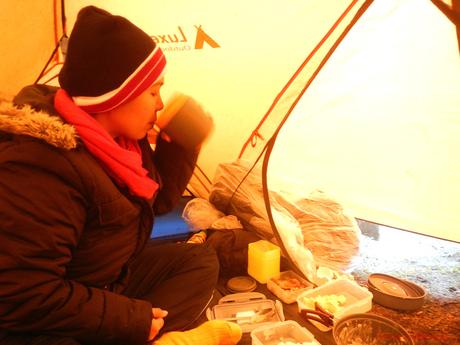 Like the bad weather hounding us since yesterday afternoon, everyone was as deject. At around 7 AM, our team (and other campers) decided to break camp and exit the mountain via the Ambangeg trail.
Check out the photo below; that's how rainy the day was.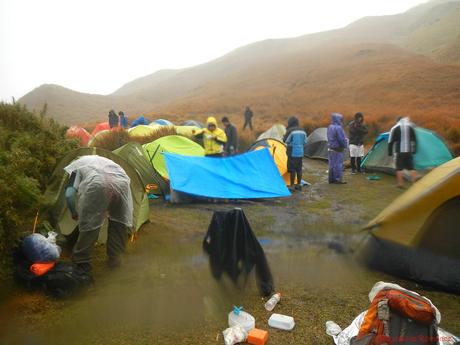 Once everyone was packed up and after cleaning our campsite, it was time to leave Camp 3 and get on the trail. We started the day's climb with a steep ascent on a muddy road that, at certain areas, turned into gushing streams.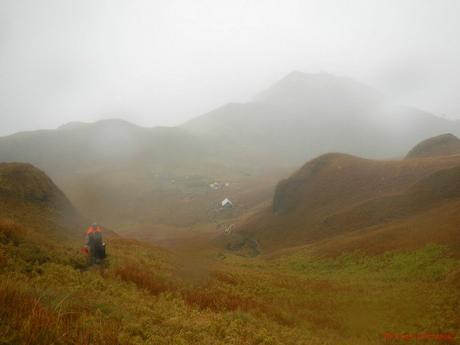 This scene would have been picture perfect on a clear day. However, we are not ones who see the bad side of things. In fact, we saw the mysterious, ethereal, and foreboding side of Mt. Pulag. The gray sky acted like a giant diffuser, muting the colors and sprinkling the mountain in a silent bath.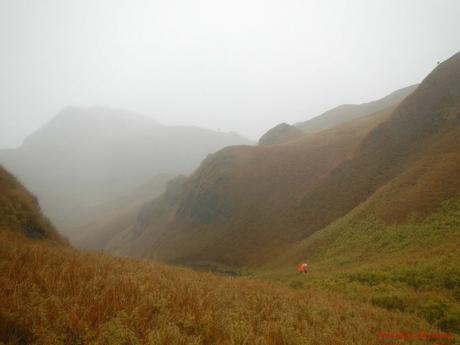 We found an easy shortcut leading to the summit along the trail. At first, we really didn't want to go up. But since we were already here, then what the heck! Let's do what we came here for!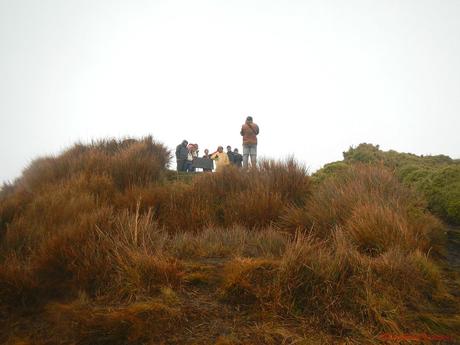 After a 3-minute climb, we officially reached the top of Luzon and the third highest peak in the Philippines! You can't have a more adventuresome Valentines as this! Happy Heart's Day, Sweetie!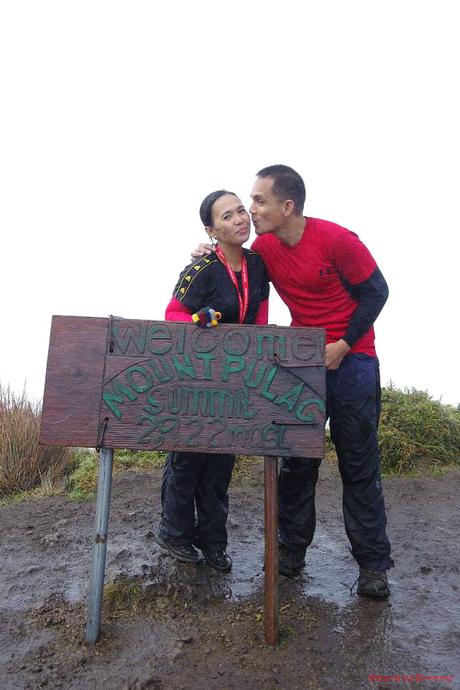 (Photo Credits: Jigz Santiago)
After taking a few pictures at the summit, we went down and came upon the tail end of the Ambangeg trail, which follows gently rolling terrain. From here, it was a long but easy walk to our exit point.
Check out those beautiful tussocks.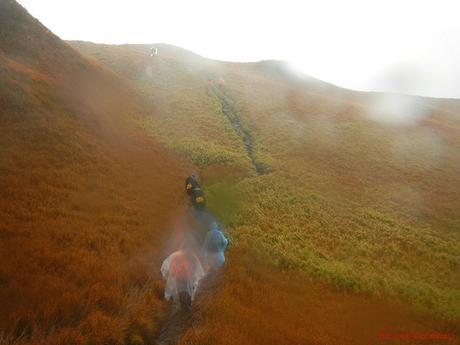 Awww! How sweet! Little did we know that a couple of months after this Valentines climb, Jigz and April tied the knot! That will be another story. Hehehe!
Check out the trail. Sadly, the massive number of trekkers climbing Mt. Pulag has destroyed the Ambangeg trail. What has once been a narrow one-person trail has become a wide "field" of mud because many trekkers don't stick to the trail.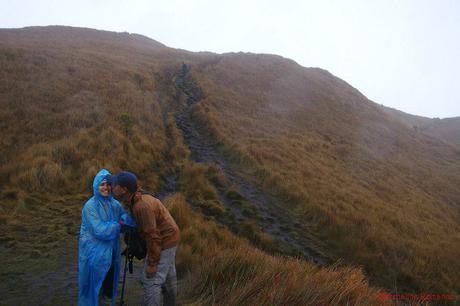 (Photo Credits: Jigz Santiago)
We were wide-eyed with amazement at the porters of Mt. Pulag National Park. They can carry huge loads with relative ease. This lady (yes, you heard that right) was carrying around 30 kilos of baggage, and she was trekking faster than us! We have great respect for these porters.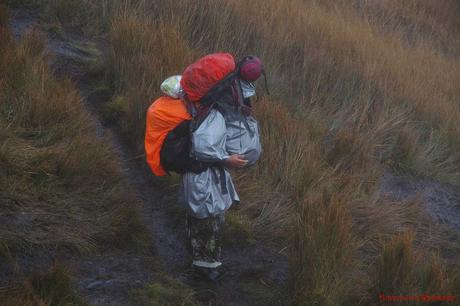 (Photo Credits: Jigz Santiago)
As we trekked the Ambangeg trail, rain poured harder, but thankfully, the wind died down. If not for the cloud cover, this could be a very beautiful scene.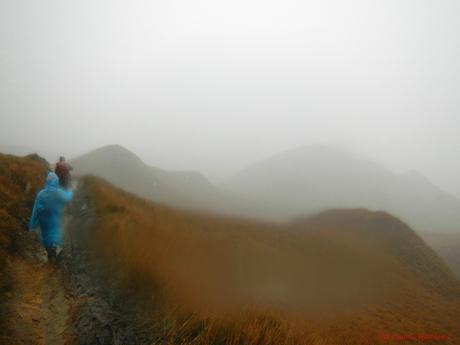 More than an hour later, we came upon a paved section of the trail. While it may be an eyesore for purist nature lovers, we totally understand why this is an advantage. A paved trail reduces damage to the surrounding area as trekkers will stick to the trail rather than blaze their own.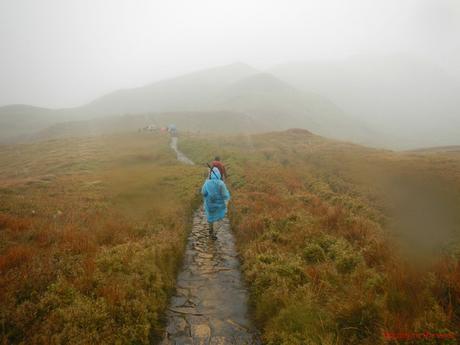 We chanced upon these trekkers who took a break at the trail. We're not sure if they were from Camp 3 or if they're still going to Camp 3.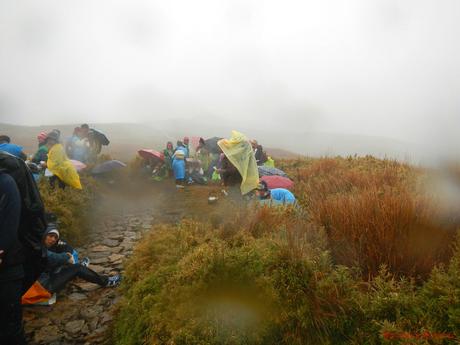 At the crossroads, we saw this nice sign which conveniently points trekkers to where they want to go. We would like to try the Tawangan Trail if we get the chance.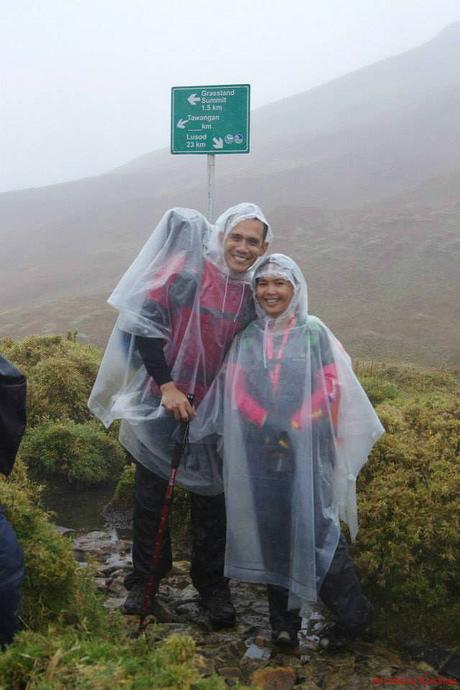 (Photo Credits: Jigz Santiago)
Gaps in the stone-paved trail allowed water to seep in, turning some sections of the trail into virtual streams. It was still a long way to our exit point.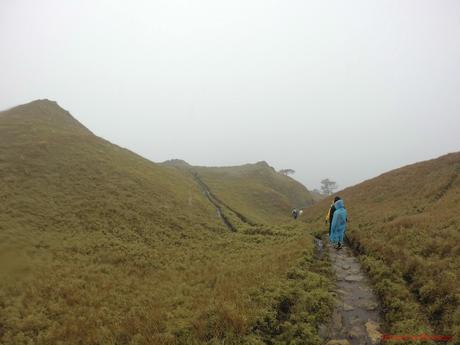 Less than an hour later, we arrived at Camp 2, which was totally rendered unsuitable for camping due to deep mud the rain has caused. In fact, a few weeks after we climbed Mt. Pulag, Ms. Gina Epe, through her FB page, informed the public that pitching tents in Camps 1 and 2 was prohibited to allow the ground in the area to harden and recover.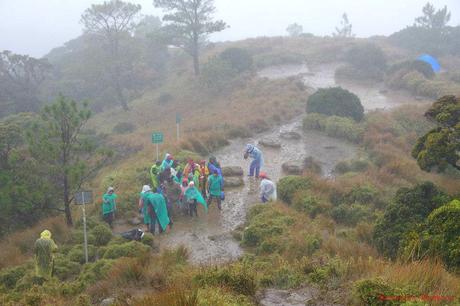 (Photo Credits: Jigz Santiago)
Bushes and trees topped with gorgeous wild flowers gave splashes of color even in during this gray day.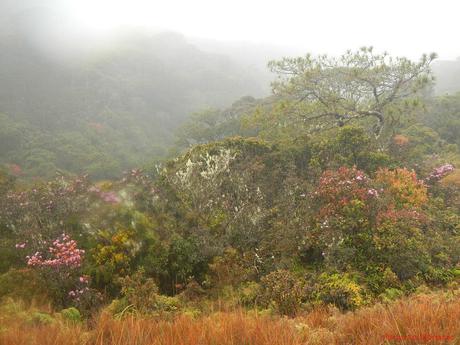 Here's a close-up shot of some of the beautiful, rain-soaked wild flowers we saw while on the trail. These would cost a fortune in the city.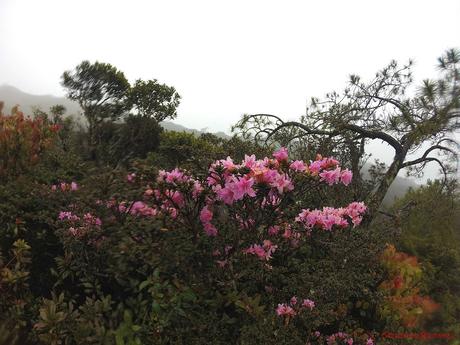 Immediately after Camp 2, we entered a wet, shady mossy forest with a very established trail. We will write a separate blog post about the Ambangeg trail sometime next year when we visit Mt. Pulag again. You don't think we will forever give up the chance of seeing the sea of clouds, do you?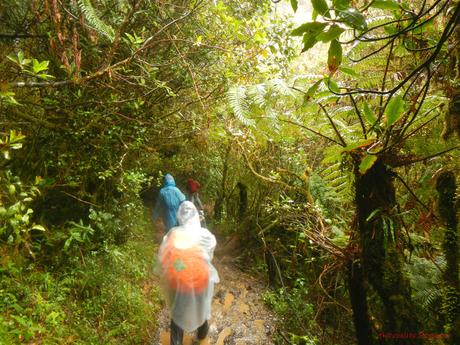 If we are correct, this small waterfall in the forest is the last water source for trekkers using the Ambangeg trail.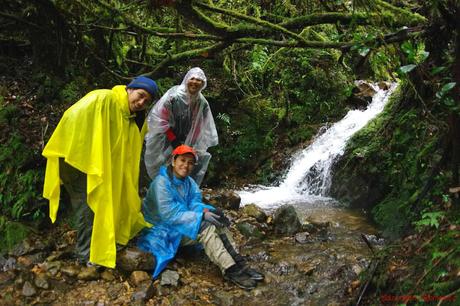 (Photo Credits: Jigz Santiago)
That looks kind of dangerous, isn't it? Oh, those are electrical lines. So if you are unfortunate enough to fall off that cliff, you have an option: perish in the fall or die through electrocution (insert evil laugh).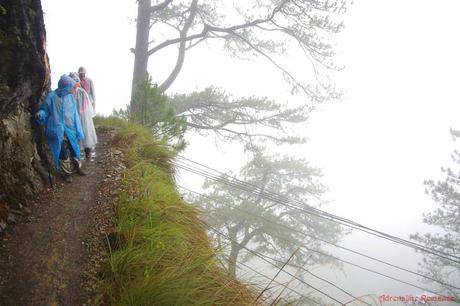 (Photo Credits: Jigz Santiago)
Finally, through the mist, we saw the beginnings of vegetable farms and houses. Civilization, at last!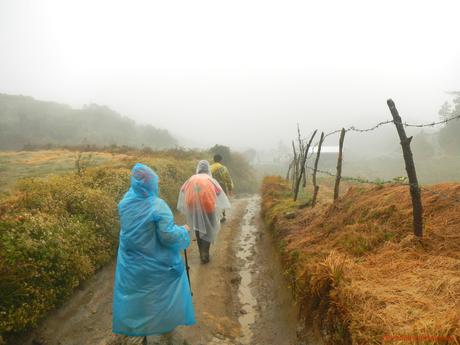 After 4 hours of long but easy trekking, we arrived at the Babadak Ranger Station, the starting point for Ambangeg trekkers. Our exciting Valentines climb has come to an end, and it was a great adventure to remember despite my massive cramps and the unexpected bad weather.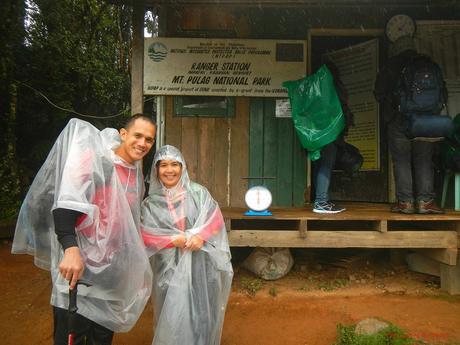 (Photo Credits: Jigz Santiago)
Oh, look! Our chartered jeepney was waiting for us! We don't have to hike all the way to Ms. Gina Epe's restaurant where we can finally freshen up and eat a steaming hot meal of pinikpikan na manok.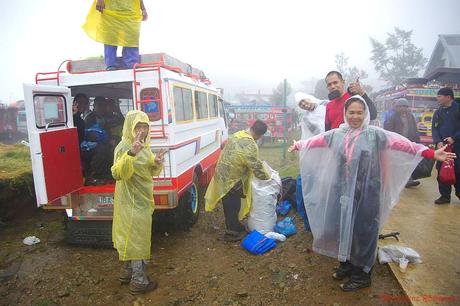 (Photo Credits: Jigz Santiago)
Ambuklao Dam
After logging out and getting our Mt. Pulag certificates at the DENR/Visitor's Center, we started our long 3-hour trip back to Baguio. On our way, we stopped by the Ambuklao Dam in Bokod, Benguet. Built in the 50s, the dam serves as a flood control structure, hydroelectric facility, and irrigation source. It is also one of the oldest power plants in the country.
It was our first time to see a real hydroelectric dam, and we were just overwhelmed by its sheer massiveness.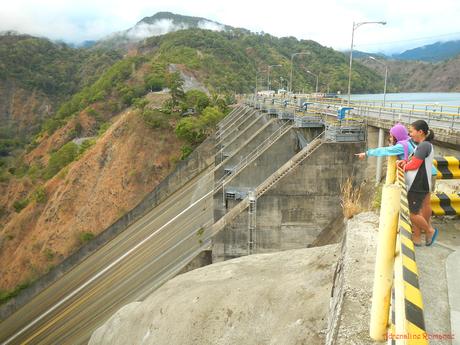 Ambuklao Dam is an example of a gravity dam in which the Earth's gravity itself holds the structure in place. The dam's spillways direct the flow of water downstream when the floodgates are opened.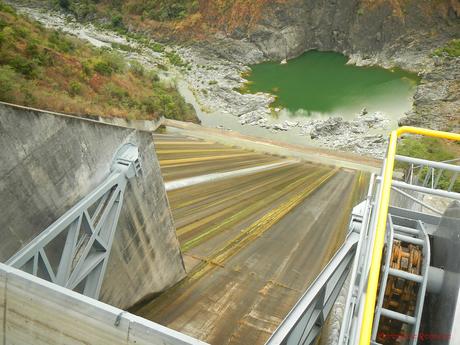 The dam's floodgates allow engineers to control and regulate the flow of water out into the dam. They are built over the spillway.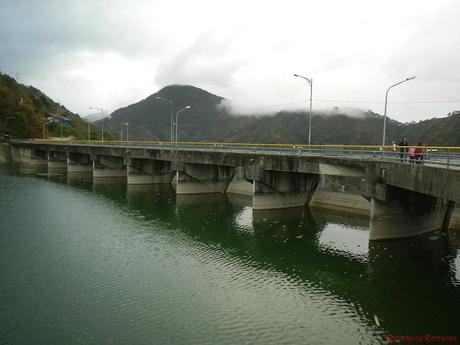 When the floodgates open, water crashing down the spillway flows towards the downstream side of the Agno River. We were concerned about the potential danger of houses lying close to the river's shore. Most probably, however, safety engineers must have taken precautions to keep those communities safe.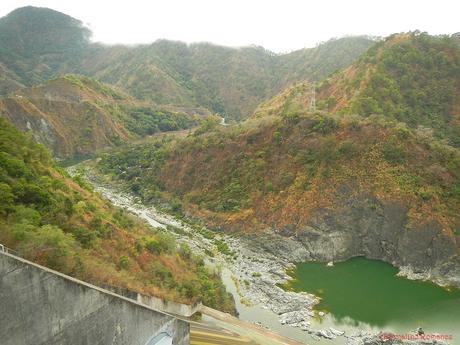 That's the Ambuklao Dam's power plant, which generates and distributes 105 megawatts of electricity to the Luzon grid.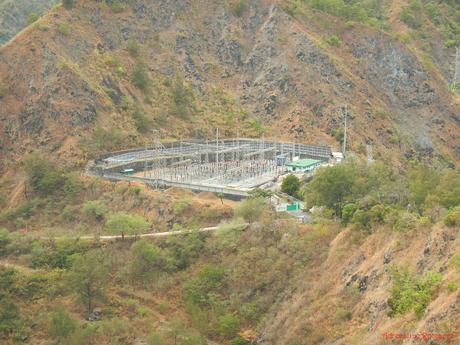 Along with three other dams, the Ambuklao Dam controls the flow of the mighty and picturesque Agno River, the fifth largest river in the country. Many people depend on this river for fishing, irrigation, and a whole lot of other industries.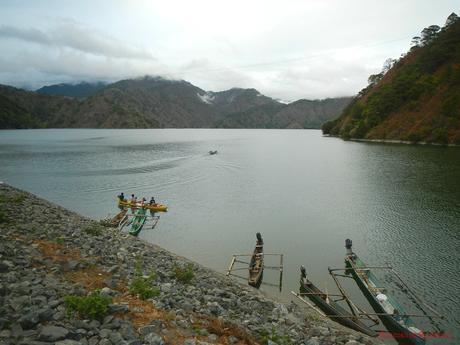 A few hours later, we reached Baguio City and said goodbye to members of our team who need to go back to Manila to catch their flight. For us and a few others, it was a beginning of a much deserved rest and an exciting side trip.
Indeed, our Valentines climb up Mt. Pulag was a success despite the cramps, bad weather, and bad visibility. And like many other adventures we undertook, we learned valuable life lessons, the most important of which is never to underestimate Mother Nature. She is beautiful but deadly. She is serene but unpredictable. Always treat her with care.
Tips to follow