Mountains are never to be underestimated. They have the absolute power to decide the fate of the very lives that set foot on their bosom and those who live beneath them. They have the capacity to protect, reshape, and destroy the land around them. Thus, we have high respect for these wonders of Mother Nature. Even the so-called minor peaks are not to be taken for granted. And once again, we felt and experienced the unfathomable power and majesty of the mountains when we ascended the small but dangerous Mt. Igcuron in Valderrama, Antique.
Mt. Igcuron has always been on our sights since we started mountaineering, and now that we were in Antique, we saw our chance. Specifically, we were captivated by the notion of traversing its knife-edge, which was said to be razor thin.
So at the break of dawn, we started our journey back to Valderrama from Anini-y. After several connecting rides, we were on the final leg towards the town. We were totally giddy with excitement and anticipation when we saw the mighty Igcuron range looming over the municipality's vast rice fields and the wide, shallow Cangaranan River.
Unlike the past few days where rain constantly fell, we were blessed with sunny weather and blue skies. For us, it seemed that the mountain was reasonably pleased with us and would want us to visit her summit.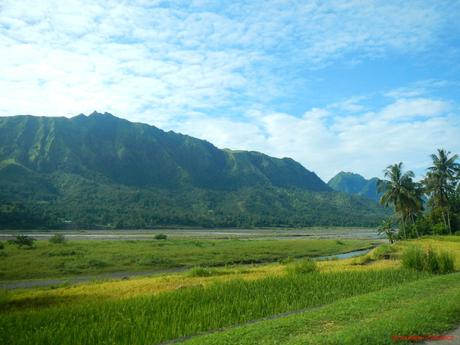 After a big breakfast of vegetables, rice, and eggs, we first went back to Villa Valderrama Nature Park to leave some unneeded stuff and to meet our guide whom we have arranged a few days earlier. However, the staff said that he was already at the jumpoff area in Barangay Binanogan waiting for us!
Good thing though that our habal-habal drivers were still at the resort. They gave us a free ride to the barangay.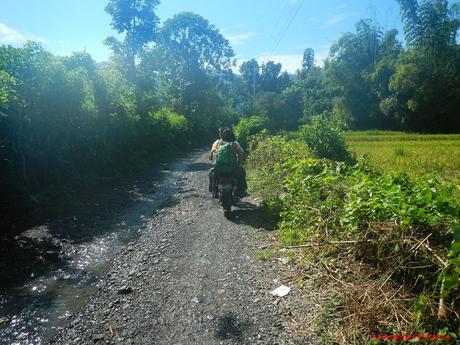 In less than five minutes, we were at the jump-off point. While waiting for our guide, we admired glimpses of rural life—a stern old man raking some dried rice husks, chatty madames engaging in the latest gossips, and bubbly kids playing some games with their young friends.
We were simply amazed at the unsophisticated lives of these hardworking people. Being conditioned to the complexities of modernity and so-called "contemporary society," it is difficult, if not virtually impossible, for some people to be comfortable in going back to a life of simplicity.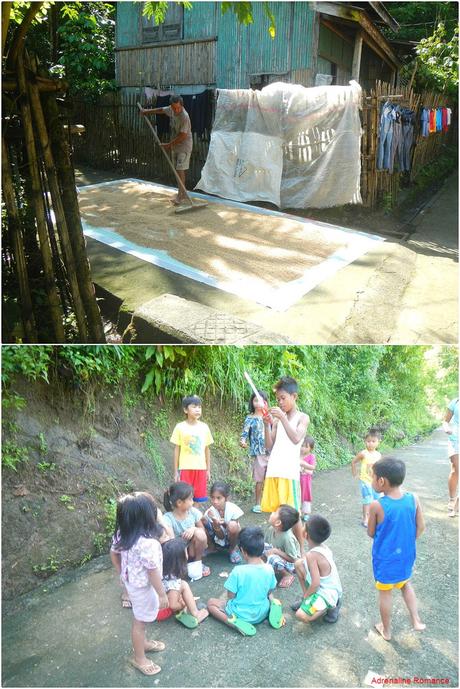 Our guide and his friend arrived and introduced themselves. Despite their advanced age and simple looks, we know they were extraordinarily tough. Their weathered, wrinkled skin and thickly muscled lower limbs spoke volumes of the strength and experience concealed in those bodies.
After the necessary registration and briefing, we started the arduous trek towards the sacred summit of Mt. Igcuron. The first stage of the adventure involves a wet trek on shin-deep canals and streams. These natural and man-made waterways are used to irrigate the vast fields here.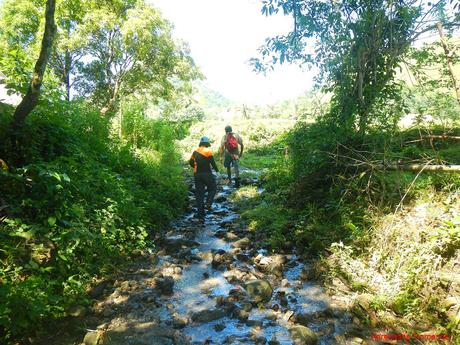 "Hello there!" Our guide shouted in the local dialect to his friend who was working at his farm below. Farming is still the mainstream industry here, and despite the availability of modern machines, locals still prefer to do their work using proven, traditional methods.
It has been quite some time since we saw a carabao with an araro (plow) at work.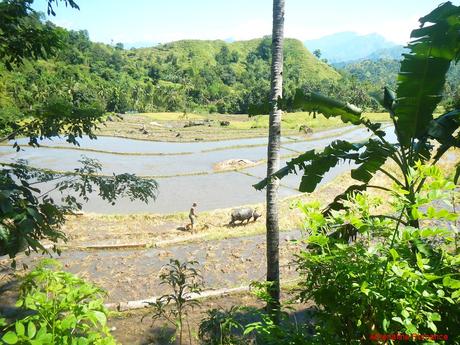 The majestic Mt. Igcuron loomed ahead of us. With its bombastic curves and thin ridges, we were in awe at the beauty of this small but totally sexy mountain. Mt. Igcuron stands like an immovable sentinel over the lowlands of Valderrama.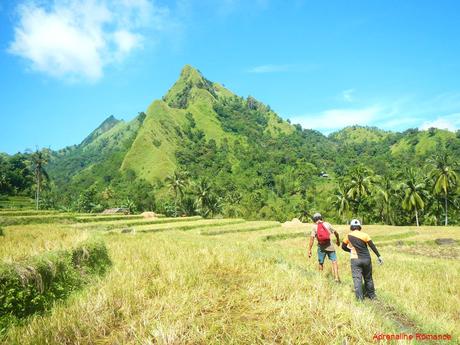 Walking on the terraces is absolutely not easy. We had to balance on thin embankments made of mud while keeping our steps light to avoid an avalanche. Little did we know that practicing our balancing act on these terraces farm would prove very useful on the way to the summit of Mt. Igcuron.
Of course, since we have our reliable trekking shoes on, we could have stepped on the paddies. But of course, we wouldn't do that considering they are freshly planted with young rice saplings that have just peeped out of the mud.
Terracing, by the way, is an age-old agricultural architecture technique that reduces erosion, saves space, and makes farming more efficient.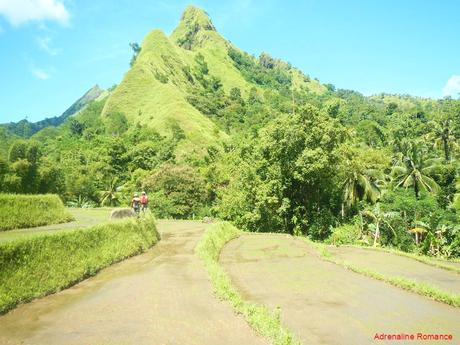 This was one of the most adventure-filled day treks we ever had. Not only did we walk on muddy farmlands, but we also had to climb boulders and cross fast-flowing rivers.
That was a good thing though. The day was excruciatingly hot; so the fresh, flowing water was a soothing balm as it cooled our stuffed feet and sun-reddened faces.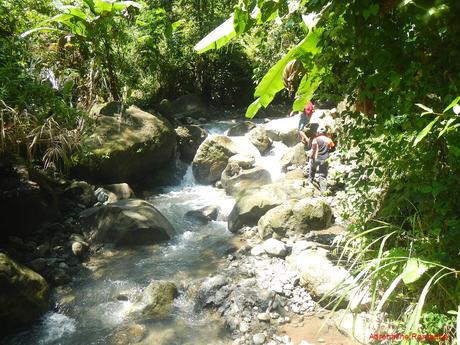 Several waterfalls dot the river in many places. They offer locals a nice refuge against the sun's heat. But most importantly, these streams and rivers form a part of a natural but intricate system that the people in Antique depend to survive.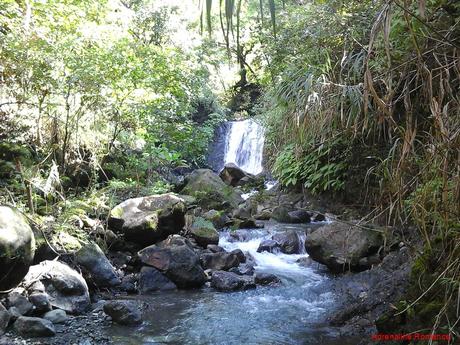 Along the way, we spotted several grass-carpeted hills that make up the ridge of Mt. Igcuron. They resemble the humps of camels, don't they?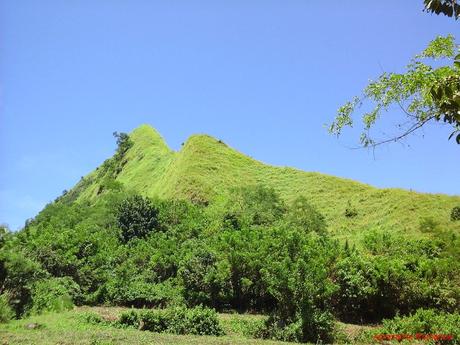 All the while, we thought that we would climb those ridges to get to the summit. But we were actually puzzled why the trek took a different, longer route.
When we brought this up to our guide, he explained that the ridges are unclimbable without proper equipment. Thus, the standard trail follows the length of the mountain's base. We were to walk this trail until it leads to a slope where climbing is possible.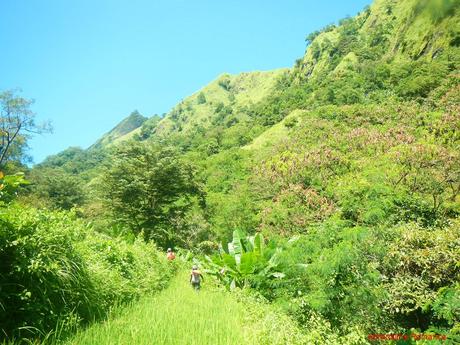 Just when we thought to call out to our guides that we needed a 15-minute rest from the non-stop walking, we came upon this cute house at the edge of the forest. Wow! A small nipa hut in the middle of nowhere! It turned out to be another friend of our guides. We rested in the shade while the guides and their friend chatted and enjoyed puffing a few cigarettes.
We were definitely amazed at the self-reliance of these locals. They can practically and comfortably live anywhere as long as there's water, a fertile plot to farm, and a few trees that protect them against Mother Nature's elements.
Our ancestors lived full, contented, and happy lives without the stress of careers, modernity, and the necessity of acquiring useless things. Perhaps we should immerse in their culture and experience their lives, even for a moment, to evaluate what is really important in our lives.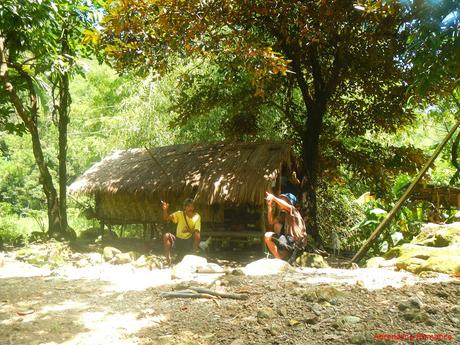 Our guides finished their cigarettes, and we had our water bottles filled. Re-energized by the stop, we started to climb this extremely steep hill but picturesque hill.
We found out that walking along the up-and-down trail is one of the biggest challenges of climbing Mt. Igcuron. The trail is totally exposed to the hot sun, with only light woods to provide shelter. Furthermore, trekkers need to climb gentle inclines and steep hills before the final assault. The combination of these factors quickly drains strength, and by the time they reach the gully, they are already exhausted.
As we crested the hill, we were treated to this rarely seen, spectacular view of the Valderrama Valley. Just look at the immensity of that landscape!
Our hearts filled with pride upon looking at this lush, verdant valley; with natural gems such as these, the Philippines is a pretty magnificent country. Now, it is up to us to preserve them for generations to come.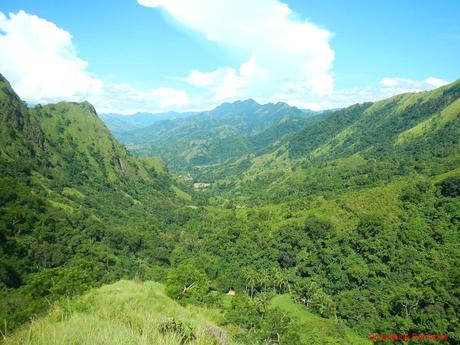 Treacherous cliffs make up the Igcuron range. They cannot be ascended without special training and gear. Still we would definitely love to take the challenge if given the chance to traverse the mountain via this ridge.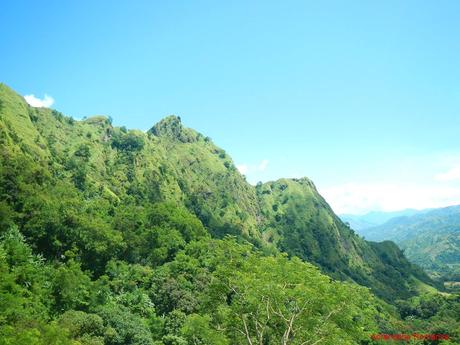 More a couple of hours into the hike, we finally saw the domed summit and the pointed secondary summit of Mt. Igcuron. The slope, which is a mix of limestone cliffs and grassy slopes, is a sight to behold.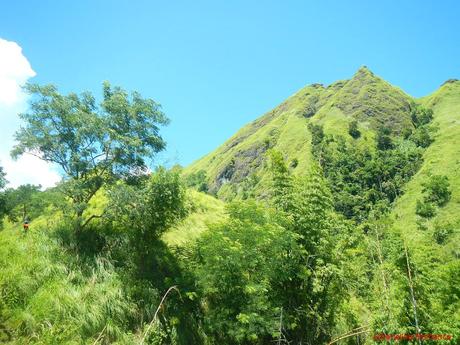 The starting point of the assault proper is this wide, shallow gully, a small part of which is utilized as a vegetable farm. Again, the isolation overwhelmed us, broken only by the presence of a small house and a grazing cow.
Waking up every day to this pastoral scene is the stuff our outdoor dreams are made of. However, we can just imagine how difficult it would be (well, for city dwellers like us) to procure necessities such as groceries, clothes, utensils, and the like. One has to trek through hills, rivers, and jungles several hours to reach town, then another couple of hours to come home again. Such is the impressive perseverance of these locals, which, for them, is probably ordinary.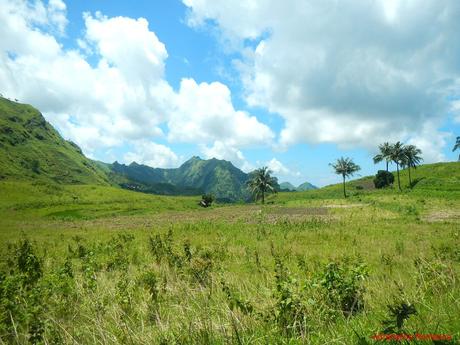 Amidst the totally exposed terrain, we found a lone tree that offered a bit of shade from the burning sun. After a strenuous assault on high hills, we needed to rest and recover; we already felt the pangs of dehydration.
Check out that lovely slope. We were salivating for the assault, but we have to replenish our lost salts and ions first.
This gully serves as an ideal campsite for trekkers and climbers who wish to spend the night here. However, they have to break camp early if they want to escape the scorching sun.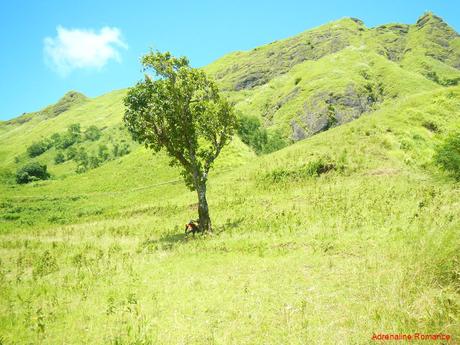 Dehydration? Easy! Drink coconut water and eat coconut meat! One of our guides volunteered to climb a nearby coconut tree to chuck out some fresh bukos (. We consumed one full buko each; its rejuvenating effects were felt within a few minutes.
You lose a lot of essential nutrients and salts when you sweat. Coconut water is Mother Nature's energy drink and the ideal remedy for dehydration. It is full of mineral salts, sugars, and ions to replenish the ones you lost in your body.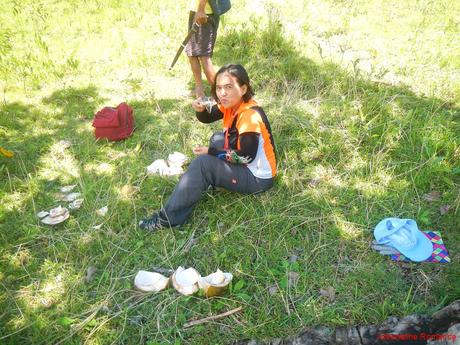 On the other side of Mt. Igcuron is this lovely mountain, which is taller and more massive than the former. Our guides said that the summit affords a gorgeous, encompassing view of Central Panay. We promised ourselves to do just that someday.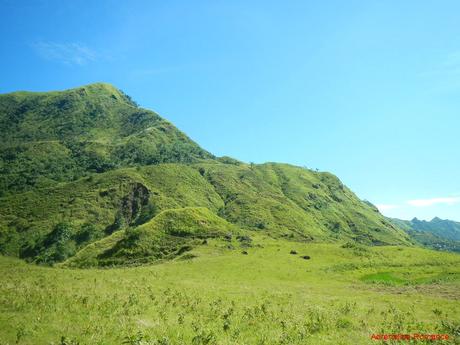 Then there's the green slope that leads to the summit of Mt. Igcuron. Beautiful, isn't it? Although there's a small sweet potato farm at the base, it's a good thing that the farm didn't reach the slope itself. We hope it will stay that way forever.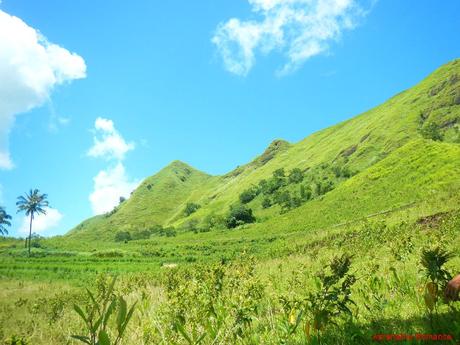 Feeling our energy and strength return, we left extra coconuts under the tree—we were going to have them as dessert after our lunch—we started the final assault to the summit. The hot noon-time air blasted us mercilessly as we trekked towards the base of the slope.
Our friend Sir Adonis of Lagataw was right; climbing Mt. Igcuron in late morning to early afternoon is like flagellating ourselves during Holy Week.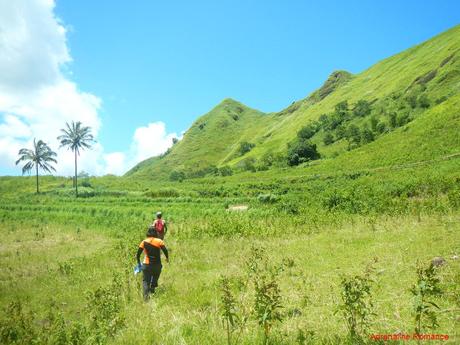 So near yet so far! In mountaineering, there is a saying that helps trekkers realize what they're really up against. The quote is popularized by legendary mountaineer Reinhold Messner: "It's always farther than it looks. It's always taller than it looks. And it's always harder than it looks."
He is absolutely right.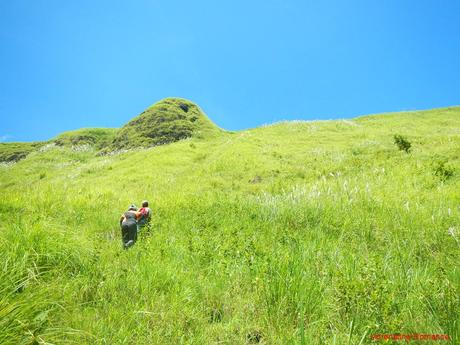 The slope rapidly became steeper as we climbed it. Good thing though that there were rough and uneven rock faces that serve as footholds and handholds.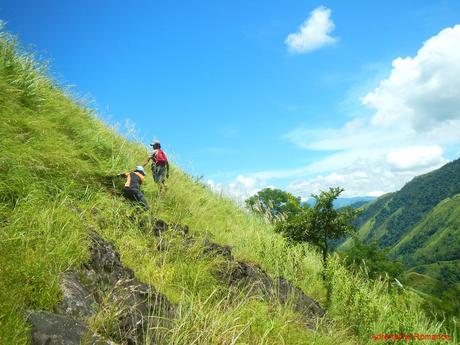 However, those rock faces disappeared as we neared the summit ridge. Pretty soon, we were climbing a section with loose soil and no footholds or handholds! We had to create tiny ledges by kicking the lose soil, using the tips of our trekking shoes as shovels. Whenever possible, we used the exposed roots of the cogon grass as footholds. We could not even stop to take a rest because the pull of gravity will simply strain our aching legs even more. Yes, our lives and limbs hung by the roots!
Good thing there was healthy overgrown cogon grass, which, for some reason, are not sword-sharp and prickly. We used clumps of such grass as handholds. According to our guides, the slope is virtually unclimbable during summer when the grass wilts.
Check out the extremely steep angle of the incline. That is real, not a camera trick. At this point, the slope is nearly vertical, and we had to use all fours to climb to the ridge.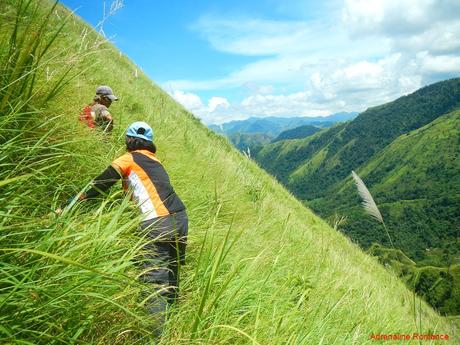 Then suddenly, after around 45 minutes of nonstop scrambling, we were at the grassy shoulder that leads to the summit. Like a stage curtain, a wonderful vista opened before our eyes.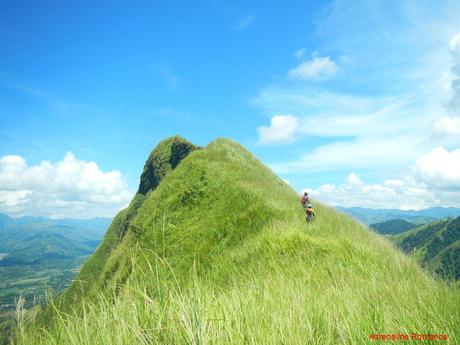 The summit proper was still a few hundred yards away. As we walked towards the sacred pinnacle, the knife edge became more pronounced until it became extremely thin. To tell you honestly, this was the narrowest knife-edge we've ever traversed. In many places, the rocky trail is only as wide as a single shoe!
Thus, we had to be doubly, extremely careful during our summit bid. On the left side is a sheer vertical cliff that plummets hundreds of meters down. The right side is a nearly vertical slope that yawns into a green abyss. Needles to say, walking along this ridge on a windy day is very dangerous. Fortunately, it was hot and windless during our climb.
If we fall on either side, we will undoubtedly see a beautiful light at the end of a long, dark tunnel.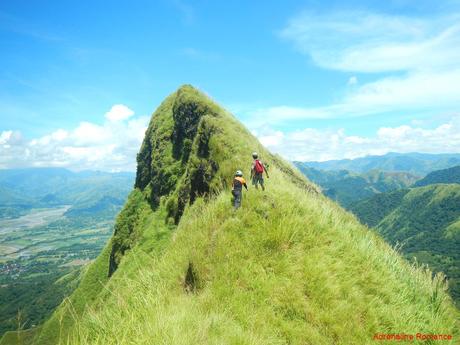 We had to fight pulsing waves of vertigo as we took the last few shaky steps towards Mt. Igcuron's summit. Check out the rocky cliff at the right side; that goes hundreds of meters down all the way to the mountain's base.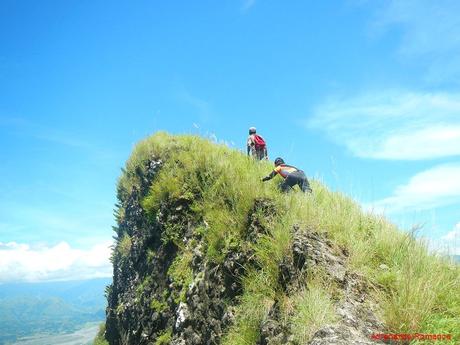 After more than three hours of trekking in the unforgiving sun, we finally set foot on the summit of Mt. Igcuron, another of our dream mountains. But posing here for a photo was quite scary as we were surrounded on all sides by deep ravines. The day was calm and windless, but a strong, unexpected gust can blow us off the mountain.
We're literally risking our lives here. See how much we love you, dear readers? Hehehehe!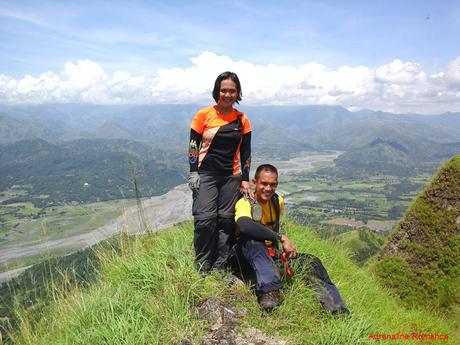 Let's check out some of the amazing sights from the summit, shall we? This is the mountain's knife-edge ridge where we came from. Look at the steepness of the cogon-covered slope; we climbed that!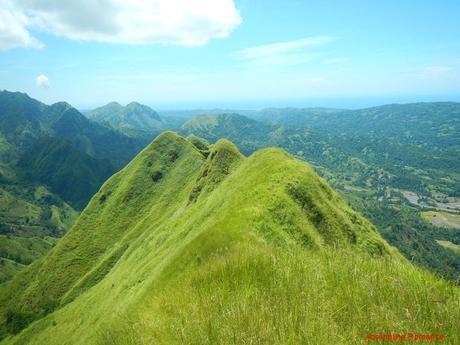 Below and a hundred yards away from us is the secondary summit of Mt. Igcuron. A white iron cross, planted by a missionary priest a few years ago, stands like a lone watchman over the valley.
The knife edge that leads to the secondary summit is so thin that one can actually straddle it. To access the knife edge itself, we had to climb down a cliff-like embankment made of loose stones. As much as we want to set foot on the secondary summit, safety is first in our mind. No matter how near it is, we won't risk the traverse unless we have the right equipment.
We are not sure if you can see it from the photo below, but can you spot a faint, light-brown speck near the bottom right of the rocky secondary summit? That is actually a goat, bleating wildly in desperation. Somehow, he found his way up there but has trouble returning home. One of our guides mentioned that although no human climber has perished here, plenty of goats have met their ends here as they play precariously on these treacherous cliffs.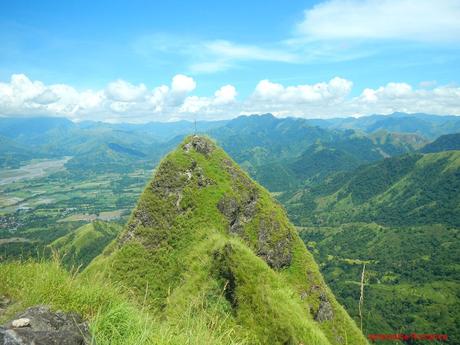 The small town of Valderrama and the farms surrounding it can be seen from here with all their glory. It is pretty humbling—and interesting—feeling to know that in the vastness of Valderrama's landscape, the town is nestled as their most convenient link to modern civilization. We could imagine the hundreds of small settlements, many of them rarely visited by outsiders, beyond those vast mountains.
Needless to say, the view from up here is totally stunning.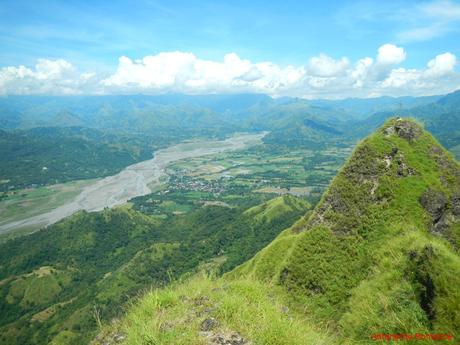 From the summit, we can clearly see the gully where we rested. The coconuts we left behind are under that lone tree. Hehehe!
From this vantage point, we could also see terraces and a small mountain community far below us. We have read fantasy novels about thriving elven cities in the middle of vast forests and secret mountain valleys. This is the closest to reality that such fantasy can get.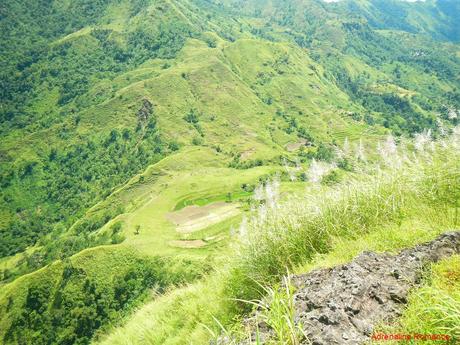 One of the best things in rural areas is that locals actually know ingenious ways to maintain synergy between environmental preservation and economic development. We, so-called educated and civilized people, think we know better and often impose our beliefs and "you-should-do-this" rules on them.
Modern people need to see breathtaking views like the one below to humble themselves, re-think their principles, and appreciate the skills and knowledge of our brothers and sisters in these places. We have much to learn from them and how they take care of themselves and Mother Nature.
The wide Cadian River cuts across the landscape and flows towards the Sulu Sea. It is an important waterway that is used to irrigate the vast, checkered farms and the terraces in the province.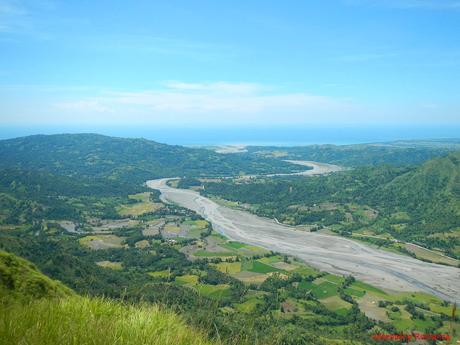 Soon, it was time to go back and have a much-deserved lunch. Very carefully, we made our way down the knife-edge ridge while admiring the impressive mountain ranges all around us.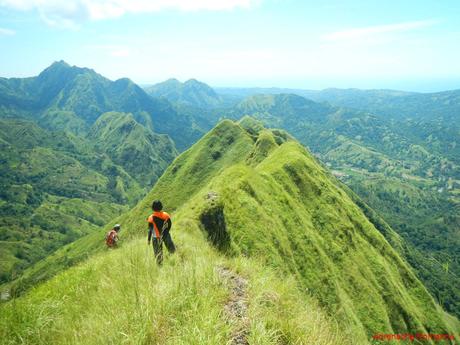 Without proper footholds, descending the near-vertical slope was exceptionally difficult. So how did we go down the mountain? The fun way, of course! We slid on our butts; the cogon grass was soft and did not provide any friction.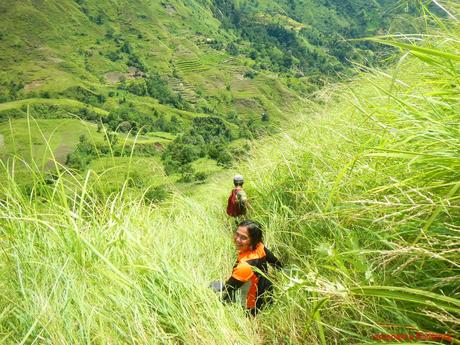 We shared our packed lunch with our guides and finished the remaining coconuts. After a short rest to let all that food settle in, we started our way back to civilization.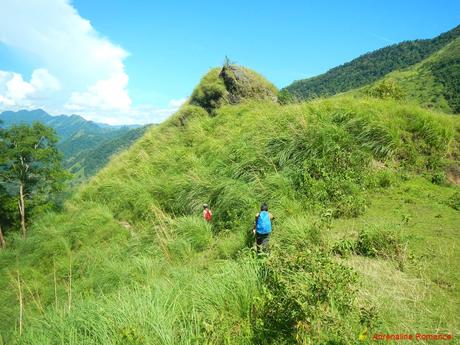 We had a last, long forlorn look at the summit of Mt. Igcuron as we made our way downhill towards Barangay Binanogan. That's one dream mountain off the list.
Departing from a mountain's bosom always leaves us with a heavy heart. While we definitely enjoy the comforts and conveniences of modernity, we know that our spirits belong out here in the wilderness.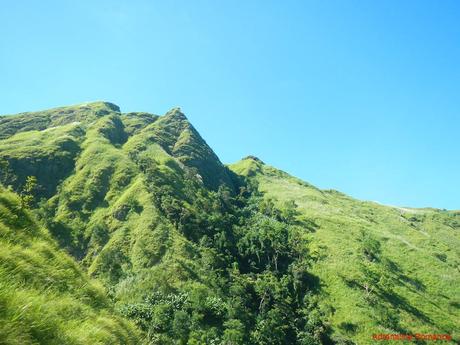 Goodbye, Mt. Iguron, and thank you for deciding that we are worthy of seeing your majesty. Thank you for allowing us to safely set foot on your sacred summit. You are one of the most stunning mountains we have ever climbed. We are sure that your guardians, the gentle people of Valderrama, will continue to preserve your pristine beauty.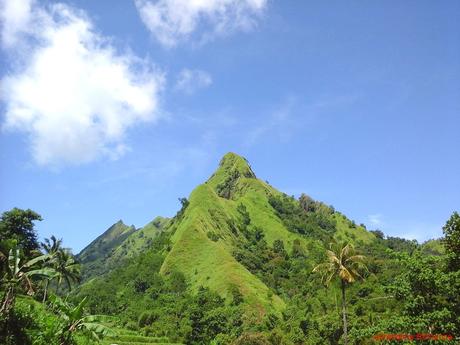 Contact Details
To facilitate your climb up Mt. Igcuron in Valderrama, Antique, get in touch with the following:
Mr. Mike Tiad (Villa Valderrama Nature Park Manager) – 0926-314-6733
Mr. Tim Ledesma (Valderrama Tourism Officer) – 0917-507-5409
Mr. Flord Calawag (OIC Antique Provincial Tourism Office) – 0927-699-5727 / 0919-813-9893
Ms. Jola Lyn Tingson (Antique Natural Tourism Program Head) – 0977-811-0017
Email: [email protected]
Website: Province of Antique
Phone Number: 0995-5034544
We strongly recommend contacting any of these officers before your trip so they can coordinate with the accommodation providers and the necessary people to help you in your climb.
Once you arrive in Valderrama, head first to the municipal hall to register. Then see the tourism officer/staff for assistance.
Rates*
Transportation
P 178 per person – air conditioned bus fare from Iloilo City to Laures crossing (same rate applies on the return trip)
P 25 per person – tricycle fare from Laures to Valderrama Town Center (same rate applies on the return trip)**
P 50 per person – habal-habal fare from Valderrama town center to Villa Valderrama Nature Park (same rate applies on the return trip)***
Mt. Igcuron Climb Related Fees
P 500 per group of 5 climbers – guide fee
P 50 per person – registration/environmental fee
For VVNP related fees, click this link.
* Rates are subject to change without prior notice. We did not include our expenses for meals, snacks, souvenirs, accommodations, tips, and other fees in this rate sheet as you may have different needs, preferences, itineraries, and sharing scheme from us.
** Because we wanted to save time so we could climb Mt. Igcuron as soon as possible, we paid P 150 for an entire tricycle to take us to Valderrama from the Laures crossing. You can opt to do it this way. Also, on our return trip back to Laures, we, together with a fellow passenger, agreed to pay extra at P 50 per person so we don't have to wait for the tricycle to get filled up.
*** We paid the full P 50 per person because we went all the way to the Villa Valderrama Nature Park to leave some unneeded stuff. We also thought we would be staying overnight in the VVNP. However, when we finished the entire climb at 3 PM, we decided to cancel our reservation in VVNP and spend the night in Iloilo City.
Since Barangay Binanogan is nearer from the town, it is assumed that the fare would be cheaper at P 25 to P 30 per person.
Tips
1. Mt. Igcuron can be done as a dayhike. We were able to complete ours in 6 hours. That's 3 hours going up and 3 hours going down including rest stops and lunch. Yours may be faster or slower, depending on your pacing, length of rest time, number of members on your team, and more. We recommend you start early in the morning before the sun burns the land at its full power.
2. Of course, you may want yours as an overnight adventure. You can camp on the gully just right before the assault to Mt. Igcuron's summit. However, know that the terrain is quite exposed, and it could get very hot as the morning sun rises higher. Thus, we recommend you break camp early to avoid the non-stop assault of heat and glare.
3. You will be passing farms. Stay on the trail, and be careful not to step on the paddies.
4. The trek is exhausting because 70 percent of the trail exposed to the sun. You will also be trekking on rolling terrain before you reach the staging point for the assault. Be sure to hydrate often. Bring a wide-brimmed hat, scarf, or umbrella to protect yourself from the heat. Don't hesitate to tell the guide to stop if you feel exhausted.
5. The last water source is near the hut before the gully. Fill up all your water bottles here.
6. Wear arm guards and trekking pants to protect your skin from the sun and prickly plants. Also, a dry-fit shirt or rash guard will help keep you cool.
7. The slope to the mountain's shoulder is extremely steep and is marked with the absence of footholds and handholds. Use clumps of cogon grass to support yourself, and tread lightly. Wear gloves to avoid scratches.
8. Be extra careful when traversing the knife-edge ridge to the summit of Mt. Igcuron. The terrain is totally exposed, and in places, it is so narrow. Crawl if you have to. Abort your climb if the weather is windy or rainy; do not tempt fate.
9. The knife edge to the secondary summit is even narrower. Going there is not prohibited but is very risky without the proper equipment. You can visit the secondary summit, but that is your own risk.
10. Be careful at the summit. The rocks are slippery, and the peak is surrounded by steep cliffs on all sides.
11. Wear trekking shoes or sandals with an aggressive tread. You will need a lot of traction since you will be scrambling over loose soil and slippery rocks .
12. Bring salt tablets or ion-filled beverages such as Gatorade, coconut water, or fruit juice aside from water. The hot sun, multiple ascents, and exposed trails can make you sweat a lot. When you lose enough ions and salts via your sweat, cramps will occur. If cramps happen, rest for awhile, drink a lot of water or ionic drinks. This will replenish the ions in your system.
Bring energy-rich trail food such as nuts, crackers, bread, and bananas as well.
13. Pack light but do bring the following:
water (at least 2 liters)
trekking attire
trekking shoes or sandals with aggressive tread
umbrella, hat, or scarf
packed lunch
trail snack
rain gear (in case of bad weather)
extra money for emergencies
14. Don't forget to waterproof your belongings. You can do this easily by wrapping your stuff with plastic bags or zip-lock bags before putting them inside your pack.
15. Please mind your trash; do not leave any of your garbage behind.