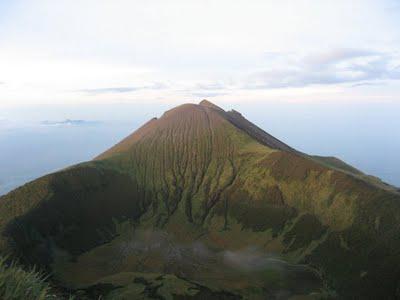 End of April, we went to Negros to climb the highest peak in the Visayas, Mt. Canlaon.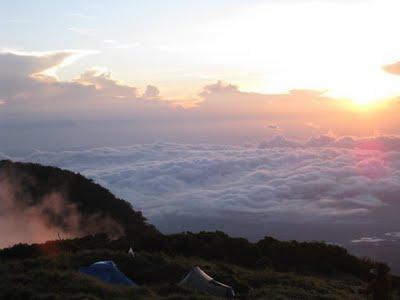 Mt. Canlaon is famous among climbers in the Philippines because of its sea of clouds and being an active volcano itself.  It was my 3rd time to visit the amazing mountain. Usually I don't go back to mountains I conquer. But this mountain has exception. I've been to different mountains here in the Philippines. So far, the view from Mt. Canlaon is different from all other mountains I climbed. I know there are mountains giving out nice sea of clouds view, but I never been to that. So much for the introductions. Lets proceed to tale telling. :)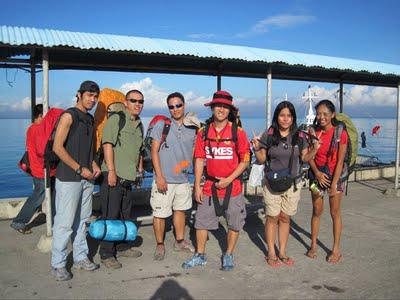 It was Friday morning when we all met up in Toledo to grab the first trip to San Carlos City. Luckily we get the chance to ride the first fast craft trip, which only travels for 45mins. Compared to Lite Shipping that travels 2 hours, I guess were lucky enough to ride the fast craft.
Upon arriving in San Carlos City, we went directly to Gaisano (Grocery Store) to have our last buy. Then proceed to San Carlos Bus terminal to catch a ride to Canlaon City, the place where the famous Mt. Canlaon is located. We had our lunch upon arriving in Canlaon City, then meet with our guide.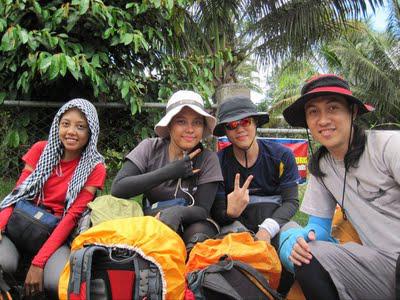 After talking to our guide and agree on the itinerary, we happily jump to our rented multicab that will bring us to the foot of Mt. Canlaon. Believe me, it was one hell of  a ride! I can feel my spirit jumping out of my body. :)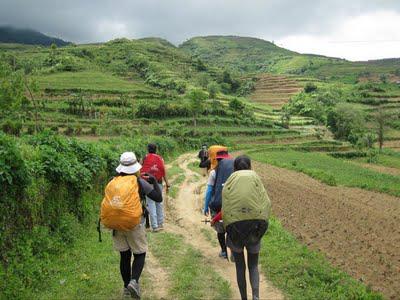 We arrivcd in Brgy. Maput safely. Lucky for us, no accident happen during the trip. We hike towards Sudlon Falls located at the foot of the mountain.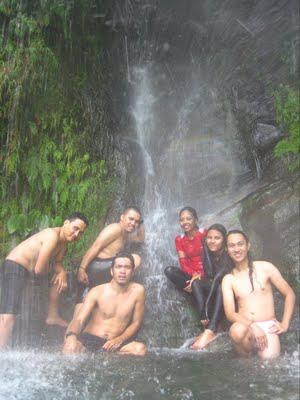 We spend half an hour in Sudlon Fall diving in its cold water. It was like swimming in a tub full of ice. My fingers got easy numb because of the chilly water.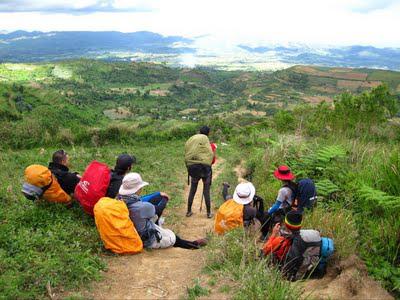 After half an hour taking a dip in that freezing water, we started to hike to our 1st Camp, the forest line. It was an easy hike, made more easier with the nice view we saw upon our back. Less than 2 hours later, we arrived in our 1st camp. We excitedly pitch our tents and prepare our dinner. Then spend the rest of the night drinking spirits. I mean not the whole night. Of course we also need to sleep. We need energy for the next day's hike.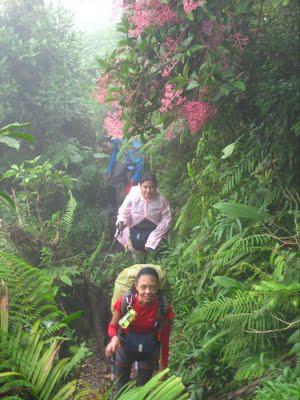 After having our breakfast, we happily jump to our feet, grab our bags and start our hike to the next camp, Mt. Canlaon's shoulder. But of course we need to stop by in Mt. Makawiwili, the mountain peak that stands  opposite to Mt. Canlaon. There you could see the entire view of Mt. Canlaon and Margaja Valley. If your not prepared for the climb, the long strenuous hike plus the cold wind that touches your skin will kill you. You'll be lucky though if you happen to climb there with good weather. But if you climb with the weather like we had, well, you'll still survive but expect it to be so cold.
As much to our dismay, we did not have the chance to see the full view of Mt. Canlaon from the Makawiwili peak. Because we had a bad weather, Mt. Canlaon was wrap with fogs and hide its beautiful view from us. We had no other choice but to continue our hike to the shoulder of Mt. Canlaon, where our 2nd camp would be.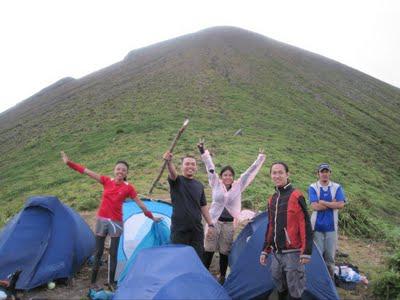 While pitching our tents in our 2nd campsite, the view of the crater/ Mt. Canlaon cleared. I guess our prayers were answered huh! :) It was so beautiful. Unfortunately that view didn't last long. It was covered again by big fogs. It was like that until sundown.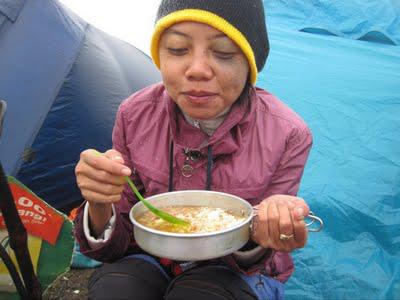 The next day, a hot noodles with rice warms our hungry tummy. It was the best breakfast I had with the cold wind surrounding us.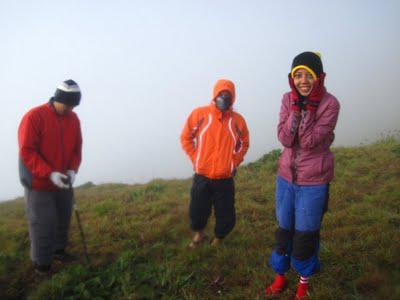 It was really a cold morning. Still not much of a luck for us, a lot of fogs are scattered around us blocking our view of the crater and the sea of clouds.
With all the fogs that are covering our view, I decided to just stay at the campsite and let them climb up to the crater without me. At the back of my mind, I was thinking that it will only just be a waste of time if I go with them with no guaranteed that I can see a clear view around me. But unlike me, my friends were very optimistic about all of this. They still went up to the crater hoping they saw a beautiful view. I can't blame them, it was there first time to visit the place. I guess their prayers were answered, they really did saw a beautiful view up there.
I started packing my things while they were in the crater. When they get back, they happy told me how the fogs cleared offering them the beautiful view. I was happy hearing them told me all of that. I've seen better view compared to the one they saw, but you can see in their faces how happy they are seeing what they saw. I'm happy for them! :)
With the cold wind surrounding us and a limited water, it will be impossible for us to cook a real meal. So we just all decided to pack up and head down. We'll just cook our lunch on the first water source we'll reach.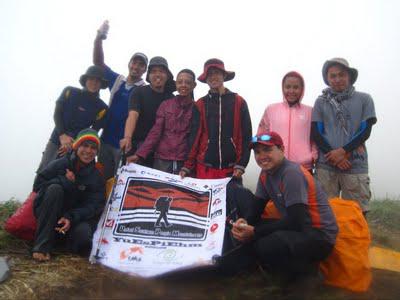 A group picture before heading down.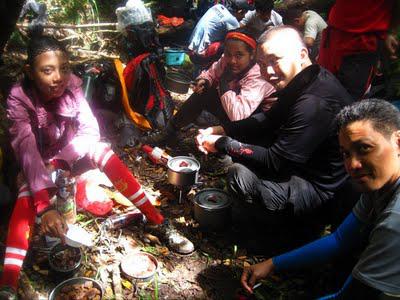 We reached the first water source from our campsite and cooked all our remaining foods. We had our lunch after all the foods were cooked and resume our trek after.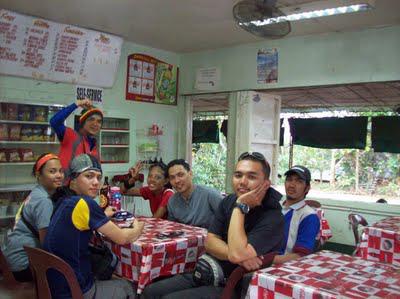 We celebrated our successful climb the second we arrived in Canlaon City Bus Terminal. We look for a store and buy a couple of beers. Really, I never been that thirsty for beer my whole life. :) We had our 'tagay' session while waiting for the bus.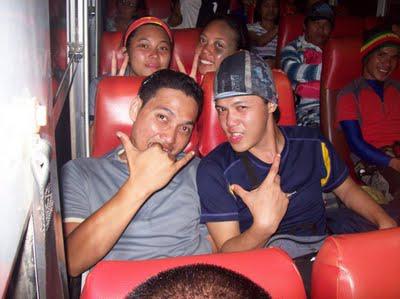 We took the last bus trip to San Carlos City and stayed the whole night in our friends house and get drunk. What could possible be better way to celebrate a successful climb than drinking the whole night until we all got drunk?:)
The next day, we went ukay-ukay shopping. With a heavy hangover and a bad headache, a reward from last nights drunkenness, we manage to find some good stuffs in a very reasonable price. :)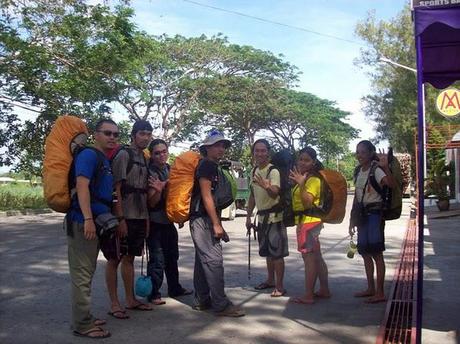 We headed back to the house afterwards and pack our bags to go home. We stop by at Gaisano to eat sundae in Jollibee. You can't blame us, we're craving for something cold. :) After the stop in Gaisano we went to another ukay-ukay store and buy more good stuffs. Then went to San Carlos Bus Terminal to buy some pasalubong for our family. The next thing we knew, we were almost late for our fast craft trip to Toledo.
I was happy we had that climb. We had the chance to know each other and made a stronger bond between us. I think so! :) I really had so much fun during the climb, not to mention all the boopers and lines. Well, thanks for reading! Till next adventure!