Mrs Emma Peel would like it be known that anyone who tries to steal her Lotus Elan will probably be shot, not fatally, just sufficiently to prevent you driving... ever again.
Researching this car and finding some photos of Mrs Peel to grace my dioramas revealed an alarming number of lovesick puppies on You Tube creating 'tributes' to her. That woman really hit the lust/fantasy hot spot in a lot of young boys, and some not-so-young lads. And so, if you're not familiar with her charms, let's have a look at the only clip I could find which combines both Mrs Peel and her Lotus Elan.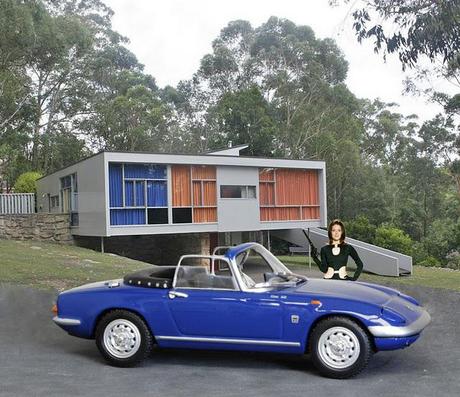 Of course it had to be a blue Lotus Elan for my collection, as that's the colour of the car
which Mrs Emma Peel drove in the TV series, 'The Avengers'. This little 1:43 model is by
Vitesse, and it's nice of Vitesse to include pop-up headlights in their version of this car.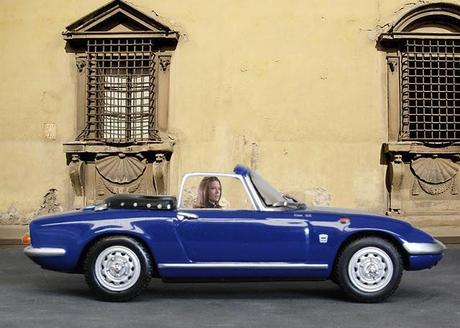 Mrs Peel's car was an excellent choice by the Avengers series creators, as it was one of the
best sports car of its times. Her she is pictured watching her quarry in a street in Florence,
hardly drawing any attention to herself in her little blue car.

Made from 1962-75, the Lotus Elan t was light and fast, a classic Lotus. Weighing just 680kg, it was powered by a 1557cc twin cam inline four which featured cylinder heads by Cosworth, which propelled it to somewhere around 190km/h. With four-wheel discs and independent suspension all-round, it handled superbly, and its sales success was a financial mainstay for Lotus, allowing the company to continue its love affair with racing through the 60s and 70s. They sold 17,000 Elans by the end of the model run, some of them the '2+2' series of slightly lengthened four-seaters. My preference, just to look at, is this orginal two-seater, and the presence of Mrs Peel is an ideal adornment as well of course.
Now, finally, let's have a quick look at one of these little flyers being thrashed around a flat piece of tarmac, getting around the cones with skill and verve. Looks like a fun car to drive.