Today's guest post is about bringing your pets abroad. I've briefly touched on this topic in the comments to Why you'll say "no" to living abroad, but mainly focused on a couple of legal issues. Vivienne Egan describes some practical considerations.
---
Moving abroad and bringing the family pets
If you are considering moving abroad – especially if you are relocating the entire family – one thing you might need to consider is your pets. From the much-loved hound to the moggy that pre-dates the children, these family members will need your special consideration.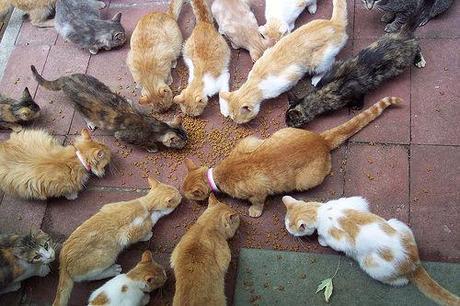 Who would want to leave these delightful critters behind?
Photo by Scott Granneman
Things you'll need to think about
Are you bringing the pets with you? Moving kids overseas can be a difficult thing to negotiate at the best of times; the news that Fido isn't coming too might be met with dismay from the other family members
What's best for the animal? Consider that elderly pets may not appreciate the long journey and unfamiliar new surroundings or climate
How long are you going to be away for? If it's only a year or two, perhaps a trusted family member of friend can care for your pets during that time
Where are you moving? What are the local laws about bringing pets over borders?
Should you engage a relocation service? This may be best left to the experts, and pet relocation services will ensure all the right paperwork is complete on time for your flight
Facts of pet relocation
Pets are transported in a secure cargo area in a plane with a 'sky kennel'. It is dark and temperature controlled area specifically for live animal transport, and they won't be checked on during that time
The PETS scheme is designed to stop the spread of rabies and other animals. The UK requires all pets to be transported with registered carriers
Tips for the flight
Try and give your pet time to get to know its carrier before the flight
Putting a familiar smelling blanket or toy in the kennel will help your pet settle for the flight
Give your pet a light meal before flying and leave time for a toilet stop
Settling your pet in abroad
You will have to check that your new home abroad is suitable for animals – are the fences secure? Is there enough room in the backyard?
Where is the nearest vet and the nearest pet supply store?
What's the pet culture in your new location? Attitudes towards pets might be substantially different from what you're used to at home
While it may be a lot of fuss to relocate a pet, for devoted pet owners the hassle is ultimately worth it to have a special furry friend to help you in an unfamiliar place.
Have you ever relocated a pet? What tips would you offer?
---
Vivienne Egan writes for Now Health International