The Return of the Living Dead (1985) - USA - Horror Comedy - Rated RDirected by Dan O'BannonStars Clu Gulager, James Karen, Thom Mathews, Beverly Randolph, Don Calfa, Linnea Quigley, Miguel A. Núñez Jr., Brian Peck, John Philbin, Jewel Shepard, Mark Venturini
The zombie horror comedy that dares to ask "Do you want to party" and the answer is a resounding "Yes!"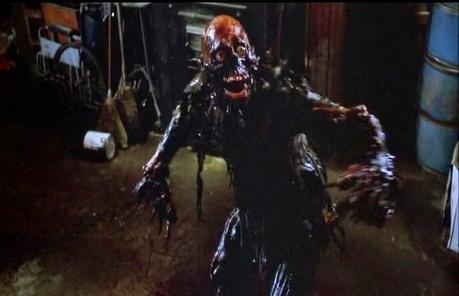 Preparing for the July the 4th weekend, two employees of a medical supply warehouse located next to a cemetery are finishing up for the day when they accidentally release a chemical that brings the dead back to life while a group of punk rockers are hanging out in the cemetery waiting for their friend to get off work at the warehouse. From half-dogs and cadavers in the warehouse to the dead in their grave in the cemetery, everything that was dead comes to life in search of brains. Things will be rocking in the graveyard tonight.
Picking up from the Living Dead franchise of films starting with a John Russo story, Dan O'Bannon takes it in a different direction. Not wanting to intrude on Romero's work, he instead aims for the jugular with a black comedy which treats the original Night of the Living Dead as a movie, but based on an actual incident covered up by the U.S. military. That incident accidentally leads to this particular night.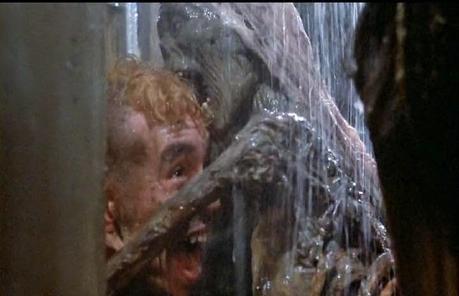 The Return of the Living Dead is a smart and funny movie. Not everything is treated for laughs as the characters have a seriousness to them about their situation. Where the humor comes from is in dealing with unusual situations such as trying to remove a zombie's head and finding that doesn't kill it, taking vitals on someone exposed to the chemical and finding their body temperature is room temperature, among others. And yes, there are some intentionally comical moments such as a zombie getting on the paramedics' radio after munching on them and requesting more paramedics.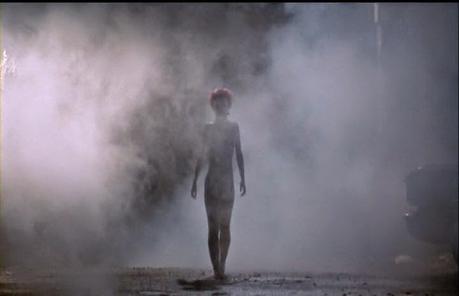 Where The Return of the Living Dead took a u-turn at the usual horror movie formula of slowly developing a story, probably for lack of a story in many, and dragging it along until something eventually happens was by jumping straight into the developing story. It takes several minutes before we even see a title and screen credits as the movie introduces likable characters in two different scenes, then introduces the situation, the releasing of the chemical, that will propel the movie forward. It does not take a moment for a breather as the story is fun, the editing is tight, and it is filled with a soundtrack of its own theme music infused with punk rock that keeps up the tempo and is fun in its own right.
Oh, and in case I forgot to mention it, Linnea Quigley is naked throughout most of the movie. This is not a complaint. I repeat, this is not a complaint! ;)
My Rating: 5 Fingers! A fun and funny movie from beginning to end. Not only did it inspire several sequels in its own right, it also inspired many movies yet to come and has earned its place as a classic.
Get The Return of the Living Dead on Blu-ray, DVD or Instant Video