Doll It Up (2018) - USA - Comedy - NR (PG13)Independent Short Subject - 8 minsFlorida State University College of Motion Picture ArtsDirected & Written by Yalan HuStarring Timothy J. Cox, Devin Craig, Wayne DeBary, Jeff Mandel, Natalie Doll, Dorri Doll
A rollicking comedy with a truly 'inflated' sense of humor helmed by the wonderful comedic talent of Timothy J. Cox.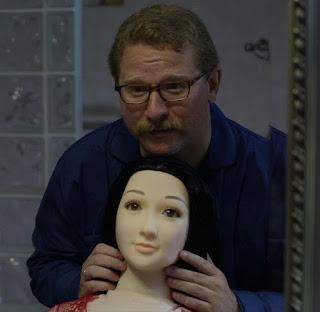 Gunther has a problem.. he's a man. To complicate this problem, his wife is a doll, literally. When his interest for a new doll gets a rise out of him (shaddup) can he just cast aside his old doll?
Timothy J. Cox is no stranger to the indie film scene. He's been in about every film ever made (that might be just a wee bit of an embellishment on my part). From his masterful performance in Matthew Mahler's To Be Alone, and with no dialog mind you, to performances in Here Lies Joe (not me), Dark Romance and an appearance on the TV show Bull his capabilities as a serious actor are well accomplished.
On the flipside, he is just as talented when it comes to doing comedy and it's always a pleasure to see him doing comedy. Especially so when he has the opportunity to chew the scenery, and in Doll It Up he has scenery for breakfast. I had to do screencaps on my second viewing because I was laughing too hard to concentrate on anything else.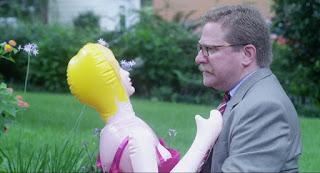 Doll It Up is Yalan Hu's directorial debut; according to IMDb (please correct me if I'm wrong). She has a strong sense of composition, putting the scene elements right where she wants them and keeping the viewer attuned. Her story structure is good in this as, without an introduction to this strange allegory, we get it. And of course her sense of humor is overboard.
Doll It Up certainly has a point. But its one weakness is the comedy overshadows that point. I give Hu extra credit for the final scene in which she creatively re-emphasizes the point. I find myself at 3 Fingers plus on a rating, but I'm going to give it a little nudge for Hu providing me with enough ammo to pick on Tim on social media for a good month at least. ;)
My Rating: 4 Fingers; that's 8/10 for you IMDb weirdos.
You can find Yalan Hu on Facebook.
Timothy J. Cox has his website and you can find him on Facebook and Twitter.