The 6th Friend (2016) - USA - Horror Thriller - NR (R-LV)Directed by Letia MillerWritten by Jamie BernadetteScreenplay by Jamie Bernadette and Letia CloustonStarring Jamie Bernadette, Chantelle Albers, Dominique Swain, Monique Rosario, Tania Nolan, Jessica Morris, David Villada, Tina Cole, Matt Clouston, Benjamin Adamson
Perhaps the most successful marriage of a psychological thriller and slasher flick with more than a few tricks up its sleeve to boot.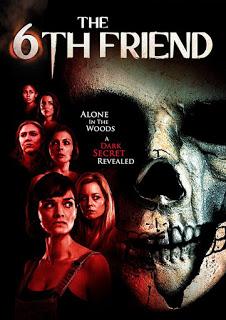 Six women get together for what promises to be a vexatious gathering at an isolated cabin in the woods as they not only carry with them the memory of a tragic night 5 years past, but that very memory may have a score to settle.
Psychological thrillers and slasher flicks many times have intersecting elements. Successfully marrying these two sub-genres would seem to be a given, and yet when attempts have been made the end result is more decidedly one or the other. The 6th Friend breaks that mold.
The standard mold of a slasher flick is the flashback to a previous incident and then bring that fully into the present so at the outset we understand the threat. The 6th Friend takes a different trek by building the past concurrent with the present, not only keeping the viewer guessing as to the exact nature of what had happened but upping the tension by keeping a certain element of the unknown always present as the story unfolds.
Nothing is delivered up front in the story but rather uses the characters and their interactions with each other to evolve it. This has the benefit of making the characters feel real and developing a harmony within the story.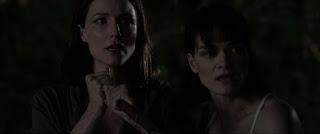 A fluid screenplay moves things along at a natural pace. At the outset it is a slow burn to build the story, then fuel is thrown on the fire as the story takes off on its own. Dynamic direction keeps things moving where even in moments when things are perceivably slow it does not allow the viewer to linger idly.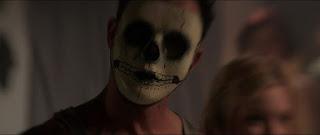 Playing to the tension is a feeling of not knowing what is and what is not real. As a bonus an element of media consciousness plays out in the story, and how you want to interpret that is up to you.
I do feel that this film will strike a chord better with women than with men. Without divulging anything, certain elements men are just not going to get in general. It's difficult to feel terror when what causes that terror does not specifically apply to you.
In the end result The 6th Friend is ultimately a successful horror thriller; keeping the viewer guessing while scaring them at the same time, with a little something extra that may leave them wondering just how real is real.
My Rating: 4 Fingers; that's an 8/10 for IMDbers.
Find out more about The 6th Friend on the film's Facebook and Twitter pages.