The Jurassic Games (2018) - USA - Sci-Fi  Action - NR (L-V)Directed by Ryan BellgardtStarring Ryan Merriman, Adam Hampton, Perrey Reeves, Erika Daly, Katie Burgess, Luke Wyckoff, Cate Jones, Kyle Penington, Rett Terrell, Dylan Cox, Tiger Sheu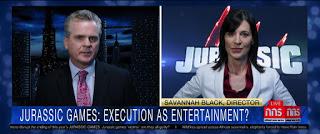 A tech savvy update of the last man standing theme lethally injects fun into the worn premise of reality games while giving a sardonic poke in the eye to commercialism.
In the near future the popular TV show is The Jurassic Games in which ten death row inmates compete with the grand prize being freedom for one of them, but immediate execution of the other nine. The twist is they are competing in a virtual reality world populated by dinosaurs. The other twist is one of them may be innocent, but what is the chance of them surviving not only against man-eating lizards but also against nine of society's worst denizens?
Sound familiar? Well yes, it is. Many of us have seen Death Race 2000 and The Running Man. And many could argue, and are probably right, that today's reality TV overload is a retooling of not only those films but earlier "last man standing" films as well; The 10th Victim (1965) and The Challenge (1970), e.g. So is The Jurassic Games in the sense it's convict against convict against their environment. But added to that is that extra Jurassic element so popular in a certain series of movies (gee, the name escapes me) and a virtual reality world where anything can happen.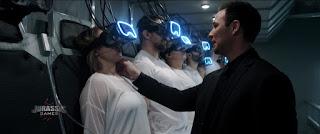 Like its predecessors there is a dystopian element of a corrupt government, though it is comparatively underplayed in this in favor of focusing on the consumerism of bloodlust and the commercialism which drives it. The game show element takes front and center with the gloss and glam of network TV production as a wrapper for the carnage of entertainment. In front of the cameras the host of the show is smooth and charismatic, as is the presentation, but behind the scenes the producers may even be worse than the killers in the game.
Two performances that help drive this movie are Ryan Merriman as the host of Jurassic Games and Luke Wyckoff as the cannibal. Merriman panders to the audience while his composure is cool and his confidence high, and brings to life that all too smug and insincere TV host like we see on entertainment shows. Wyckoff plays a character you wish would die horribly from the moment you first see him; a disgusting performance for sure and one that rises to a high point in low-life.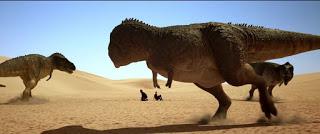 The characters in this are near as one-dimensional as the ones in one of this film's predecessors, Jurassic Park. This conflicted me in my rating. Certainly I would give it a 3 or better in my first response. Then the disposability of the characters struck me as intentional. It fits right in with the satire of commercialism at the heart of the film. Deep it is not, and off the shelf it is in many places, yet contrarily these very elements work for the film rather than against it. With a presentation that moves swiftly and Ryan Merriman's performance leading the way, The Jurassic Games is simply a fun movie that succeeds in making a point, maybe even despite itself.
My Rating: 4 Fingers
Get more information from their Facebook page.
Follow Ryan Merriman on Twitter