Skybound (2017) - USA - Action/Disaster - Not Rated (14+)Written and Directed by Alex TavakoliStarring Scarlett Byrne, Rick Cosnett, Gavin Stenhouse, Tyler Fayose, Carla Carolina Pimentel, Morten Suurballe, Jerry Coyle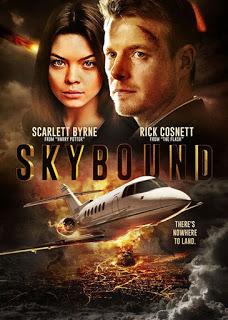 An interesting premise with good direction and cast is riddled with clichés bringing it down like a jet plane out of fuel.
Five friends board a plane going from New York to California. What starts out as a joyride becomes terror as media outages and loss of contact with the ground leaves them to wonder what is happening below, and if they'll even be able to land.
It sounds interesting, and I don't doubt it could have been. With capable direction and a good cast it starts off promising. It's not long before "seen this...expected that" comes to the forefront of ones thoughts. You know you're in a nosedive to hell when you get the bravado rallying speech complete with musical accompaniment. I mean for Green Acres or Animal House this works because of the ridiculousness of it, but for something taking itself as serious it becomes its own self-parody.
Other elements in this with no bang for their buck include a love triangle which wilted the rose before it even had a chance, the most impotent bad guy I've seen in a movie of recent memory and a mixed bag of special effects from really good to video game quality, and I don't mean a good video game at that. And that is the film's problem in a nutshell is there was potential here too often ambushed by cheap one-offs.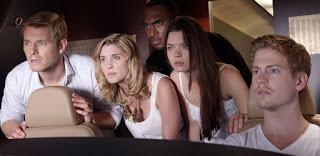 From a standpoint of average fare for SyFy you could use to fill time, this would fit as it is entertaining enough for that. Perhaps I'm just being down on it as there was potential here to be more than that and it was brought down by screenwriting 101 checklisting: love triangle, check; bad guy, check; bravado speech, check; heroic sacrifice, check. To add to that the ending of this is truly "how the hell!?"
I would give standard SyFy time fillers 2 Fingers, but there are at least some better elements here such as the direction and a good cast.
My Rating: 2 Fingers Plus.
You can get Skybound on DVD or VOD from Amazon Video.