Paura Tutto (2014) - USA - Horror Comedy - Not RatedIndependent Short Subject - Mordacious Films - 11 minutesDirected by Mykee MorettiniWritten by Peter Dorman and Mykee MorettiniStarring Mykee Morettini, Kelli Alden, Peter Dorman, Matt Kormanik, Mia Morettini, Rae Erin Walsh, Jagar Davis
A different animal for sure (the film) Morettini succeeds in bringing our worst nightmare to life... resurrecting the 80s.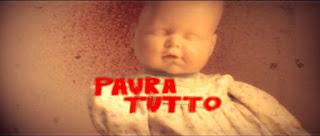 It's 1985 as a high school outcast teams up with a psychic with no name (I believe there was a song about her) to track down a physical manifestation of fear that is killing off the senior class in alphabetical order.
Paura Tutto is its own original animal. It tells a story, but not in the usual fashion. Parodying Italian horror movies of the 80s, complete with made-up screen credits to fit the theme, it proceeds as an extended trailer, as though for some lost film of the time, yet tells its story via the parts and narration of the trailer ..err, film ...err, trailer ...err, something.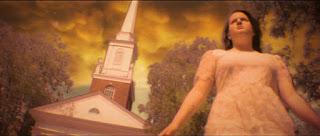 True to its roots Paura Tutto is presented complete with film grain and deterioration. Washed out frames abound, as does out of sync dialog. And bad fashion trends? Oh yeah, it's got it too. If you were to view it without any knowledge this is a contemporary parody you would probably think this was the genuine article from the 1980s.
Through its stylizing it is not the most coherent presentation of a story, humorously that is very much inline with the very films it mocks. From an opening scene that sounds like it fell out of Doctor Butcher M.D. to headbands, boomboxes, and gaudy gore effects, the 80s are alive and well... but not for long. ;)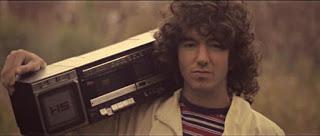 Being its own unique animal it's not easy to rate a film like this. Certainly there's no contextualization for comparison. The only way really to rate it is in looking at what it aims to accomplish and how well it did at that. Paura Tutto does have the advantage, in the way Morettini has done this, of anything that could be perceived as a failure or weakness on the part of the film could just as much be intentional as it certainly would fit with its subject matter. Complete it is, even though it its presented as a promotional piece for a film. Any lows it falls to are also its high points. In that respect it accomplishes apparently what it set out to do... confuse the hell out of a movie reviewer trying to rate it. So I'll give it an extra notch for that.
My Rating: 4 Fingers
Watch Paura Tutto on YouTube
Find Mykee Morettini on Facebook and Twitter