Never Leave Alive (2017) - USA - Action - Not Rated (PG13)Directed by Steven LaMorteWritten by J. Amanda SabaterStarring John Hennigan, Michelle Taylor, Eric Etebari, Joseph Gatt, J. Michael Evans, Alistair McKenzie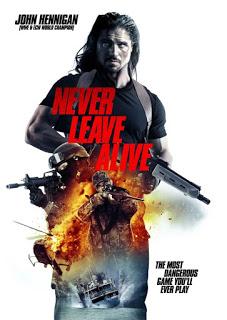 Despite a good cast, they can't rescue this script lost on Gilligan's Island.
Rick Rainsford is an international celebrity, of sorts. He is a big game hunter who gets his face on big magazine covers, and often gets his foot stuck in his mouth while using it as a vodka chaser. While on a cruise with a close friend the ship is bombed even worse than Rick resulting in him and a reluctant female companion being stranded on a remote island only inhabited by two strange Russian men. Rick finds himself not being the great hunter this time, but rather the game being hunted.
If the setup in the plot summary I have laid out does not spell out The Most Dangerous Game, perhaps the production company that made this calling themselves The Most Dangerous Game or even the poster invoking those very same words will tell you exactly what this story is; the umpteenth hundredth remaking of The Most Dangerous Game.
Another wrestler I'm not familiar with, being not a fan of the sport, John Hennigan does succeed in bringing a charismatic presence to the screen. What most works for this film is the cast. It probably doesn't hurt that it's a small cast. And also interesting in Hennigan's role is that despite being a wrestler, unlike the usual wrestler becomes movie star transition, his role does not depend on his physical prowess nor is his character a powerhouse in confrontations.
Despite Hennigan's and the rest of the cast's success in their roles, especially Eric Etebari as an obsessed villain, what does not work for this film is the script becomes as lost as our wayward castaways. The idea of playing off the charismatic and awkward pairing of Hennigan and Michelle Taylor as frictional survivors is understandable and the two of them do a fine job at that, but the script lingers on this and paints our pair as noisy, clumsy and accident prone and makes one wonder how in the hell they could have survived the suburbs let alone a tropical island.
The production is a mixed bag from very good to lame. Story elements and contraptions straight out of Gilligan's Island do not help it with its lingering script to boot. This may strike someone as humorous but the story is not played for humor even if our castaways at times are. The contrast between the villain playing it straight and Burns and Allen castaways remind me more of the Gilligan's Island episode where Rory Calhoun plays a strictly serious big game hunter hunting Gilligan than The Most Dangerous Game.
The script and production bring this down to 2 Fingers for me. The cast gives it a boost. Not enough for me to recommend the film, but enough to say it might be worthwhile viewing just for the cast.
My Rating: 2 Fingers Plus; that's 5 out of 10 for IMDbers.