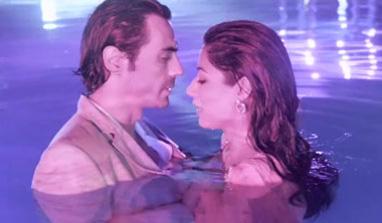 Inkaar is today's movie - the reality genre', done with oodles of panache.
Both Rampal and Singh play their parts perfect – each of the characters convinces you that the other is at fault. The screen presence is strong, dialog delivery and voice modulation absolutely accurate and arguments valid and logical. Visual appeal makes it an eye treat. Chitrangada looks too hot to handle in every piece she dons. Arjun plays an achiever and a sensitive male from behind his nerd glasses. Both are perfect examples of how some people only get hotter with age.
The movie touches upon many aspects of the corporate environment in today's times – be it cracking borderline jokes to keep pace with the high pressured work environment, or getting attracted to a great senior. It also touches upon some important lessons how its more important to be ready for a role before taking it up, how not to cross lines at workplace, how turbulence at the workplace can make you feel like the world has ended on all fronts. The movie also touches upon the fact that there is really no well-defined line between flirting and sexual harassment. The director picks up a sensitive and serious issue of sexual harassment at the work place, which deserves a better treatment that what it gets in the flick.
The music is good, but not something which will stay with you for more than a couple of days. 'Alla tu maalik hai' is hummable and shot very well.
Many parts of the movie were not needed – like backdrops of both the parents, or the unnecessary boyfriend who flies in for New York. The side characters could have performed better. Other than Deepti Naval, all of them do more harm to the movie than good.
The emotional part is predictable. Very underplayed throughout the movie, and popping up suddenly in last five minutes.
The movie builds up to seem like a masterpiece, to fall flat on its face when the audience expects a well-deserved climax. You may enjoy watching two good looking people on screen but the end would leave your mouth sour. 
My rating is two stars.