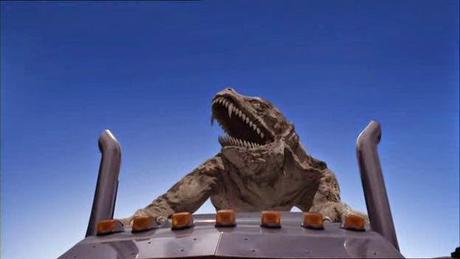 Ice Road Terror (2011) - USA - Horror SciFi - TV MovieDirected by Terry IngramStarring Brea Grant, Ty Olsson, Dylan Neal
Charismatic actors cannot overcome an inconsistent script and weak special effects, though still a moderately entertaining movie.
Workers at a diamond mine located at the terminus of an ice road in northern Alaska plant explosives deeper than they have ever before. The explosion sets free a prehistoric creature from its slumber as it makes a meal of the mine workers. Two truckers pulling double hazardous duty hauling explosives to the mining camp and having to deal with slushy and thinning ice have a scientist along with them on her way to the camp. Encountering the creature the truckers are now being pursued along the ice road with explosives in tow and hazardous ice conditions adding to the danger.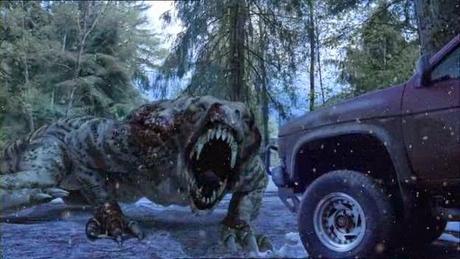 Ice Road Terror wastes no time in getting the story moving as the creature makes an appearance within minutes as the story moves along. Ideally this should have been a good way to go with a movie but it soon becomes obvious that the setup is pretty much the story and the rest of the movie really has nowhere to go than the standard running from and fighting against a monster that really is not that impressive.
I am used to seeing some decent to impressive CGI work on SyFy movies, but the budget must have been cut on this one as what would normally be some gruesome effects takes place off-camera instead. After which some fake blood or dismembered limbs have been thrown around. The trucks are more interesting than the creature and the special effects simply come off as something an amateur or indie could have done with little to no budget.
Additionally inconsistencies in the script are at times jarring. I don't mean the flow of the script from one scene to the other, but characters who are inconsistent and not well developed and scenarios that don't really play out. One character who is a complete coward in the movie suddenly has an epiphany about himself in describing how bad he has been, though he doesn't change. And more than once the characters have a plan that is questionable whether it actually played out or not. I think it was in the script, just perhaps not in the budget.
My Rating: 2 Fingers. Despite a low rating it was entertaining enough for me, but it is not well made, lacks consistency in the script and ultimately will probably be a letdown for most, especially if you've seen a lot of SyFy movies then it is simply not going to offer as much.
Get Ice Road Terror on DVD or Instant Video