Here Lies Joe (2016) - USA - Drama - Not Rated (Family)Independent Short Subject - Sweven Films - 23 MinsDirected by Mark BattleWritten by Mark Battle and Pamela ConwayStarring Dean Temple, Andi Morrow, Timothy J. Cox, Mary Hronicek, J. P. Valenti, Kristie Stumpf Rork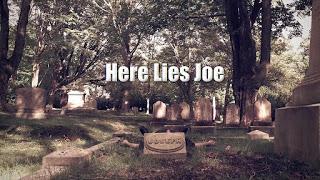 A tactful approach to a sensitive subject that succeeds in flying high with feel good vibes.
Joe is another man in the walkabout of everyday life. Perhaps he is forgettable to anybody but himself, and those memories he carries with him. You see, Joe simply wants out of life, to end it, but on one day he joins a suicide support group and meets a disruptive young woman only calling herself 'Z'. This seemingly fearless woman with a swaggering pomposity gives Joe pause, not only about himself but about what Z hides beneath that facade.
Suicide is not an easy subject to approach in film, or TV for that matter. Hollywood and the networks are loaded with bad examples of tasteless portrayals of people with suicidal thoughts. One that comes starkly to mind is the short lived, thank goodness, TV show The Powers That Be in which David Hyde Pierce, pre-Frasier, played the suicidal son-in-law of a senator, to comical effect.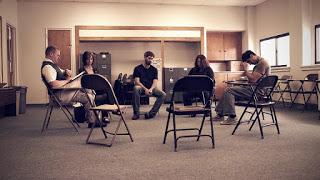 Though Here Lies Joe is a serious drama there is plenty of humor, but that humor is in the interaction of two people. These two might be looking for a way out, at first observation, but they just might be looking for an invitation to stay for a while.
Using a wraparound narrative, director Mark Battle begins at an advanced point in the timeline of the story and then goes back to events leading up to that point. Not events which are the cause of it, but events which put it into perspective, as well starting off with this part of the story puts the character of Joe and those few hours into perspective.

The acting in this is spot on. In the early part of the film at the suicide support meeting we are introduced to members of the group. Timothy J. Cox plays the tactful chair of the group as a man who is seemingly well balanced but does not like to have that balance tipped. Mary Hronicek is wonderful as the morose and attention seeking Carol. And of course Dean Temple plays the awkwardly polite Joe and Andi Morrow is simply a show stealer with her performance as Z.
The cinematography keeps the focus in check while blending supportive elements. One thing I want to particularly praise though, as often it is underscored until it is bad, is the excellent audio in this. I often overlook audio issues so long as I can hear the dialogue, but I just want to call out Robert Beal of BB3 Studio and Shawn McHenry for a job beautifully done. The audio on this is clear as a bell and so well balanced.
Here Lies Joe is a story that gives one something to think about in a presentation that is not only well done but is a feel good film. I can't say anything bad about it; hence my rating.
My Rating: 5 Fingers; I give it a High Five!
You can watch Here Lies Joe on Vimeo
Visit the Sweven Films official website.