Dance Baby Dance (2018) - USA - Dance Drama Comedy - Not Rated (Family)Written and Directed by Stephen KogonStarring Stephen Kogon, Beverley Mitchell, Hayley Shukiar, Carlos Alazraqui, Lisa Brenner, Clare Grant, Isaiah Lucas, Jim O'Heir, Jim Nowakowski, Paula Bellamy
A simple story with an energetic spirit makes this a fun, uplifting movie that will put some feel good in your step.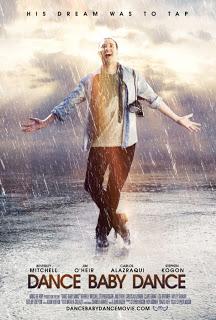 Years ago Jimmy Percer had a dream of being in the spotlight as a dancer. Of dancing before an audience. And Jimmy was good, but knee injuries got in the way of his dreams. Now in his 30s, considered too old to be competitive, he' going to give it one more shot. With his skill and enthusiasm, something's gotta give... so long as his not his knee or mounting family problems.
The opening to Dance Baby Dance ideally illustrates the energy and enthusiasm ahead in this film. With the focus only on the character of Jimmy (Stephen Kogon) breaking into a tap dance routine on the hardwood floored dance studio to upbeat, pumping music, one can see the skill which lies ahead and feel the tempo that's going to set its pace.
Up front, this is no gritty street drama with gut wrenching melodramatics. On the flipside of that it is innocent and even sappy in its characters and storyline; these aren't hardened characters like you'd even see on TV show but more like an afterschool special. This does not take away from it as its charm is in focusing more on the upbeat aspect of fulfilling ones dream even when life sometimes tries to get in the way.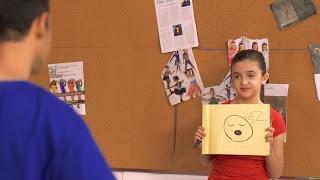 There are occasional weaknesses in this. Early on the camerawork doesn't quite frame the dancers as well as it could. Nobody is out of frame, but often they aren't fully in frame either. This disappears in short order. The lighting and lens flare of the dance competition itself is probably its biggest weakness. The part the film has been building to is an at times, frequently as a matter of fact, murky affair. Even with the lens flare the energy of the dance competition is not diminished.
The strengths of the film lie in its likeable characters and of course the dancing. The storyline is not complex, in other words it's predictable, but it succeeds in knowing where it's going and not taking unnecessary detours, but rather throw an occasional challenge at the characters while maintaining its energy.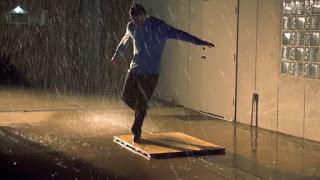 Stephen Kogon plays his role as Jimmy as a positive spirit with a smile a minute attitude. Hayley Shukiar is wonderful as Jimmy's sarcastic niece and combatant in personality. Carlos Alazraqui brings a lot of experience (over 300 credits on IMDb) to the role of anti-social Hector, and has fun with it. Jim O'Heir is a wonderful addition to the cast and a very recognizable character actor many may remember from his role as Jerry Gergich on Parks and Recreation. And Beverley Mitchell as Jimmy's wife Tess brings a balance that not only keeps Jimmy from being a bit much at times but keeps the film grounded.
You know where this film is going and even though the plot throws a few roadbumps in the way for the sake of story it doesn't get in the way of keeping up the energy. At keeping the story moving I would give it a 3, but with its contagious enthusiasm and uplifting spirit I'll take that up  another full notch because I thoroughly enjoyed myself.
My Rating: 4 Fingers
Watch it on Amazon Video (free with Prime)
Check them out on Twitter, Facebook or their Website