Bus Party to Hell (2018) - USA - Horror Comedy - Mature (Most Definitely)Directed by Rolfe KanefskyStory by Michael Mahal and Sonny MahalStarring Tara Reid, Sadie Katz, Stefani Blake, Shelby McCullough, ViDonna Michaels, Devanny Pinn, Richard Hochman, Ben Stobber, Demetrios Alex
*Though IMDb and some other sites list the year for Bus Party to Hell as 2017, I have opted to list it as 2018 being it was not released until April 13, 2018 and the copyright in the screener I have also lists it as 2018.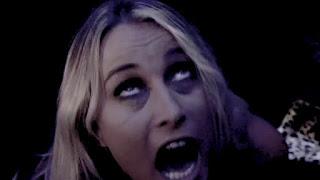 Not just a bus ride but a fun ride of a movie overflowing with comedy and brimming with more breasts than you shake... well something at.
A young woman hitchhikes to Las Vegas, dropped off by a disgruntled ride coincidentally as a bus is boarding to take people to the Burning Man festival. Offered a free ride she accepts, but that free ride may be more costly than anything she could have paid as, taking an off-road detour, the bus and riders become stranded and bombarded by a large group of cultists.
It's Race with the Devil meets Mad Max with more tits and cheese than the state of Wisconsin. Completely tasteless and with its tongue not just firmly planted in its cheek but permanently stitched there, Bus Party to Hell makes no apologies for itself at any point in the film. It is here to do one thing and that is entertain the right audience. If you like comedy, horror and lots of tits (and frankly on that last point...who doesn't) then you're in for a treat as it doesn't let up on any of those ingredients.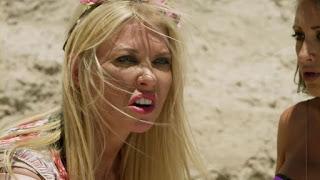 From the outset it's obvious that the objective of this is to have fun. There are things that make little if any sense but will still garner a laugh, and at that point you don't give a damn whether it made any sense or not. The acting in this is B-movie all the way; nobody in this is trying to do Shakespeare but they are simply having fun and keeping the humor rolling. Its big strength is the humor in which the jokes fly faster than the women in this take off their tops.
Added fun is the homage to horror films throughout. Certainly the inspiration from Race with the Devil is the first thing you notice, and of course the Mad Max influence and even Burning Man influence. But, whether intentional or not, I picked up on references to Night of the Creeps and The Lair of the White Worm. What you might pick up on in it may make it more fun for you.
I do need to point out that 'right audience' thing again. There are beheadings, tits, disembowelments, tits, lots of blood, tits, gore... oh, and did I mention tits? In addition if you are particularly bothered by snakes, spiders or tits (yeah, I just couldn't resist mentioning that again), then this may not be your cup of C... err... I mean tea!
Throughout the film I was at a rating of 4 just from an entertainment perspective. Certainly it should fall somewhere between a 3 and 4. But to grade it on anything other than what it aims to be and succeeds at, and that is just being sleazy fun, would be nitpicking. So I'm sticking with my original feeling.
My Rating: 4 Fingers