Over the past decade or so, Sriracha has become a household name (albeit a difficult one to pronounce), almost synonymous with exotic hot sauce.  It flavors everything from burgers to alcoholic beverages.
But its time has come.
Harissa is now ripe to become not only a household name, but the "it" hot sauce of the next few years.  According to Dataessential, roughly 3% of American restaurants now offer some Harissa item on their menu, a 180% rise over three years.
If that's not an item in the very early pre-viral stage, I don't know what is.  Which is why I'm especially psyched that we can now offer you some of the finest Harissa I've ever tasted…  In a recyclable tube!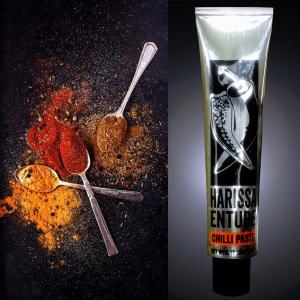 Harissa in a tube!
And as a bonus, it's sugar-free, which makes it a perfect Sriracha substitute for low- and no-carb diets.  I know it's made our slow carb diet a tad easier since we started using it a few days ago.  I miss Sriracha a lot less now :D.
If you've eaten a lot of Middle-Eastern food like I have, Harissa might taste familiar to you.  Personally, it reminds me a lot of Yemeni Zhug, which I used to devour as a child (and still do on those rare occasions when I have the opportunity).
If you don't generally venture in that direction gastronimically, you've probably tasted nothing like Harissa, but once you try it you will be hooked.
Get your Harissa here before all your friends do!
Bon Appetit!