L'Incomparable Diamond Necklace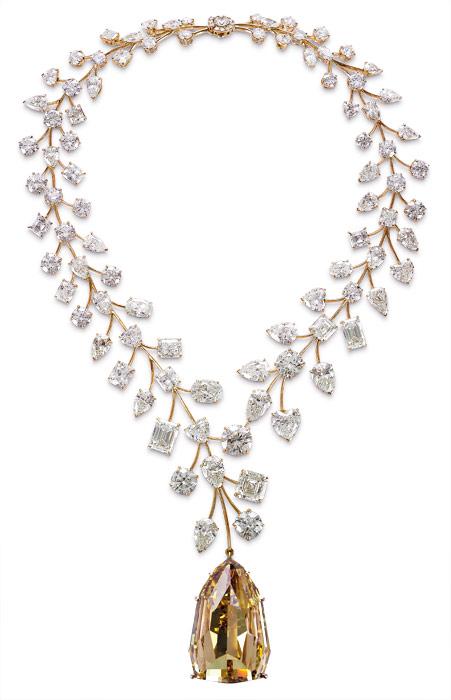 It's official. The Guinness World Records has certified the magnificent 637 carat Mouawad L'Incomparable Diamond necklace as the world's most valuable. With a valuation of $55 million, the necklace features 407.48 carats specially cut yellow diamonds that dangle beneath 229.52 carats of brilliant white diamonds. These 91 spectacular diamonds are interlaced with delicate 18K rose gold branch-lets.
Dangling tantalizingly at the end of this strand of yellow and white cascading diamonds is the Incomparable Diamond, declared the world's largest internally flawless diamond. While in the rough, this spectacular diamond weighed 890 carats. It was found by a little girl in the Republic of Congo in a bucket of rubble thought to be pieces too bulky to contain any diamonds.
After passing through several agents, the Incomparable Diamond found its way into the hands of expert diamond cutter Marvin Samuels. Samuels spent the next four years supervising the cutting and polishing of the huge gemstone. It was then put on display at several museums including the Smithsonian Institute.
The next stop for the Incomparable Diamond was into the skilled hands of Mouawad's artisans where it was crafted into what is now deemed as the world's most expensive necklace. This is not the first world record for Mouwad.
In 2010, the company's 1001 Nights Diamond Purse was declared to be the world's most valuable handbag valued at $3.8 million. Their Very Sexy Fantasy Bra achieved the honor of world's most expensive bra in 2003 with a price tag of $11 million. A pear-cut 11 sided mixed cut D flawless diamond of 101.84 carats was the most expensive diamond to be sold at auction at the time. In 1990, it sold for $12.76 million.
Mouawad has crafted fine watches and jewelry for over 100 years. The family is a global authority on diamonds and privately owns what may be the most expensive collection in the world.
We will be waiting to see what Mouawad item makes the Guinness World Records next. In the meantime, we trust that the little Congan girl and her family were well compensated for her deed of salvaging the Incomparable Diamond from a bucket of rubble.
Mouawad's L'Incomparable Diamond Necklace