Quick, Easy & Mouthwatering Beef Broccoli Recipe
The Best and Easiest way to made in 13 min for beef and broccoli. And Yes, it's quicker, cheaper and healthier than take out!
Our Family loves having Beef Broccoli for dinner. We keep recipes like this one on a Family Favorites List especially for busy weeknights when there's band practice or swim lessons to get to.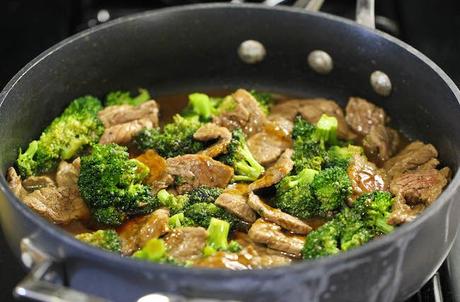 Ingredients:
Garlic, minced – 3 cloves
Red Onion, sliced – ½
Olive Oil or Vegetable Oil – 3 ½ tbsp
Sesame Oil – 1/4 cup
Soy Sauce – 1/2 cup
Sweet Baby Ray's Original BBQ Sauce – 1 tbsp
Ketchup – 1 tsp.
Brown Sugar – 1 tsp
Salt – ½ tsp
White Granulated Sugar – ½ tsp
Ground White Pepper – 1 tsp
Ground Black Pepper – ½ tsp
Corn Starch – 1 tbsp
warm water – ½ cup
Broccoli Crown – 1
1 carrot, peeled & sliced
red bell pepper – 1/2
orange bell pepper – 1/2
yellow bell pepper – 1/2
1 ½ can of Water Chestnuts, rinsed and drained
1 handful/bunch of Sugar Snap Pea Pods
1 can of Baby Corn, rinsed and drained
1 lb Beef Sirloin Steak, thinly sliced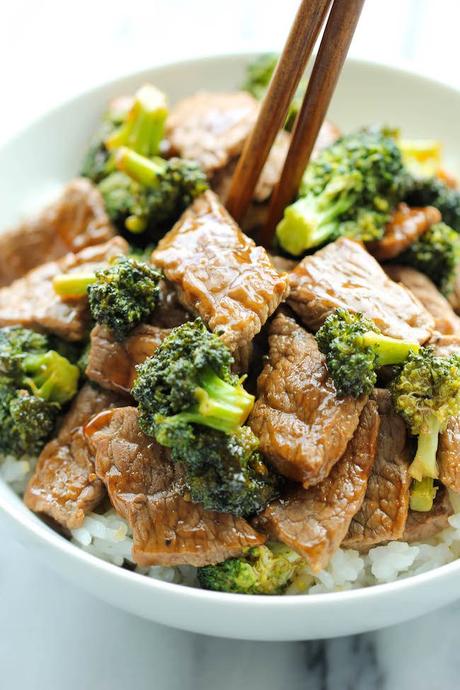 Directions:
Marinate the beef sirloin in a separate bowl by adding sesame oil, bbq sauce, ketchup, brown sugar, salt, white granulated sugar, white pepper, black pepper, & a pinch of MSG (optional). Set beef aside and let marinate while prepping other ingredients.
In a separate small bowl, add cornstarch to warm water and stir well to remove all lumps. Set aside to be used later.
On medium heat, drizzle pan or wok with Olive/Vegetable Oil. Then add minced garlic to the oil to cook for about 2 minutes or until fragrant. Do not let the garlic burn or it will taste bitter and crunchy. (I've made this mistake once too many times. :/)
Add the marinated beef to the hot pan or wok. Cook for about 5 minutes or until beef is done to desired wellness. Stir frequently to keep from burning.
Lower your heat from medium to low and add the cornstarch mixture and the soy sauce to the cooked beef sirloin while stirring frequently. May need more water if the mixture is too thick or starts to burn due to high heat.
Add all remaining vegetables to your wok: red onions, broccoli, carrots, water chestnuts, pea pods, & baby corn. Stir Fry quickly and make sure everything is well coated with sauce, about 15-30 minutes from the start of heating until ready to serve.
Serve on a platter with a side of your favorite cooked white or brown rice.
Optional: garnish with a handful of sliced scallions (green onions) or a few sprigs of cilantro right before serving.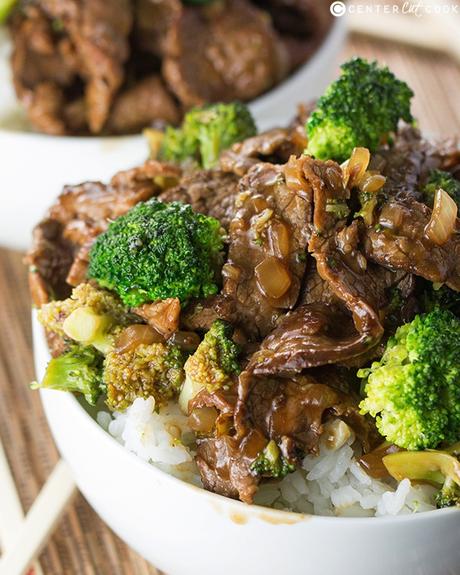 Advertisements