Well , you will all know by now that I love walking in the mountains. In fact this year finds me having trekked in the hills for 60 years!
I have plans for this year - I intend to revisit places where I was first introduced to hillwalking by my parents. To clear matters up, no, my parents were not walkers....we took up the hobby together in 1958. My dad bought a 1937 Riley for £20 and we set off to tour round Scotland, having borrowed a tent, bought a spirit stove etc. So it was that the three of us and dog ventured forth into unknown territory. Roads in those days were pretty horrendous and many unmetalled. Anyway I'll cut this long story short. We walked up a hill (mountain?) in Wester Ross near Cluanie Bridge if I recall ? So that was us hooked. Every possible opportunity we'd pack up the van (my Dad bought a wee ex- post office van) and we'd explore Deeside. That is part of my itinerary for this summer. Due to the power of 'google' I know that lonely tracks where we once trekked are now popular walking routes and well-marked and laid out, for such is the popularity of hillwalking these days.
As a child I longed to go to the Alps. Well, six months after my husband died I went to stay with my Swiss sister-in-law, whom I'd never met and who was also widowed. Spiez is a wonderful center for all things mountain related and I  just love going there. The family regard me as their crazy Scottish Auntie who would rather walk than use transport! Not altogether true as the various mountain trains, lifts etc are useful for parts of a walk.
In 2014 I was able to fulfill yet another long held dream...to visit Estes Park in Colorado...to do high altitude walks. Wonderful!
Mountains have long inspired me it seems, as I've looked through my archives and found a poem written in 1966 or thereabouts. It's numbered 15 in my file and entitled " My Sacrifice "...so here it is..                                
  My Sacrifice
            Hear the gentle voice of the wind
            As it flows, as it whispers, as it drifts through the glen.
            See the bubbling stream
            As it tumbles, as it fall, as it cascades from yonder Beinn.
            Hark, hear the bird call
            As it chirrups, as it echoes, as it wings across the fen.
            See the hungry fox
            As it stalks, as it preys, as it lurks from it's den.
            Hear the rustling feet
            As they struggle, as they walk, as they climb through the heather.
            See the clear sky overhead
            It is blue, it is cloudless, it is fine and lovely weather.
            Breathe the mountain air
            It is pure, it is fresh, it is scented of wild roses forever.
           Though I travel far
            You'll be mine, I'll be yours, for ever altogether.
  Being as it's a favorite subject of mine I've decided to include a more recent piece written in 2014..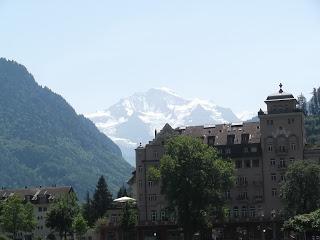 Take Me
            Take me to the hills
            Let me walk o'er moor and peak,
            Tread my feet on heather and peat.
            Face to the sun and feet on the good earth.
            Resting. Slow breathing in of the goodness -
            The life-giving essence of the mountains.
            Take me to the valleys
            Let me walk o'er lush green dales,
            Walk the length of all the vales.
            Face to the sun and feet on the good earth.
            Deep breathing and relaxing on the verdant grass -
            The life-giving essence of the glens.
            Take me to the woods
            Let me walk through oak and pine trees,
            Breathe in the aroma of all these.
            Face to the sun and feet on the good earth.
            Striding forth beneath the overhead canopy-
            The life-giving essence of the forest.    
      Thanks for reading my pieces, Kath
Email This
BlogThis!
Share to Twitter
Share to Facebook
Reactions: