I love a great biker jacket. I own quite a few in different fabrics. When I spied this one, while standing in line to check out at Kohl's, I knew I had to have it. Impulse buys are rarely something I indulge in these days. In the past, I spent lots of money on items that I didn't really love and rarely wore. Last spring I saw a biker jacket, in a fun print, on one of my favorite clothing store sites. It was amazing and I loved it but the price was close to $200. I just couldn't justify spending that much. When I saw this similar jacket in a fun tropical print, I flipped. It was a great substitute at a great price. I've already worn it to work a couple of times, with a skirt and pants. Casual but polished was what I needed to go to a few appointments one day last week. This jacket and the heels, amped up my basic outfit.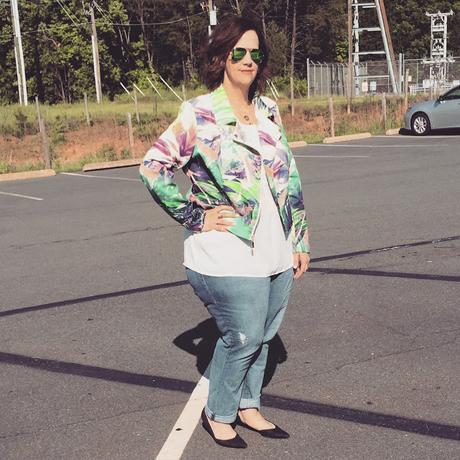 This jacket was a perfect excuse to try
the jeans and heels look
. I grabbed my favorite black kitten heels and threw together this combo.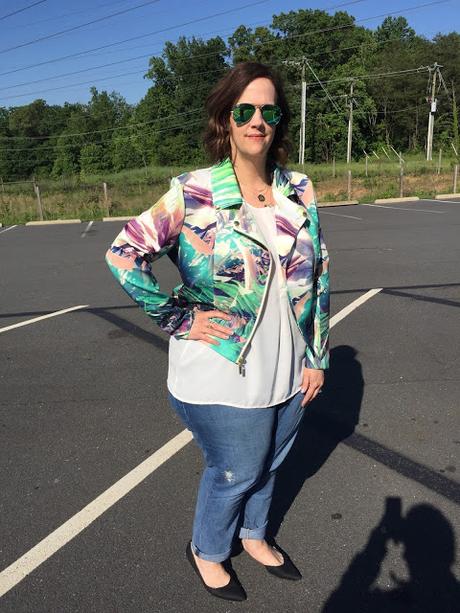 Jacket: Kohl's, Top: BB Dakota via Amazon, Jeans: NYDJ via Amazon, Shoes: Target (no longer available), Sunglasses: Ray-Ban via Amazon, Jewelry: Stella & Dot