Although Abbie is still too young to understand Mothers Day, I look forward to being showered with love and perhaps a few little gifts to say thanks for putting up with her bad sleeping habits for the previous few years! I think my favorite gift would be a handmade card from her, with scribbles and scruffy handwriting, something she has helped to make herself and feels a sense of pride when she gives it to me :). 
Remember, you don't have to spend a fortune on gifts, sometimes it's the little things that mean the most, if you need some inspiration, have a little look 
here
 for some great ideas and check out my list below of my top 3 ideas!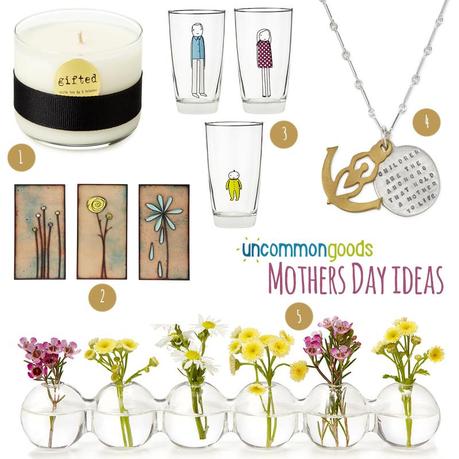 1 | 2 | 3 | 4 | 5
1. Flowers & Chocolates
You can never go wrong with flowers! What's better is that Mothers Day is always at the beginning of spring so there are so many new flowers blooming, from pretty daffodils to white lilies, and even a huge bouquet of gorgeous colourful flowers to brighten up her home too! As for chocolates, go for the biggest box you can find, perhaps a mixture of her favourites or different types!
2. Canvas/Wall Art
This is a good way to get the kids involved, purchase a blank canvas and get some paints or pens and let the little ones draw her a picture, you can choose the colours if you want to and just let them doodle and draw what they like, we let Abbie do this recently and it's now up on the wall in our living room! She loved getting involved and getting a bit messy! It'll give your mom a gorgeous piece of wall art she can put up on display for everyone to see :)3. Jewellery

A special piece of jewelry that she can wear all the time but that will also be sentimental too, some kind of locket perhaps with the grandchildren inside or her children, or maybe a gorgeous engraved bracelet with a little message from the family, I think when you can see someone has put an extra bit of effort into their gifts, it means more, a special engravement will definitely make her smile!




If none of those take your fancy, check out some more gifts here for a ton of other ideas!




If you're thinking about getting something for a new mum, it's always nice to go along the 'pampering' route, something with a bubble bath and relaxing bath oil will be sure to put a smile on her face :). You can even get something for the little one if you just can't resist, here are some fab ideas for you to browse through too!

x