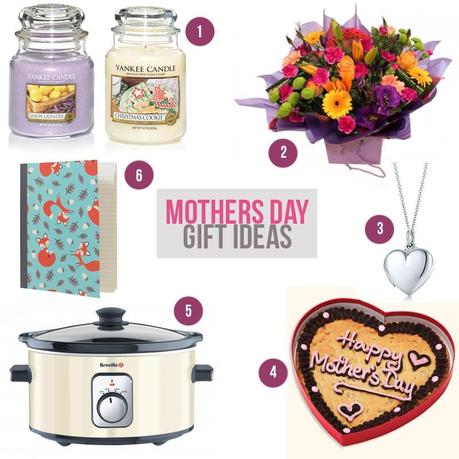 1 / 2 / 3 / 4 / 5
With Mothers Day just around the corner, can someone please tell me HOW on earth it's March next week? Wasn't it just Christmas? Ahhh, anyway, since having Abbie I now get to enjoy the occasion that is Mothers Day, obviously this means Ben taking the ropes and choosing me a few bits, but to be honest I am not really a present kind of person, just the day with Abbie and Ben would be all I need, anything else is just a bonus! I'm sure as I get older I'll enjoy the day more and be able to have some sort of lie in or a nice meal out somewhere!
I'm also one of those people who constantly makes wish lists, things I would love to have, material things, but things that would put a little smile on my face none the less! So I conjured up a little list of those bits and put it into a Mothers Day gift ideas collage for you, if you're struggling with what to buy your Mum's or you're thinking of something you might like, hopefully this can give you a little bit on inspiration! 
My personal 3 favourites are below!
Yankee Candles
Need I say more? In my opinion these are a bit 'too' pricey, considering they burn out and that's it, but somehow I can't stop myself from being drawn in by them, I don't think there's a scent I haven't liked so far, I don't know what it is, they just seem like a luxury item most people need in their homes and as much as I am a thrifty person, Yankee Candle scents are almost too good not to invest in! Even if you just buy a few smaller sized ones, have them around a lovely and hot bubble bath, pop a towel behind your neck for support and make it into a little at home spa sesh, they'll instantly change your mood and you'll probably find yourself addicted like I am.
Flowers
Who doesn't love a big bunch of flowers? They brighten up any room in the house, they smell amazing and really aren't difficult to get your hands on either. You could order from a special online florist if you're wanting something bigger and more fancy, or even just pop to your local supermarket if you have to, flowers suit all budgets and are always guaranteed to put a smile on someones face! Some people like classic flowers like Roses or Lillies, others (like myself), prefer the more colourful ones, a mish mash of oranges, yellows or even pinks and purples, they'd definitely make my day :)
Millie's Cookies
I've said it before, and I will happily say it again, Millie's Cookies are one of life's best inventions, the most delicious, indulgent, dreamy cookies in the world of sweet treats! I'd not heard of them before last year but a friend of ours bought one for Abbie's birthday and I fell in love straight away! They say the way to a mans heart is through his stomach but I have to say, it's always the way to mine too, I love food, I love dessert, I love cake and I love cookies, buy me some sort of naughty treat and i'm a happy bunny! Seriously, all I asked for at Christmas was a galaxy chocolate hamper, no really. If you've not actually heard of Millie's before, basically they sell boxes of cookies, cupcakes, GIANT cookies and cookie cakes, COOKIES CAKES, what a fantastic invention!  You can then choose to personalise your giant or cookie cake with writing, with the colours you want, the shape you want and even the choice of added extras! All of which can be done at home and with next day delivery! Bliss!
What have you asked for, for Mothers Day?
x