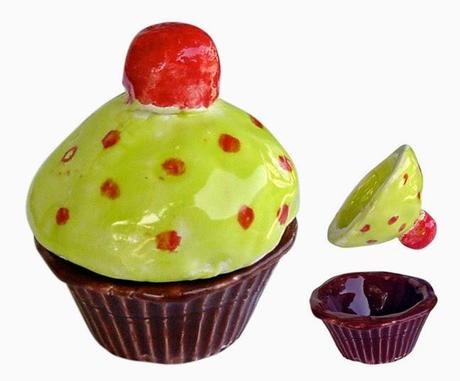 This is my very favorite ceramic project, which I save every year for Mother's Day for kinders. S

ilicone cupcake holders from Michaels make the project easy for little artists.


1. Give each student one cupcake holder and enough clay to make a smooth ball about 2" in diameter. They press the ball into the cupcake holder, first pressing in the center and then working the clay against the sides to form a bowl.
2. Students make another 2" ball and shape it into a small "pinch pot" for the cover.
3. A small piece of clay is used to shape the cherry. Before attaching, the contact points of the cherry and the pinch pot top must be roughed up to assure solid contact. Smooth surfaces don't adhere well.
4. Let dry in silicone holder for at least 24 hours. Remove when clay is firm, and scratch student names on the bottom.
5. I dry my cupcakes in the sun for a day or two and then fire. Students apply the glaze and then the final firing is done.