I did not grow up helping my mother in the kitchen, largely because my mother did not spend very much time in the kitchen. This was all fine and good with me, seeing as a) I had no interest in being in the kitchen unless ice cream was involved, and b) my mother spent her not-being-in-the-kitchen time doing other things. Like earning her Ph.D.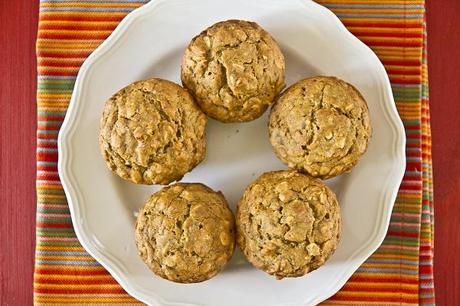 Because of this, there are probably about 3 or 4 recipes tops that my mother has committed to memory and prepares religiously on at least a biweekly basis. These muffins are one of them.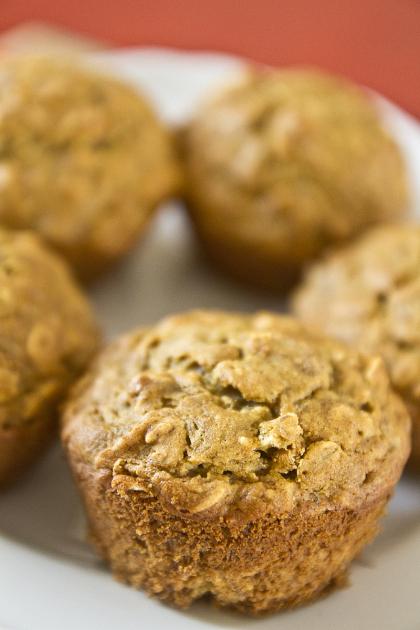 My mother has been mostly gluten-free ever since doing some sort of homeopathic cleanse a few months back. Unfortunately, the original recipe for these muffins is about as un-vegan and un-gluten-free as you can get. Being the picture of filial piety  that I am, I offered to veganize and de-glutenize it for her. (I suppose xgfx-ify would be appropriate shorthand?)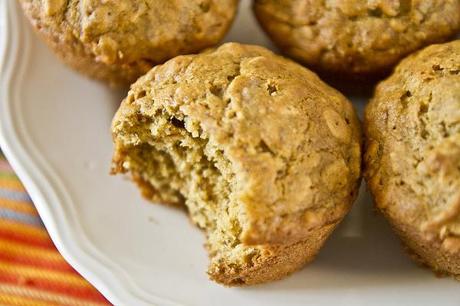 At first, I was more than a bit leery about manipulating so many recipe variables at one time, but I miraculously managed to hit on the perfect flour combination on my very first try! The muffins turned out surprisingly light and fluffy, with a subtle but noticeable almond flavor — very close to the original.
Hopefully my mother finds her beloved recipe just as easy to memorize after its makeover, and hopefully all of you enjoy them enough to forgive me for posting two muffin recipes back to back!
ingredients
1/2 c brown rice flour
1/3 c quinoa flour
1/4 c almond flour
1/4 cornstarch
1/2 c sugar
2 tsp baking powder
1 tsp baking soda
1/4 tsp salt
1 1/3 c almond milk
1 tsp vanilla
1/4 tsp almond extract
1 c gluten-free bran flakes (I used Arrowhead Mills)
1 c gluten-free rolled oats
2 tbsp ground flax
1 very ripe banana, mashed
1/3 c almond butter
1/2 tsp cinnamon
1/4 tsp nutmeg
1 c mix-ins such as raisins, chocolate chunks, nuts, etc. (optional)
directions
1. In a large bowl, whisk together flours, cornstarch, sugar, baking soda, baking powder, salt, and spices (cinnamon & nutmeg).
2. In a separate bowl, stir together bran flakes, flax seeds, and almond milk. Let soak for a few minutes. Add remaining wet ingredients (vanilla, almond extract, almond butter, & mashed banana).
3. Pour wet ingredients into dry and mix thoroughly. Fold in rolled oats and any mix-ins.
4. Pour batter into greased muffin tin, filling wells 3/4 full (nearly to the rim). Bake at 350° for 23-25 minutes. Allow muffins to cool 10-15 minutes before removing from tin, and run a knife around the edges to ensure they come out cleanly. These are great served warm with a pat of soy-free Earth Balance!