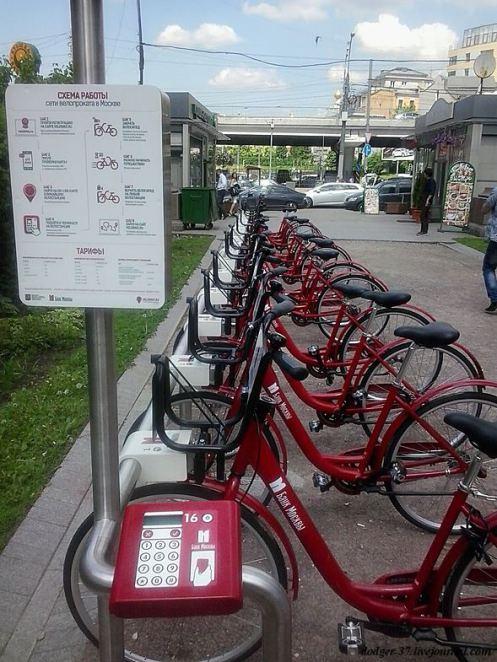 (Moscow red bicycles)
From The New Yorker:
"It's not easy to ride a bike in Moscow," cautioned Alexey Mityaev, the floppy-haired, jeans-wearing twenty-seven-year-old adviser to the head of the Moscow Department of Transport and Road Infrastructure Development, as we headed out on a test run of the city bike-share program that just launched in the Russian capital. "Sometimes you have to jump!" he called back to me as we left Tverskaya Square. Dodging his first car, he demonstrated, yanking his bike onto the dilapidated sidewalk mid-pedal. "Sometimes you have to ride through pedestrians!"
For the next twenty minutes, Mityaev wove his way through Moscow's impressively aggressive traffic. He raced lights and shot across lanes when a gap opened between shiny black sedans gunning their motors. An Audi failed (barely) to nick him. Suddenly, Mityaev reappeared right in front of me (I had fallen pretty far behind). "Don't show fear!" he shouted, over the roar of traffic. "Cars are like dogs! They can smell fear! But if you ride like you aren't afraid, they respect you!" Then he sped off, heading the wrong way up a one-way street.
Last week, Moscow installed, throughout its center, thirty stations containing a total of two hundred and twenty red city bikes. A Czech company provided the bikes, stations, and support. ("Because they are our brothers," said Mityaev, with a smile, before adding that the city figured the Czechs had more experience with Eastern European-style vandalism than their Canadian competitors.)
Nonetheless, the system resembles the Citi Bike program launched this week in New York. The same basic rules and conditions, as well as general urban-planning principles, are at work, too; Moscow's D.O.T. worked with its counterparts in New York, London, and Copenhagen as it developed its program. But in the Russian capital, bike sharing may not be as much an immediate step forward for commuting—the program is starting extremely small, both in terms of bikes and miles of bike lanes—as it is a small, concrete triumph for grassroots political activism.
There is more and our readers can access the rest of the article here.