I received a
Moscow Mule Mug
free from Tomoson to test out and review.
Overall, I really like the mug and its design!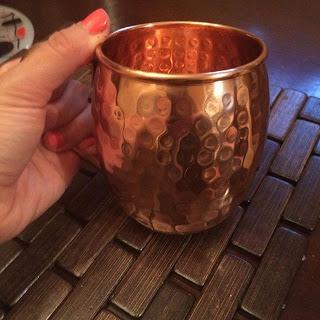 KEEPS DRINKS ICE COLD - To this day, copper is one of the best metals to keep your drink cold, which is why it has stood the test of time in respect to a classic mug. Whether you're sitting at a modest 65 degrees or a scorching 110 degrees, you can be confident your drinks will remain cold.
EASY TO CLEAN - Moscow mule mugs are a summer favorite in the US, ranking as the most sold summer cocktail. Whether you're poolside with friends in the summer heat, in the comfort of mid day air condition or preparing dinner, a copper mug is always a great choice. These mugs are extremely easy to hand clean with a sponge allowing you to clean up in a snap.
EASY TO HOLD - PERFECT HANDLE SIZE - Our customers say our handle size is optimal for both small and large hands. Since the mug stays cold, it's important to have the optimal handle size for a comfortable hold.
100% COPPER - This mug is pure copper and does not include any brass or stainless steel lining. Our copper is sourced directly from India so that you get the true copper mug experience. Enjoy drinking this classic 1940s drink the way it was meant to be enjoyed.