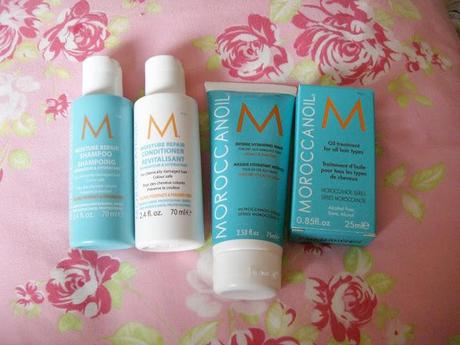 Moroccanoil Travel Kit £33.85 Feel Unique
I received this kit so long ago as a gift and I've been scared to use it for 2 reasons. 1. I didn't want to like the products in it as much as I already like the moroccan oil as I can't afford to bring them into my everyday hair care. 2. They are all so mini I didn't want to use them up too quickly. But the other weekend I had a long weekend away with friends and thought it was time to just bite the bullet and use these gorgeous little mini's. I've already professed my love for the moroccan hair oil (original review here) which I am still making the mini bottles I get in gift sets last forever. 
The shampoo and conditioner are pretty special - they leave the hair so smooth, silky and leaves the hair feeling full of natural oils. It leaves my hair feeling like so nourished and soft literally like no other shampoo conditioner combo I've ever tried. However after one or two uses it's a dream but any more I find my hair gets greasy far too quickly and builds up oil too heavily. It's a lovely once a week wash for my hair but I'm super glad it's not something I want in my everyday hair routine as 250ml of either shampoo or conditioner come in at nearly £20 a bottle. 
The intense hydrating mask is again a really lovely product it's a much richer thicker version of the standard conditioner where a little goes a really long way. 250ml of this mask costs nearly £25 as much as I love it I'm really not in the market for such a pricey hair mask at the moment. If I'm looking for hair treats I'd definitely head to Moroccanoil as all of their products really nourish my hair and give it a salon finish.