According to my Last.fm account, my love affair with the National began near the end of July 2011. When I click on certain songs on the site, mostly from High Violet, Last.fm says that my first scrobble – or listen through Last.fm's tracking service – was on July 26, 2011. I didn't know it at the time, but that first listen would lead to at least 1,458 more individual track listens over the next two years. The National are now my number one most listened to band. The next closest sits at 750 listens.
Not actually close.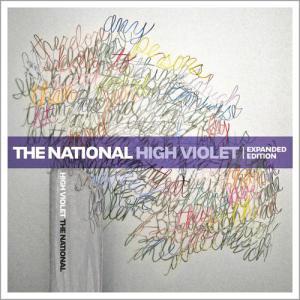 However, I didn't listen to the National online first. I found a copy of High Violet on accident in North Canton's public library and had my mom play it in her car earlier that summer. The first listen bored me to tears. The second listen didn't do much either, although I thought "Bloodbuzz Ohio" was a kind of okay song. By the third listen, I was pretty much over the album. The only reason we kept it on in the car was because we had it checked out for two weeks.
Keeping it on in the car was the best thing we did. As we kept listening, I started to learn what slow burners these songs are. I noticed that certain tracks were beginning to stand out to me; "England" is the first track I distinctly remember loving. I had to take High Violet back to the library, but not before copying it into my iTunes. All of a sudden, the National were an important part of my music library.
So to state the obvious: I haven't been listening to the National from the band's beginning. I started listening with High Violet, and I'm glad I did. I was 19 when I first heard it, and I was coming off of my first year of college. I don't think a high school version of myself would appreciate their music like I did after a year on my own, dramatic as that may sound. My friend had given me a digital copy of Boxer during my senior year, and I had never seriously listened to it. I'm glad I waited.
High Violet and its slow growth opened my eyes to the entire National catalog. I knew where the band was in the present, and it made me want to understand where they came from. Boxer, The Virginia EP, Alligator, Cherry Tree, Sad Songs for Dirty Lovers, The National – I listened to every release, and I still do. My favorite National songs come from all of these; my current top National song is off of the extended edition of High Violet. Depending on the day, though, I have new favorites. I'll listen to Boxer for the 247th time and realize that "Gospel" is my favorite song for a day. I haven't confined myself to High Violet, and I don't think any National listener, casual or otherwise, should. However, High Violet brought me to the fandom, and I know that's important, too.
By the end of that summer, I knew the National was my favorite band. They weren't even just my new favorite band; they had solidified themselves as the all-time favorite. I listened to them consistently as summer changed to fall, and I explored those early releases for most of the fall 2011 semester. I was applying to graduate school and studying for the GRE, and all I wanted to hear was "American Mary."
By 2012, I wanted new National songs. Throughout 2012, the band teased listeners with tracks for Game of Thrones ("The Rains of Castamere") and Portal 2 ("Exile Vilify"). Those songs are fine (and let's be honest, I love Game of Thrones, and I still think lead singer Matt Berninger is Jorah Mormont, so that track is definitely a personal standout), but they weren't forming a whole album. All I wanted was the next High Violet. That might not sound great at a glance, but it is: High Violet is where the National perfected their sound. I just wanted that continued perfection. (Feel free to disagree. I'm sure there are those who prefer the rawness of The National or the softer tones of Boxer. That's fine.)
Now, the National have delivered on the promise of High Violet by delivering Trouble Will Find Me. Over the past five months, I followed every announcement about this new album. When I saw that Pitchfork.com had the tour dates posted, I marked my calendar. I watched every new video, including the ones with fan footage. I read the speculation about track names and lyrical meanings. I monitored the Reddit AMA. No matter what, I promised myself I would love this album.
And I do. I can't review this album as a typical reviewer might; I'm too much of a fan now. The National have been the soundtrack to too many moments in my life. I associate them with just about everything, from traveling abroad to London to driving to my terrible job at Sears to living in New York to walking to classes in snowdrifts. I have to write about this album as someone with an emotional connection to a band whose music has shaped me over the past two years.
Trouble Will Find Me is the next High Violet, but maybe better. Other reviewers will tell you that the tracks will grow on you; some might point out how morbid the lyrics tend to be, as usual. A few may pick up on the jokes throughout. Plenty will tell you that the Dessner brothers are making their best arrangements yet. And I'm sure at least one reviewer will comment on the fact that Matt Berninger's voice seems to be even deeper than before.
That's all fine.
But what I love about Trouble Will Find Me is the slow burn; it's one of the greatest things about being a National fan. When I listened to High Violet, I didn't know that the slow burn happened. Now, with Trouble Will Find Me, I know that I always have something to look forward to. Something will change with each listen, and it's the most exciting feeling.
I've already listened to the album as a whole five times, two of those in my car on hour-long drives. The first listen had obvious standouts: "Sea of Love," "Demons" and "Don't Swallow the Cap," all released prior to the album. They were the songs I was familiar with, so I easily latched onto them. "Sea of Love" is an especially great track, one that grows in grandiosity with each listen. It rivals "England" in the way its intensity grows, but "Sea of Love" feels much more subtle overall. Plus, "Sea of Love" has the album's title in the lyrics: "If I stay here/Trouble will find me/I believe." It doesn't get much more Nationally than that.
However, repeated listens make different tracks standout. As I listen right now, "I Need My Girl" has a quiet pining that perfectly showcases Berninger's vocals and the emotions he infuses into them. Bon Iver's Justin Vernon is a guest on this song, but he's never showcased – which works. You don't need to be aware of Vernon to appreciate the depth he adds to the song. The song has the strength to stand on its own as a whole without analyzing the guest appearances.
Another standout is opening track "I Should Live in Salt." At first, it just seems like a leftover from High Violet intended to introduce listeners to the next hour of music. That in itself is not necessarily the worst thing you could say about a song; however, this song grows into its own with each listen. The song itself is just over four minutes. Yet the sonic build-up of the track leads the listener perfectly into "Demons," and it's the ideal beginning of the journey through Trouble Will Find Me.
It's difficult to write an album review as a fan. If you're reading this as a non-fan, there isn't much to pull you into the album. If you are a fan, you probably already knew about all of this, and you probably already downloaded Trouble Will Find Me. However, as a fan, there's a connection to this music that's important to share, regardless of your preferences. Even if you don't "get" the National, you do get Vampire Weekend, or Kanye West, or Majical Cloudz, or Purity Ring – there is at least one musician that you relate to at this level. Your waiting for their next release as I waited for Trouble Will Find Me, and that in itself is an important personal connection.

If you go to my Last.fm account, my top four most played tracks of all time are off of High Violet. "England" is at the very top, with 67 plays out of the 1,459 total. "Sorrow" is next, with 59. "Terrible Love" and "Vanderlyle Crybaby Geeks" round out the top four. The National are eight of the top 10 in this list. The numbers themselves don't necessarily matter, though. High Violet was an album that had a massive amount of impact on me. Nearly two years after my first listen, I still hear something new with each play. However, I now have Trouble Will Find Me to add to the collection of National plays. Will those songs break into my top 10 most played on Last.fm? They could. Like I said, though, it's not the numbers that matter. I do know that I have another National album to serve as a soundtrack to the upcoming months in my life. I know that with every listen, whether I'm driving in my car, sitting at my computer, walking around in London, I'll hear something new.
And that is why I listen to the National, and why I love this album already. The promise it holds is thrilling, and it will remain thrilling even with their next release.