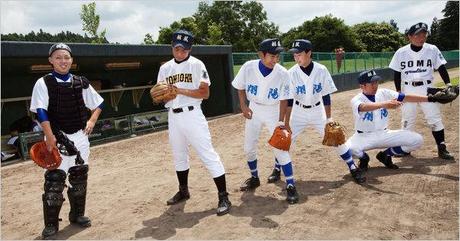 I can bitch about how crazy my life has been lately (and apologize for the lack of posts), but then I read pieces like this in the New York Times, and it puts things in perspective for me.  Over the past year, Japan has been rocked by an earthquake, tsunami, and nuclear power plant disaster; it has truly been a clusterfuck of Mother Nature-related catastrophe and suffering.  In comparison, my world, which is defined by court hearings and baseball games, is really rather calm and predictable.  I mean, these poor people do not even have baseball fields on which to play.  As the New York Times explains, northern Japan was so devastated by the natural disasters and in particular, the nuclear meltdown in Fukushima, that towns were evacuated, entire high schools were shuttered, and athletic teams were disbanded.  Instead of becoming crippled by hopelessness or abandoning something as seemingly irrelevant as sports, baseball has become a "steadying factor in lives that have been forever changed." 
Each summer, there is an amateur baseball tournament near Osaka, which determines Japan's national champion.  This competition, which began last week, is rife with honor and pride; however, it appeared as if many teams would be unable to participate in this year's tourney, since many teams no longer exist.  Three high schools in this predicament – Tomioka High School, Soma Nogoyo High School, and Futaba Shoyo High School –banded together in rag-tag fashion to field enough players to enter the tournament, even if their chances of winning are slim to none. These young men, who are now members of the Soso Rengo team, have lost family and friends, their schools, and their homes.  They may have all started out as strangers amidst unexplainable chaos, but it is their common love for baseball that brought them together.  And now, as friends and teammates, they are trying to achieve the impossible, while inspiring the rest of the country in the process.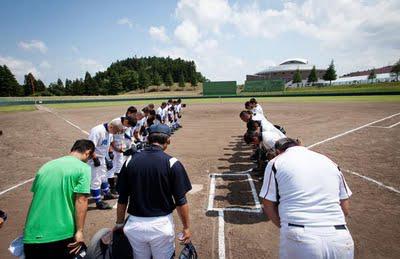 The logistics of blending three baseball teams has been difficult and, at times, controversial. Because the players are strewn throughout disaster-laden Japan, the team could only practice one day each weekend in preparation for the national summer tournament.  In fact, the team was only able to practice twice before their first game.  Some players still live in refugee centers, while others travel hours just to make it to their weekly practice.  The players have had to compromise over which uniforms to wear, which rally songs to sing, and which players have leadership roles.  They have had to deal with the guilt of being able to participate while many of their friends and former teammates cannot.  Because radiation levels remain dangerously high, the Fukushima High School Baseball Association is monitoring conditions every day at each of the five regional locations.  If radiation is above 3.8 microsieverts per hour, all games at that location are postponed.  Crazily, if it rains, players will be forced to wear rubber gloves and radiation levels will be checked again before play continues.  The risks that these young men are taking simply to play a game they love is not only admirable, but amazing.
Even though their lives have been turned upside down, baseball has given the Soso Rengo players motivation, and in effect, it has given the entire country hope.  Due to the improbable circumstances of fielding enough players, let alone players that are actually talented, the team has received heart-warming media attention and accolades throughout Japan.  They have been praised for their selflessness, loyalty, and perseverance. Their story deserves recognition in the United States, too.   Here, we are worried about things like steroids and Roger Clemens and attendance and Bud Selig and the trade deadline – all of which are meaningless when compared with the game itself.  Our love and respect for baseball.  Our ability to enjoy and play it freely, without constraint from Mother Nature or anything else.  We take it for granted.  And tonight, when I turn on the YES Network to watch the Yankees or rearrange my fantasy team or wash my softball uniform, I will remember how lucky I really am.