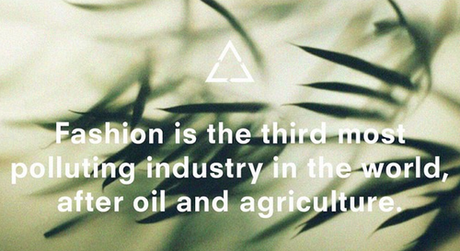 In the fight against climate change rarely is what we wear mentioned as part of the solution. Sustainable fashion has been a huge missed opportunity because it is one of the easiest ways we can live our values. Switching to an organic cotton t-shirt or buying clothes made from recycled plastic water bottles, are relatively easy, tangible ways that we can all wear our values.
By switching to organic cotton, not only do you reduce the amount of water required by up to 60 percen

t but organic cotton also lowers the amount of pollutants that poison our waterways by as much as 98 percent.
Textile manufacturing is the third dirtiest industry (to agriculture, oil and gas) in the world. We can't ignore the implications of fast fashion. Out of sight out of mind doesn't work when it comes to protecting our environment. The textile industry needs to move away from conventional cotton and polyester by increasing production of organic cotton and recycling 'plastic' polyester. Although polyester is non-biodegradable it can be readily recycled. There's enough plastic in our world already to do this, instead of building more chemical plants to manufacture virgin PET (polyethylene terephthalate)
Other more environmentally friendly natural fabrics have been largely ignored and under-invested, these include hemp and nettles. A concerted industry effort with greater consumer awareness of what we are exactly wearing should signal a revival of these valuable crops. As always the bottom line will be a prominent factor, which is why today the cheapest fiber to manufacture polyester is becoming ever more dominant. But when you include the cost to human health and the environment it's a solution to nowhere.
ooooooooooooooooooooooooooooooooooooooooooooo