TAKEAWAY: Hotels are realizing the benefits of the iPad to expedite servicesALSO: My first ride on the Lufthansa A380—and two surprises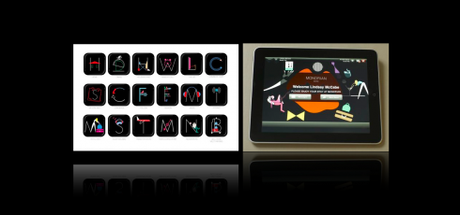 At the Mondrian SoHo Hotel in 

NYC

: an iPad in every room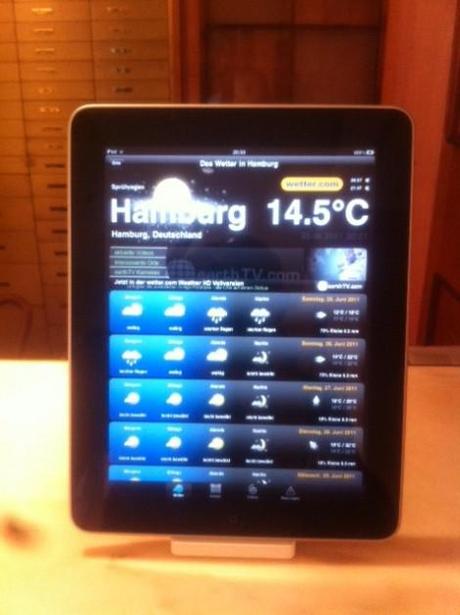 At the Intercontinental Hamburg, an iPad sits on the Concierge's counter, available to all guests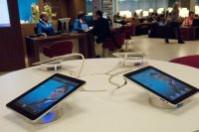 At 

KLM

 lounges, iPads available for passengers to use
I am beginning to see iPads as "service items' in hotels and airline lounges worldwide.
In Amsterdam, at Schipol's KLM Lounge, a high round table sits in the middle of the room with four iPads chained to it, ready for guests to use.
This week, at the Hamburg Intercontinental Hotel, next to the concierge lounge, a standing iPad, showing the city's weather, but ready for any guest to access emails, surf the Internet, or follow the guide to Hamburg for entertainment, restaurants, places to see.
The tablet as a preferred platform is catching the eye of the hospitality business. At New York's Mondrian SoHo Hotel, iPads are distributed to guests in all 270 rooms to handle evrything with options to check flights, order room service, make dinner reservations, coordinate transportation and call a housekeeper to request toothpaste or hangers.
Last year, InterContinental Hotels equipped concierges with iPads to "provide guests with enhanced maps and directions, video recommendations, and instant booking confirmations for local restaurants performances and attractions."
Airlines, too, are showing an interest in tablets and what they can do to make the life of air travellers easier.
Samsung recently announced that some American Airlines flights will receive theGalaxy Tab for in-flight entertainment.  Under an agreement, AA will distribute 6000 devices later this year on some Boeing 767s and 757s that fly transcontinental and international flights.
And now, those iconic Black Cabs in London are introducing reservations using aniPhone app.  Indeed, drivers of London's black cabs have introduced an LDNtaxiIphone application that allows customers to hail a taxi online using their mobile phones. The app calculates the caller's position using the Apple phone's GP's feature, then looks for black cabs nearby and alerts drivers to a potential customer.
The Lufthansa A380 experience: call it grand!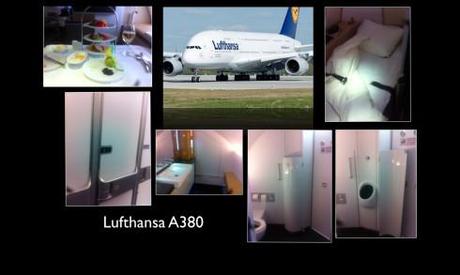 Finally it happened. I had my first ride on the Lufthansa A380 super jumbo, which has now started daily service Frankfurt to Miami.
And the reason I say "finally" it is because, as a HON Circle member (the top elite of the airline's most frequent travellers),  Lufthansa had invited me to be on the A380 twice before, once when they introduced the big one to San Francisco, and then again, June 10, when the first A380 landed at the Miami International Airport, where, coincidentally, traffic on 836 came to a crawl, as drivers stopped their cars to see the A380 land.  Lufthansa has been the first airline to land the A380 at MIA.
But Thursday, I got on the A380 and took seat 2K, upper level, which runs from the nose to the tail of that mega jumbo jet.  Upstairs is all First and Business class, and today, only two seats were empty up there.  The entire downstairs is Economy, with partitions to make it look more cozy.
The Lufthansa First Class experience on the A380 is magnificent, one of a kind, and full of surprising details.
Two details that surprised me:  my own personal locker, just like in the gym, or in high school PE class.  Forget the overhead compartments in First Class, each passenger has his/her own locker to store things, top to bottom, with a lock.  The second surprise: a urinal in the sumptous bathroom. Nice touch.
The rest of the experience is pure Lufthansa hospitality:  a great variety of meals to choose from, enough movies and TV programs in the entertainment system to be watching for at least three weeks non stop, and the bed———as comfortable as any you have ever slept on.  When it is time to sleep——and I did catch a five-hour nap from Frankfurt to Miami—-one simply tells the flight attendant, who quickly proceeds to turn the seat into a bed, complete with soft beddings and pillows.
It is at that time that one can lift the partition by the aisle to insure the cozy environment of a mini suite.
And it is here that one senses a variation between the A380 First Classconfiguration of Lufthansa and such airlines as Singapore and Emirates, both of which I have experienced.  While those airlines have suites that are totally enclosed and comparmentalized, allowing a passenger to cocoon and disappear, if he so prefers, Lufthansa opted for a First Class that does not isolate anyone, but which still allows for privacy if one desires it.
All in all, this Lufthansa A380 allows for a great, relaxing experience, and, one more thing, it is one of the quietest rides you will experience.
But just when I landed thinking that I had just experienced the ultimate plane ride of the future today, here comes a story from Airbus, showing us what jets are likely to look like in 2050.  In a newly released video, Airbus shows a series of images that envision air travel in 2050 as a fully immersive, human-centered experience. The company's designers and engineers conceptualized a plane with "bionic structure and interactive membrane" that provides spectacular panoramic views through its almost fully transparent skin.
And a view of the stars!  Well, 2050 is a little too late for someone my age, so I am happy I have had this grand Lufthansa A380 experience which I found to be immersive and human centered.
After all, what can be more human-centered than your own locker and a urinal up in the clouds?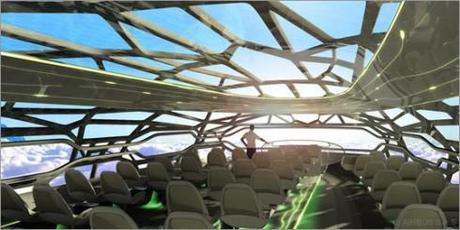 Airbus imagines the plane of 2050: cabin with a panoramic view of the sky

Take a virtual tour of the Lufthansa A380 here:
http://www.lufthansa.com/online/portal/lh/de/specials/booking?nodeid=2093576&l=en&cid=18002
What Design books are missing here?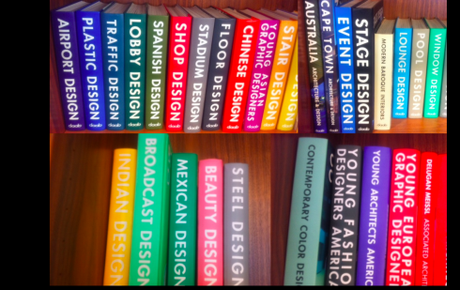 A collectio of design books from Daab publishers: but not one media design book?
This collection of books captured my attention as I settled into Austrian Airlineslounge this week.  Of course, my eye ran through the entire set of books with the colorful covers and the simplistic titles: Spanish Design, Pool Design, Steel Design, Mexican Design.  But, alas, other than a Broadcast Design book, nothing on media design, and nothing about newspaper design specifically.
The books are published by a German-based company called Daab, with a specialty in design and books about culture and trends.
I think Daab book editors should consider a new title dealing with Media Design to embrace all the various platforms.