Some of my favorite e-mail newsletters
E mail newsletters have never been more popular than in 2017. These are some that are comprehensive, well crafted and give me a sense of what's happening in my world.
All it takes is for a newsletter to become part of your daily ritual. When that happens, loyalty develops to the brand where that newsletter is coming from.
It is difficult to be specific as to why some newsletters are quicker to get into our daily ritual than others. I have been exposed to many email newsletters in the past two years. Some have captured my attention, others have not, including some that are well edited and designed.
The ones that got me hooked have three things in common:
1. They are simple but robust in their offerings.
2. They come from news brands that are respected, credible and well established.
3. They give me a sense that my day will be better because I will have started with knowledge of the stories in which direction they point me.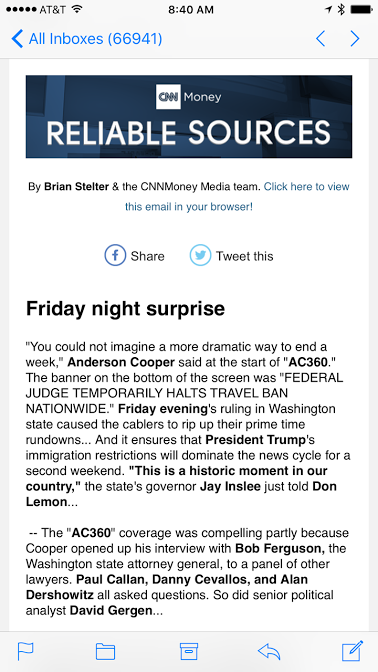 This is a new one, edited by CNN's media guru Brian Stelter, and I am surprised at the depth, variety and all-inclusive fare that it offers, twice a day, no less.
An example of a recent entry:
Friday night surprise
"You could not imagine a more dramatic way to end a week," Anderson Cooper said at the start of "AC360." The banner on the bottom of the screen was "FEDERAL JUDGE TEMPORARILY HALTS TRAVEL BAN NATIONWIDE." Friday evening's ruling in Washington state caused the cablers to rip up their prime time rundowns... And it ensures that President Trump's immigration restrictions will dominate the news cycle for a second weekend. "This is a historic moment in our country," the state's governor Jay Inslee just told Don Lemon..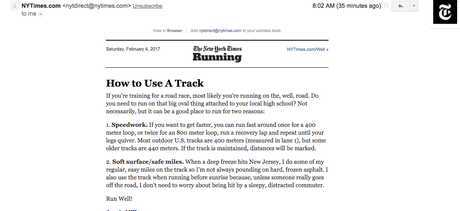 This is one of those specialized newsletters ( Theater is another favorite one from the Times, as well as the new Louder --all about music), that offers me tips and inspiration for my running, a passion I have cultivated for decades
The Times also publishes an occasional Top Stories briefing to alert subscribers to a story that is simply too big to miss.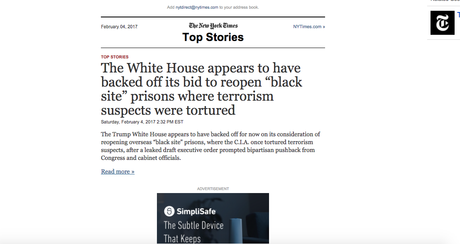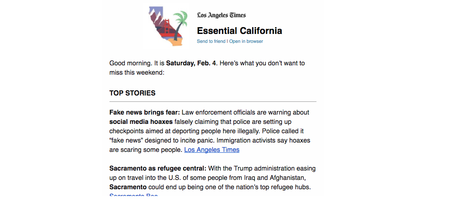 This one is breezy, specific and offers surprising stories about life out on the west coast. Of course, Hollywood is always going to play a key role, and that is one of the reasons I subscribe.
Here is the one item at the bottom of a recent newsletter that caught my attention:
Lullaby of Broadway: How one of downtown L.A.'s most important buildings, neglected for decades, is ready for a big comeback. Curbed Los Angeles

Nothing beats the directness of this CNN offering: the number five tells me that this is going to be a highly curated group of stories that may provide good background for those conversations at the water fountain or at Starbucks and that first meeting of the morning.
This one is my perennial favorite: the way the headlines are written, the selection of stories, the surprises which abound.
I find myself talking about one of the Quartz newsletter stories almost daily, and it is NOT the hot news story of the day.
For example:
Surprising Discoveries
Mushrooms are magic at treating depression and anxiety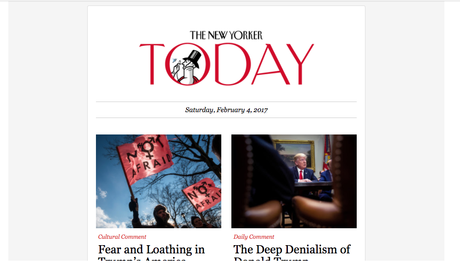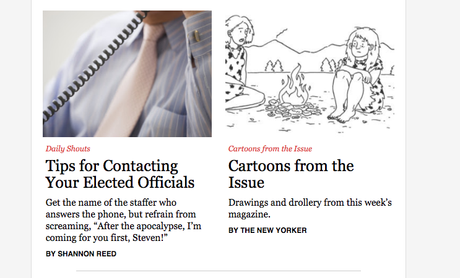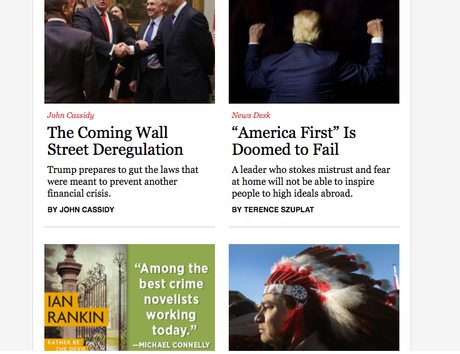 Want a newsletter with a design that is a visual extension of the print product we are all accustomed to ---love the typography, the elegance and the images. Here I come to find stories that one can only find in The New Yorker, and, while the sampling is ample, I admit I usually will be interested in one or two stories which I single out to read in my lean back time.
There is also a Fiction newsletter, a good way to find out what the best current literature is out there, as well as profiles of authors.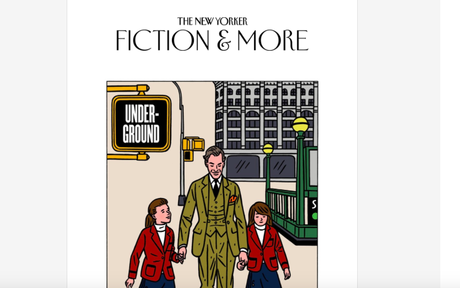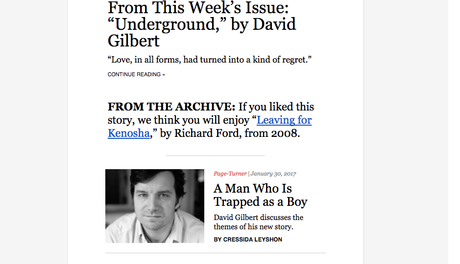 Axios A.M. is new but it has quickly captured my attention. Key here: the way the segments are written. While many other newsletters write entire paragraphs, sort of mini narratives that condense stories, Axios A.M. editors (in this case the byline is Mike Allen) go for snippets. In the morning, with the competition for my attention coming in all directions, it is hard to ignore Axios' quick way of presenting the top stories of the day. Take a look:
Trump's first three tweets this a.m., after joining the First Lady at Mar-a-Lago:
-"When a country is no longer able to say who can, and who cannot , come in & out, especially for reasons of safety &.security - big trouble!
-"More Interesting that certain Middle-Eastern countries agree with the ban. They know if certain people are allowed in it's death & destruction!"
-"The opinion of this so-called judge, which essentially takes law-enforcement away from our country, is ridiculous and will be overturned!"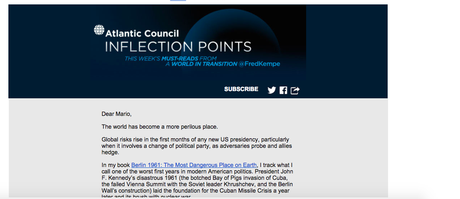 For those who wish to get clear, insightful analysis of geopolitics, masterfully presented by Fred Kempe, a former Wall Street Journal editor, with whom I had the honor of working. Fred is CEO of Atlantic Council, a Washington DC based foreign policy think tank and public policy group. Fred highlights the most important political news of the world with a globaland historical perspective that makes us wiser.
Here is a take from this weekend's edition:
".....this week's Inflection Points -- coming in week two of the Trump administration -- reflects less on the substance of the past week's flurry of events and decisions, though some are of considerable significance. More urgent is for the President and his advisers to heed history's lessons that the greatest dangers lie in what Senator John McCain referred to as the "self-inflicted wounds" of overly hasty actions and statements in an already unsettled world."
TheMarioBlog post #2563